Who said Bollywood is not trendy enough? Although we replicate and present stuff, nonetheless over the years Bollywood has earned a reputation. Gulshan Grover, the first actor to work abroad unwrapped new horizons. Present day scenario has seen many acclaimed actors like Big B, Priyanka Chopra traveling to foreign lands and earning the appreciation of masses. Conflicting to the popular belief, not only artists from our land have worked in Hollywood but also many prominent actors like Sylvester Stallone, Barbara Mori have also been engaged in Bollywood projects. Moreover, many beauties like Nora Fatehi, Scarlett Wilson from lands afar stole many hearts by their item numbers in multiple movies like ' Shanghai' and ' Baahubali'. Many other renowned actors are planning on working in Bollywood assignments. Meanwhile, have a look at the prevalent Hollywood actors who have worked in Bollywood movies.
1. Sylvester Stallone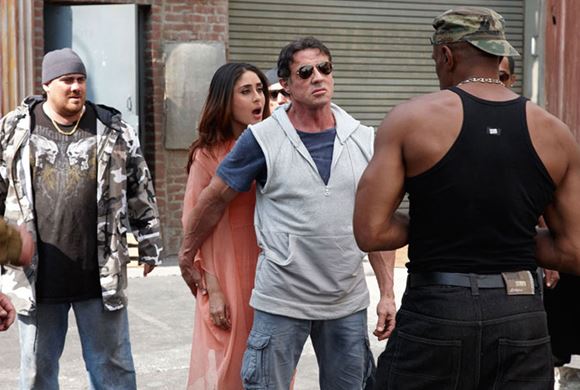 Known to many as the Rocky star, Sylvester Stallone did a cameo in ' Kambakkht Ishq' starring Kareena Kapoor Khan and Akshay Kumar. This esteemed actor made an impactful desi hero entry and saved Kareena Kapoor and Dia Mirza from goons. He is an American actor, screenwriter, producer, and director. His notable roles in multiple movies have earned him admiration among masses.
2. Nathan Jones
Nathan Jones is an Australian actor, power lifting champion, strongman and retired professional wrestler. He made his debut in Bollywood with Remo D'Souza's recently released superhero movie, ' A Flying Jatt'. This former WWE wrestler plays the role of a classic supervillain who after receiving powers becomes overwhelmed. Tiger Shroff has to fight him to save the world. His performance in the movies 'Mad Max Fury' and 'Troy' made him one of the celebrated actors of Hollywood.
3. Ben Kingsley
Ben Kingsley, an Oscar-winning actor for the movie ' Gandhi', was seen in the movie ' Teen Patti'. Many of you might be oblivious to the fact that Ben Kingsley's birth name was Krishna Bhanji. Ben Kinsley's father was Rahimtulla Harji Bhanji. He was a doctor of Gujarati descent and his mother was Anna Lyna Mary. She was an English actress. Ben is best known for his role in Gandhi, House Of Sand and Fog & many such ventures of Hollywood.
Kylie Minogue is an actress, singer, and a songwriter. She stepped into Bollywood with her debut in the song Chiggy Wiggy in the film ' Blue' starring Lara Dutta, Akshay Kumar, Zayed Khan and Sanjay Dutt. When the film Blue was released, it was the most expensive Bollywood movie. Kylie is well known for her songs like Rhythm of love & In my arms.
Sarah Thompson is an actress from America well known for her roles in Angel and 7th Heaven. She made her debut in Bollywood movie ' Raajneeti' starring Nana Patekar, Ranbir Kapoor and Katrina Kaif. She played the role of Jean Collins, Ranbir's girlfriend from abroad, who gets killed in a conspiracy against the political family.
Paul Blackthorne's debuted in the Oscar-nominated Bollywood film ' Lagaan': Once upon in India as Captain Andrew Russell. Six months were spent by him to learn Hindi for his role. The story's subjects are the inhabitants of a small village. They are burdened by high taxes applied by the Britishers. They find themselves in a peculiar situation as a haughty officer (Paul Blackthorne) dares them to play cricket as a wager to avoid the paying of future taxes. He is known for his role as Detective Lance in the TV series 'Arrow' and as a doctor in the movie Dumb To Dumber.
7. Roger Yuan
Roger Yuan has gained popularity and reverence worldwide through his skills in martial arts, fight trainer, action coordinator, actor and producer. He performed in the movie ' Chandni Chowk To China' starring Deepika Padukone and black belt Akshay Kumar in the lead roles. He played the role of Inspector Chiang Kohung. Akshay Kumar encounters an amnesiac vagrant. The vagrant is later identified to Deepika as Inspector Chiang. Eventually, Chiang recuperates his memory and coaches Sidhu in Kung Fu to fight against evil Hojo.
Rachel Shelley is a model & an English actress. She made her debut in Oscar-nominated movie Lagaan starring Aamir Khan and Gracy Singh. In the movie, Aamir Khan is helped by Russell's sister Elizabeth (Rachel Shelley). She felt that her brother had mishandled the villagers. She teaches them the rules of the game and falls in love with Bhuvan (Aamir Khan).Whilst Gauri (Gracy Singh) is also in love with him. She is best known for her role in Lagaan (2001).
Clive Standen is a British thespian best recognized for playing Rollo in the TV series 'Vikings'. He made his debut as Charles ' Charlie' Brown in the film ' Namastey London' starring Katrina Kaif and Akshay Kumar. He played the role of Katrina Kaif's boyfriend who she wantsedto marry over Akshay Kumar.
10. Jennifer Echols
Many of you may not have acknowledged her role in the movie ' My Name Is Khan' starring DDLJ stars Kajol Devgan & SRK ( Shah Rukh Khan), but no one else could've done justice to the role of Mama Jenny. Jennifer Echols is known for her work in The Notebook (2004), My Name Is Khan (2010) and The Ladykillers (2004).
Apart from these actors many others like Rebecca Breeds in Bhaag Milkha Bhaag as Susan romanced Farhan Akhtar. As they say "Don't underestimate the power of Bollywood fever."