1. Josh Hutcherson The notorious actor of the Hollywood industry, Jos >> Read More...
In love with the entertainment industry since he was four, says our most adorable 'Tribute,' Josh Hutcherson. Like most of us, he also hated school. He spent most of his childhood gazing at and appreciating the profession of acting. Keen on establishing himself in this very Entertainment industry, he kept on doing TV commercials, pilot episodes of a few TV shows, giving his voice for roles in animated movies and minor roles in television films. Then, at the age of 9, he stole our hearts by getting featured in Little Manhattan and Zathura: A Space Adventure. Since then, he has been performing extremely well and during the last few years, he squarely shot love-arrows to every girl's heart by taking the role of PeetaMellark in The Hunger Games Trilogy.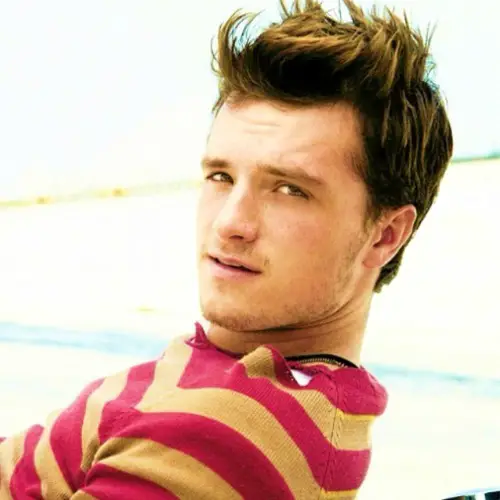 ...
2.
Ranked second on Glamour's "The 50 Sexiest Men of 2010" list, Taylor Daniel Lautner has won hearts by playing the role of Jacob Black in the film, The Twilight Saga. He also has exceptional skills in martial arts and he started his acting career since he was very young by acting in a few TV shows and movies like The Adventures of Sharkboy and Lavagirl in 3-D. Besides having the killer look and a steaming hot body, he won the award for "Best Smile" in High School. And this stunning physique can be credited to the number of activities (karate, football, baseball, jazz and hip-hop) that he took up while at school.
...
3. Armie Hammer Born with the name Armand Douglas Hammer, Armand i >> Read More...
From a lone ranger to a Prince to an FBI associate to internet entrepreneurs, Armie Hammer, has played the role of them all. And to be honest, he did justice to each and every role he has played. And recently he has blown minds by playing the role of a spy in the movie The Man from U.N.C.L.E. He has this appealing and chiselled look which makes our knees wobble. And his pair of eyes that is an uncanny color of oceanic bluish green can hypnotize you for hours. An eye contact is what you need to get a high from him.
...
4. Zac Efron Zac Efron is the debonair screen icon in Hollywood >> Read More...
This guy acts, dances, sings and steals hearts like he is cutting a cake. It's easy for him as he has a clean swag and a charming, always fresh look. Like his role in Disney Channel original movies High School Musical, he was in real life a theatre boy in his High School. He did a few shows and then his drama teacher in school recommended him to an agent. And after doing some TV shows, and a television movie, he became a teen idol when he appeared in High School Musical. Apart from that film series, he has done many other movies that made us stare at him with awe for so long that time had to wait. Some of those movies are 17 Again, Charlie St. Cloud, That Awkward Moment Click to look into! >> Read More... , The Paperboy Click to look into! >> Read More... , The Lucky One Click to look into! >> Read More... , etc.
...
5.
...
He was our sweet and smart wallflower and won the girls' hearts by portraying the role of Charlie so good in the movie The Perks of being a Wallflower. And of course, who doesn't like to see an adorable and sexy guy doing some fascinating action? He became the Percy Jackson and swept a lot of girls off their feet. His dreamy eyes and that chilly voice can take any girl into a state of trance, and we would not even mind hanging there for the rest of our lives.The acting was initially just for doing something fun for him, but he had admitted being a film-geek and also a very creative person.
...
6. Liam Hemsworth Liam was born on January 13th, 1990. He is 6 feet >> Read More...
We liked him in the Television series The Elephant Princess, we adored him in The Last Song Click to look into! >> Read More... , and we totally loved him when he played the role of the intelligent soldier, Gale Hawthorne in The Hunger Games Trilogy. Being competitive with his brothers (Chris and Luke Hemsworth Luke Hemsworth (brought into the world 5 November >> Read More... ) and feeling happy for them when they land a role, is something that makes him very proud and happy. Though Miley Cyrus gets to have him as her boyfriend, we can always have him for our major celebrity crush. When he stands tall and looks into your eyes (through the camera), a sigh escapes from our mouth, and we obviously feel our hearts skipping a beat for him.
...
7. Alex Pettyfer Alex Pettyfer is an actor and model from Great Bri >> Read More...
Alexander Richard Pettyfer is one of those guys who can look as sexy as possible even with his rugged looks and also his impressive, toned body. Handsome in Wild Child, beautiful in Beastly and then hot in I am Number Four. Alex knows how to triumph over hearts with that golden crooked smile of his.
8.
Cloudy grey eyes and that tall figure is all that he needs to create a charm on all of us. His sexy smile slanted just up the right corner can make us go bonkers if we take even just a quick glimpse of him. He tugged at our heartstrings once when he appeared as the dynamic Hogwarts Champion, Cedric Diggory, on screen. And then he did it again when he appeared as the mysterious vampire in Forks, Edward Cullen. And after that, he swiftly kept doing it again and again with his rewarding portrayals of the lead characters in the movies Remember Me Click to look into! >> Read More... , Water for Elephants and much more.
9. Matthew Lewis Known for his role as the cast member in the Harry >> Read More...
Recognize him? Who would have thought that the fat, little guy from Harry Potter and the Sorcerer's Stone will become an eye-stunner after all these years? This English actor over here has begun his acting career when he was just five years old. And maybe that is why he wonderfully contributed to the role of Neville Longbottom when the time came. After his Harry Potter films, he furthered his career by taking up more roles for movies as well as TV shows. Matthew Lewis, himself, might not have imagined the number of girls fangirling (which is huge) for him at this moment.
10. Tom Felton Born in Epsom, England, on September 22, 1987, Tho >> Read More...
The cheeky and brash Draco Malfoy was a character who we wanted to loathe the first time read about him but all thanks to Tom Felton, who made us love the blonde haired snob from all the Harry Potter films. Before appearing as this insolent brat, Felton has done some TV commercials since the age of 8. He has also done two movies before Harry Potter, but it was his appreciable portrayal of Draco Malfoy that gave him a real career break. He was even awarded for the Best Villain for Harry Potter and the Deathly Hallows – Part I. And even after this series, he continued enchanting us by doing films like Belle, In Secret Click to look into! >> Read More... and Against the Sun. Very soon, we are even going to see him playing the role of the great Roman warrior, Lucius Vorenus, in the film Risen.