Who married who? Who ditched who? Who said something fishy about whom? Oh my God! That's such an offensive comment she made! Entertainment nowadays is all about gossips about the lives of people. Controversies about the lives of well-known people of Bollywood and Hollywood hold the major area of interest. Like really, who isn't talking about the major break-up of Brangelina or Karma payback to Brad Pitt. The internet is brimming with trolls on Angelina Jolie, Brad Pitt, and Jennifer Aniston (Brad Pitt's ex-wife). Who doesn't remember Ranbir Kapoor and Deepika Padukone break-up over Katrina Kaif? Being fancied among the paparazzi and photos published, not only turn their flaws into qualities but also sells their tickets. You might have seen that there are people who make rave comments and come in limelight, and then there is Kamaal Rashid Khan who gives his critic reviews on acting or looks of other celebs like Sonakshi Sinha to have the five-minute-attention?
Well, let's read about some most publicised war of words.
1. Trouble-magnet Salman Khan's s erroneous statement, "I felt like a raped woman".
Salman Khan, often called as the Bollywood's contentious child, found himself in hot waters after his fallacious comment that he used to feel like a raped woman while walking out of the ring in one of the interviews for his film ' Sultan'. Recounting the Wresting stories, he told that he had to lift a man weighing 120Kg almost nine to ten times for five different angles of the camera. The tiring shooting of Sultan made him feel like a raped woman. As soon as he blurted this line he knew he had committed a faux pas and immediately retracted. National Commission for Women dictated Salman for an apology for the comment even though other actors abstained from berating him. Even, Salim Khan, Salman Khan's father, expressed regret over his son's comment.
2. Aamir Khan feels "Insecure" and "Fear": The Intolerance Comment
Aamir Khan broke his silence on the seething Intolerance debate by expressing "disconcert" and dejection over the upsurge in such set of circumstances previous months. He stated that his wife Kiran Rao fears to read newspapers in the morning. She said that should they move out of India. This unsound expression enraged people all over India. The unsound expression was not taken lightly by Indians. Aamir Khan was not only removed from the 'Incredible India' campaign but also the show Satyamev Jayate did not air on the television.
3. AIB KNOCKOUT ROAST: INTOLERANCE? FIR? OOPS!
Inspired by American concept of roast of celebrities, AIB roasted (mocked) director Karan Johar, the 'Roastmaster' rebuking on actors Arjun Kapoor and Ranveer Singh. In the show "obscene" and vulgar" statements were made by Karan Johar and by the panellists. "Cheap" jokes were made on the guests present at the show. As a reaction to it, after seven months an FIR was registered against Jayanti Lal Shah: NSCI president, Ravinder Aggarwal: secretary-general and Roast contributors Karan Johar, Rohan Joshi, Ranveer Singh, Arjun Kapoor, Tanmay Bhat, Ashish Shakya, Gursimran Khamba, Aditi Mittal, Alia Bhatt, Deepika Padukone, Rajeev Masand. As they say "too much fun"!
4. Makdee actress, Shweta Prasad caught in a profiled racket of prostitution!
Child-actor in the movie 'Makdee', Shweta Basu Prasad was found entangled in a wrangle. In an alleged prostitution bust, she was found involved. She was later released after she confessed that she didn't have enough money and had to support her family. She has worked in Bollywood movies like ' Iqbal' and 'Vaah Life Ho to Aisi'. Money can compel anyone to choose a wrong path!
5. Hrithik a silly-ex? Kangana was sent a legal notice? Misunderstanding? Scandal?
Hrithik Roshan and " Kangana Ranaut"s strife stole the limelight just like their movies do. Subsequent statements by both of them as well their good-wishers have spiced this battle. They worked in ' Kites' and " Krrish 3". Rumours of their affair got in the air during the shooting of Krrish 3. They gained momentum after he got separated from Sussanne Khan. On being asked about his relationship status, he always gave a vague reply. Was it a misunderstanding that Kangana received e-mails from an imposter and not Hrithik? The legal fight has been carried on since then. For latest updates on this juicy case stay tuned for the news, for you may not know when a new statement gets issued! Get ready for some spiced and flavored drama from tinsel town, Hollywood, for it never disappoints us.
6. Justin and Selena separated? Justin has a new girlfriend!?
Justin Bieber always manages to shine in the headlines. Be it for pissing in public or over his ex-girlfriend Selena Gomez or for threatening to delete his Instagram account. The ' Baby' singer got upset when his followers or better BELIEBERS trolled his new rumored girlfriend, Sofia Richie. The pop star's ex-girlfriend defended the Beliebers and asked Justin to keep it private. She actually did "Kill 'em with kindness"! He volunteered for the Roast of the year. There's no denying the fact that the Boyfriend artist is one of the stirrers of Hollywood.
7. Miley Cyrus went topless? Not again!!!
Hannah Montana fans faced a huge set back when cute Miley Cyrus danced with Teddy Bears and wore body suits and cropped tops. It's like controversies revolve around her. Is it trying bong on her 18th Birthday or pole dancing in Teens Choice Awards & she has-done-it-all. She has been in headlines for her on and off relation with Liam Hemsworth or for her performance in 2013 MTV video music awards where she twerked and touched herself with a foam finger. She broke all the records with her music video for "Wrecking Ball" which included many R- rated acts. She went topless for the cover of 2013 magazine of Rolling Stone. The list doesn't end here. While receiving an award for Wrecking Ball she lit a joint on the stage. Will it be wrong to say "Way to go Miley!!"?
8. Brangelina Separated? Is Karma catching up? LOL!!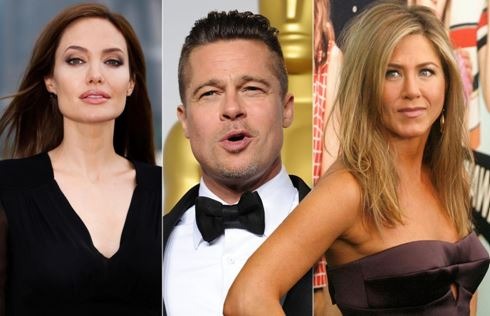 The heartthrob Brad Pitt was married to F.R.I.E.N.D.S. darling Jennifer Aniston when he had an affair with Angelina Jolie, during the movie Mr. & Mrs Smith. Recently, we heard the news of Angelina Jolie filing for a divorce. Angelina accused Brad of drug and alcohol abuse. She has full custody of their six children until October. Brad Pitt's parents were "devastated" when they heard the news. His mum is still close to his ex-wife and even reached out to her for advice.
9. Kim Kardashian's another tape leaked? With whom this time? Never a humdrum life!
Kim Kardashian never dashes her fan's hopes when it comes to controversies. Be it her sex tape leak or her absurd marriage to Kris Humphries to dating Kanye West! She never lives a monotonous life. Which is great? Her family has always been infamous for giving away from everything to anything in public. You could say that Kim is an ideal for her family. Kim filed a divorce 72 days after her ridiculous marriage. Kanye West being her latest source of entertainment is handling her well. News says they're moving in together. All the best West! May the force be with you!
10. Madonna's Son was holding a bottle of Gin? Oh!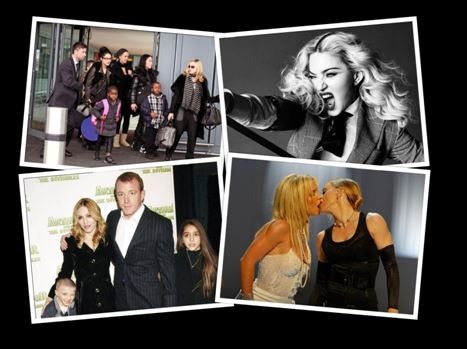 Recently, "Madonna"s 13-year old son was seen holding a bottle of gin. When criticised she expressed that they were just having fun. From upsetting religious beliefs to dropping f-bomb she has been there done that. Wearing lingerie each time she goes on stage or locking lips with not only Britney Spears but also Christina Aguilera you name it she has done it. Veto topics for her songs like teenage pregnancy, publishing a book or stimulating photographs, will the list ever end? She proves controversies and popularity are directly proportional to each other.