Stars have everything under their baggage, why would they steal away things? Well, some stars have been re- handed caught shoplifting. Here's a list of celebrities who stole away things either due to forced circumstances or greediness:
1. Amanda Bynes Born on April 3, 1986, as youngest of the three ch >> Read More...
Fashion designer, actor, and singer, Amanda Bynes stole a $200 hat from Barney's on Madison Avenue in New York City in the year 2014. Amanda left the store wearing the hat but without paying for it. She was dragged in the back by the security and then the police was called. The 'What A Girl Wants' star tried to explain her action by saying she went out of the store just to get her wallet from the car. The actress was let go without any charges by signing a no trespass affidavit, which permanently bans her from the department store.
...
2. Winona Ryder Born as Winona Laura Horowitz on October 29, 1971 >> Read More...
One look at her innocent face and no one could ever think of Winona as a kleptomaniac, but the actress was arrested by the police for stealing $5500 merchandise at Saks Fifth Avenue in Beverly Hills. The store clerks revealed that a variety of clothes and accessories were found in the bag of this Oscar-nominated actress without security tags. Wilson was charged with grand theft and was made to pay a penalty of $6355 and also had to do a community service of 480 hours. Her attorney explained Winona's director asked her to prepare for the role of a shoplifter for her upcoming flick. She didn't learn the lesson from the first incident and again stole jewelry worth $124,000 in 2008 from a Marie Claire photo shoot in Madrid.
...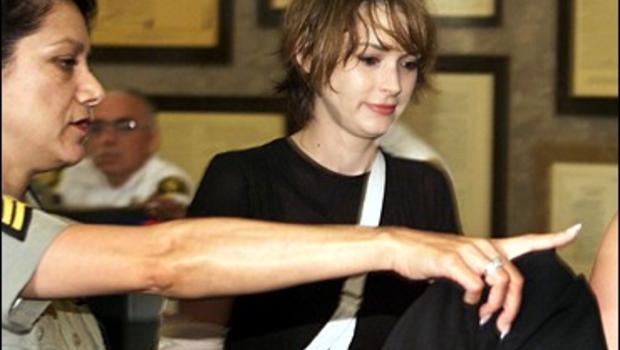 3. Big Sean Born in Santa Monica, California on March 25, 1988 >> Read More...
...
This international rapper was called a kleptomaniac by no one else but his ex-girlfriend Naya Rivera. The duo broke up six months after the engagement. Naya took it to Twitter to accuse Sean of stealing some expensive things from her home. She wrote, "@bigsean stealing Rolexes from a lady's house now, maybe cuz I'm on Glee and making more money or something. #triflin." Big Sean refused all the allegations.
4. Lindsay Lohan Lindsay Dee Lohan is a multitalented American. Act >> Read More...
...
Lindsay has got quite sticky fingers; this sensational star was accused of shoplifting quite a few times. On February 2011, Lindsay was caught red handed stealing a $2500 neckpiece from a jewelry shop in Venice, California. Lindsay claimed that she took the necklace on celebrity loan, but no such arrangement was found in company records. She stole a fur jacket in the year 2008, then a Rolex watch in 2010 and sunglasses and watches in August 2012 worth $ 10000.
...
5. Britney Spears Britney Jean Spears or Britney Spears is an Americ >> Read More...
Her net worth might be worth millions but this singing sensation proved to be kleptomaniac many times. One of the paparazzi witnessed Britney allegedly carrying a lighter from a gas station. Next, she stole a wig from the Hustle store to retaliate a staff over there, who stopped her from trying an underwear. Very conveniently Britney walked off from a Fred Legal shop without paying for a top she tried.
...
6. Farah Fawcett
...
This American bombshell was caught stealing dresses from two different boutiques. The 'Charlie Angel' justified her action by saying she wasn't satisfied with the return policy of the store, so she decided to take the matter into her hands. The actress was arrested and fined $125 and $265 for each notorious act.
7. Rex Red
A film critic, television presenter, and actor, Rex Reed Rex Taylor Reed is an American actor, writer, and >> Read More... shoplifted 3 CDs from Tower Records in Manhattan in the year 2000. The security guards saw Reed removing the plastic cover of all the three CDs before putting them in his pocket. All the charges against him were eventually dropped.
8. Tila Tequila Tila Tequila was born on October 24th, 1981 in Sin >> Read More...
A Shot at Love with Tila Tequila star, Tila shoplifted chips and gum from CVS. Tila self-confessed, "I lost my wallet while working all day today and was SO HUNGRY so I was at the CVS store and figured I would just steal some bubble gum and chips and not get caught, but unfortunately the security guard caught me shoplifting!!!!!!!!!!!!!! Damn! Now I got a court case on my ass! Ohh now I can certify myself a REAL GANGSTA! LOLOLOL jk kids..."