Bollywood has been making films of several genres. Stories range from making unique plots and the remake of books, which may be novels, plays, and poems. The films shall not be the exact copy of what exactly it is, but rather an adaptation. Here is the list of films adapted from Bengali novels.
1. Devdas
The film Devdas is adapted from the Bengali novel Devdas, written in 1917 by Sarat Chandra Chattopadhyay Sarat Chandra Chattopadhyay was also known as Sara >> Read More... . It is about a love story between three people, Devdas, Paro or Parbati, and Chandramukhi. The Bengali culture shown here is the typical Bonedi Bari which is the ancient form of bungalows where the zamindars lived. The characters here are shown wearing Bengali dresses, that is, Bengali style sari termed as Aath Poure and dhoti- Panjabi. Several times, the characters are shown speaking in Bengali. It shows Bengal's Zamindar culture. The film also shows Maa Durga's idol. They are shown following Bengali traditions.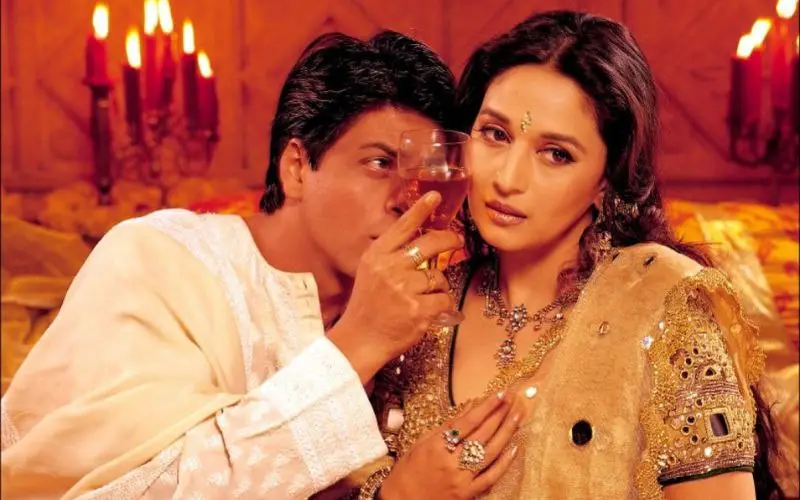 ...
2. Parineeta
The film Parineeta is adapted from the Bengali novel Parineeta, written in 1914 by Sarat Chandra Chattopadhyay. It is a musical-romance film between Lalita Roy, Girish, and Shekhar Roy. The term Parineeta means espoused. The portrayal of this film's characters' build, architecture, costumes, and landscapes signifies the Bengali culture. Specific Bengals' cultural practices are also shown in the film. The film is about a Bhadralok meaning, a gentleman who is a progressive man from upper-caste and pre-colonial Bengal. The film also shows the traditional dhunuchi Bengali dance from a scene of Durga puja. The lanes of Kolkata bring out the essence of Bengal.
The film Detective Byomkesh Bakshy is about a fictional character developed by a Bengali author named Saradindu Bandhopadhay. When Byomkesh Bakshi locates his missing father, Bhuvan Banerjee, he learns that blackmailing Sikdaar resulted in the death of Sukumar. To track Watanabe, who kills the volunteer and his receptionist before running away, Byomkesh disguises himself and Ajit. Byomkesh comes to know from Kanai Dao that the opium supply has been cut off. Bhuvan had developed an untraceable manner. Yang is discouraged by Anguri Devi. He displays affection to tempt her.
...
4. Hum Dil De Chuke Sanam
The film Hum Dil De Chuke Sanam is adapted from a Bengali novel Na Hanyate, written in 1974 by Maitreyi Devi. It shows the Gujarati culture, its household, food, and many more. Pundit Darbar, a well-known supporter of Indian classical music, is the father of Nandini. During family gatherings, Sameer and Nandini fall in love and have romantic moments. Angry, the Pundit kicks Sameer out of the house. Nandini marries Vanraj unwillingly. When Nandini gets Sameer's letters, Vanraj is angry. He soon concludes that bringing the two together is the best option. Nandini is interested in Vanraj's kindness and devotion to her. She agrees to return to Vanraj. Sameer realizes she has lost her love for him.
...
5. Hazaar Chaurasi Ki Maa
The film Hazaar Churasi Ki Maa is an adaptation of a Bengali novel Hazar Churashir Maa written in 1974 by Mahashweta Devi. In Calcutta, West Bengal, India, Dibyanath Chatterji, his wife Sujata, a bank employee, and their son Brati enjoy a comfortable lifestyle. Sujata finds it difficult to cope with Brati's death after the police kill him. She later finds out that he belonged to a Naxalite rebel group. She comes to know more about Brati's past. She investigates it. She wants to support him in his struggle.
...
The film Amar Prem is adapted from the Bengali short story Hinger Kochuri, written by Bibhutibhushan Bandopadhyay. Pushpa is sold to a brothel. After being expelled from her home. is a businessman. He is looking for love. He is drawn to her singing. When Nandu, a widower traveling with his family, meets Pushpa. He immediately falls in love. Nandu's life is saved by Anand Babu. He pays for his medical care secretly. At Pushpa's house, Nandu plants a night-flowering jasmine sapling. He asks her to look after it. Nandu and Anand Babu makeup. Nandu brings Pushpa home.
...
7. Chhoti Bahu
The film Chhoti Bahu is adapted from a Bengali novel Bindur Chhele, written by Sarat Chandra Chattopadhyay. Radha is the only child of a merchant. She has epilepsy. Madhu is a young doctor. He marries her. He does not know about her disease. The young Gopi, the son of Shriram and Sita, considers Radha to be his mother. Paro, Paro's son, spoils Gopi and causes Radha and Sita to misunderstand each other. Niku finds the cause of Paro's behavior. She asks Gopi if speaking with his mother would not kill her. When Gopi visits Radha, her disease vanishes.
...
8. Do Bigha Zameen
The film Do Bigha Zameen is adapted from a Bengali poem Dui Bigha Jomi, written in 1953 by Rabindranath Tagore. It is about a village, which is hit by drought. After several years of famine, the area finally gets rain. The farmers rejoice. Shambhu is the protagonist of the film. He owns a land of two bighas. It is the only means of livelihood for his family. He is in debt already as he has borrowed money from a rich man named Harnam Singh. He asks him to sell his land to pay his debt. He does not want to sell his land. He sells all his items that are household. Later, Shambhu could not pay his loan and his land is auctioned. 
...
9. Sahib Bibi Aur Ghulam
The film Sahib Bibi Aur Ghulam is adapted from a Bengali novel Saheb Bibi Golam written by . Atulya Chakraborty, who is also known as Bhoothnath meets Subinay after shifting to a haveli in Calcutta. It is owned by the Choudhury Zamindar family. One evening, Bansi arranges for Bhoothnath to see Chhoti Bahu. Bhoothnath finds Chhoti Bahu to be a desperate drinker. The Haveli is to be partially done when he returns to the haveli. Majhle Babu gives his attackers the order to chase after them. But Bhoothnath is knocked out. Chhoti Bahu is kidnapped. When Bhoothnath realizes that it is Chhoti Bahu's remains, he and Jaba ride away.
10. Stories By Rabindranath Tagore
Stories By Rabindranath Tagore is adapted from the short stories written by Rabindranath Tagore. The series shows several stories, which includes, Chokher Bali, Atithi, Maanbhanjan, Detective, Kabuliwala, Punishment, Broken Nest, Wafadar, Samapti, Chhoti, Tyaag, Waaris, Two Sisters, Mrinal Ki Chitthi, Aparichita, Kankal, The Story Of A Muslim Girl, Dhai Aakhar Prem Ka, Monihara and Dalia. These are the fourteen stories.