Bengal is known for its literature. Legends like Rabindranath Tagore, Sarat Chandra Chattopadhyay Sarat Chandra Chattopadhyay was also known as Sara >> Read More... , Bibutibhusan Bandopadhyay, Satyajit Ray Biographies reveal bare details about the maverick >> Read More... and many others have written classic pieces of literature. These stories have often been adapted into films. Here is a list of 10 movies that connects Bengalis through film and literature -
1. Mitin MashiI
Pragya Paromita, fondly called Mitin has done Economics from Presidency and now balances her detective and housewife lives well. The film shows Mitin investigating when a couple appoints her to investigate their eight-year old son's kidnapping. It is based on "Haate Matro Tinte Din" by Suchitra Bhattacharya Bio coming soon... >> Read More... .
...
2. Datta
Datta is based on the novel with the same name written by Sarat Chandra Chattopadhyay. Datta shows the story of how Bijoya falls in love with Naren after being informally engaged with him while having a wrong conception about him.
3. Avijatrik
This film is a must-watch for every Bengali film lover. Avijatrik is the sequel and ending of the classic "The Apu Trilogy". With this film, the character of Apu is set to return on screen after 60 long years. The film portrays Apu's wanderlust. It is overwhelming to watch this film as Apu is often an emotion for Bengalis.
...
4. Feluda Series
The Feluda series contains movies that are classics and must-watch films when book based films are being mentioned. Bengal's very own detective Feluda's stories were comics by writer and director Satyajit Ray. Ray later developed some of them into films like "Sonar Kella", "Joy Baba Felunath", "Baksho Rahasya", "Badshahi Angti" and many others.
...
5. Professor Shanku O El Dorado
Another creation of Satyajit Ray, Professor Shonku is one of the most famous characters in Bengali Sci-Fi. This film is based on "Nakur Babu O El Dorado'' by Satyajit Ray. The film shows the obstacles faced by scientist Shonku and Nakur Babu on his trip to Sao Paolo.
...
6. Ghawre Baire Aaj
The film is loosely based on Rabindranath Tagore's "Ghawre Baire". It shows a love triangle which is not only a passionate love story,but also a story of different ideologies. 
...
7. Satyanweshi Byomkesh
This film is based on "Magna Mainak" by Saradindu Bandopadhyay. The film shows the iconic character Byomkesh and his friend Ajit investigating the murder of Heena Mallick on being requested by a political leader.
...
8. Noukadubi
Based on Rabindranath Tagore's novel with the same name, Noukadubi is the story of a newly wed couple who survives an accident. A few months later, the man realises that the veiled woman that he brought home was not his, but someone else's wife.
...
9. Chokher Bali
Chokher Bali is an adaptation of Rabindranath Tagore's novel with the same name. The story shows Binodini's love story. Binodini, whose husband died soon after their marriage, moves to a village and starts living with one of her friends. The story takes a turn when Binodini falls in love with her friend's son who is married.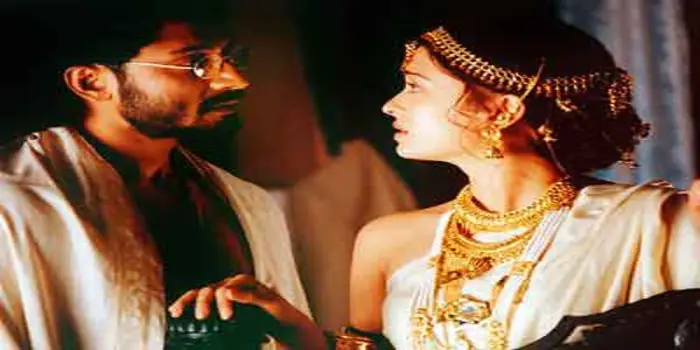 10. Apu Trilogy
The Apu Trilogy are classics of Bengali films. Pather Panchali, Aporajito and Apur Sansar are films based on Bibutibhusan Bandopadhyay's novels "Pather Panchali" and "Aporajito". Directed by Satyajit Ray, the films show the changing dynamics of Apu's life.