The practice of dubbing the majority of Tamil films into Telugu is a well-established custom. Because of this culture, Kollywood actors like Rajinikanth, Kamal Haasan Kamal Haasan is the most versatile actor that Indi >> Read More... , and Suriya, among others, enjoy a sizable fan base here as well. But this is not the case with Telugu movies, as the majority of our filmmakers used to believe that Tamilians wouldn't support stars who spoke other languages. But thanks to renowned filmmaker SS Rajamouli, who has had success in Tamil Nadu with all of his recent films, the barricades are being knocked down. A few Telugu film producers even followed suit and dubbed their films in Tamil.
1. Baahubali 2: The Conclusion
S. Rajamouli, who also co-wrote the screenplay with V. Vijayendra Prasad, is the director of the 2017 Indian epic action movie Baahubali 2: The Conclusion. It was produced by Shobu Yarlagadda Shobu Yarlagadda was born in Gudivada, Andhra Prad >> Read More... and Prasad Devineni Prasad Devineni is a film producer in the South In >> Read More... under the name Arka Media Works. The movie was made in Tollywood and simultaneously shot in Telugu and Tamil. The movie outperformed PK to briefly become the highest-grossing Indian movie of all time, earning $1,810 crore ($267 million), amassing almost 800 crores globally in just six days after its debut. In just ten days, it became the first Indian movie to earn over one billion rupees.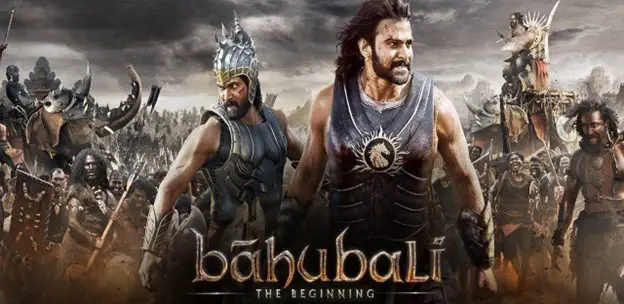 ...
2. Baahubali: The Beginning
The epic action movie Baahubali: The Beginning was released in 2015 and was co-written and directed by S. S. Rajamouli. It was made by Shobu Yarlagadda and Prasad Devineni under the banner of Arka Media Works. The film, which cost 180 crores ($28 million), was the most expensive production in India at the time of its release. The Hindi and Malayalam dubs of the movie had their global premieres on July 10, 2015, as well. Both audiences and critics gave it favorable reviews, and it broke box office records as a result. At the time of its release, it was the highest-grossing movie in India, the third-highest-grossing Indian movie globally, and the highest-grossing South Indian movie, with a global box office gross of 600-650 crore ($93-101 million).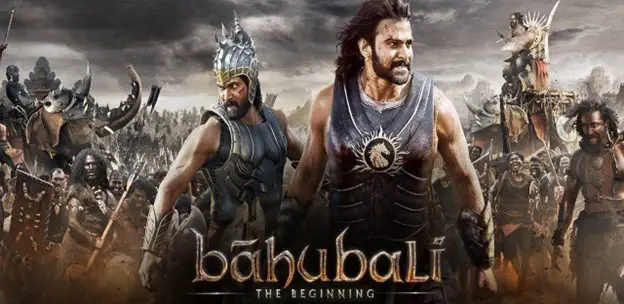 3. Saaho
The 2019 Indian action-thriller movie Saaho was written and directed by Sujeeth, and it was made by UV Creations. It is simultaneously produced in Tamil, Telugu, and Hindi. In comparison to its budget of US $46 million, the movie made over 433 crores (US $57 million) at the global box office, making it the second-highest-grossing Indian movie of the year.
...
4. Spyder
A 2017 action-thriller movie from India is called Spyder. N. V. Prasad served as producer, and A. R. Murugadoss served as writer and director. It was simultaneously shot in Malayalam, Tamil, and Telugu. Mahesh Babu Born on 9 August 1975 in Chennai, Mahesh Ghattaman >> Read More... , Rakul Preet Singh Rakul Preet Singh is a famous Indian model working >> Read More... , and S. J. Suryah are the film's main actors. The Tamil dialogues were written by Murugadoss, and the Telugu dialogues were written by the Paruchuri Brothers. More than 95% of the theaters were filled on opening day, and the movie brought in 51 crores in worldwide box office revenue. The movie made 23.4 crore on its first day of release, with 15.3 crore of that amount coming from Andhra Pradesh and Telangana. It brought in $150 billion worldwide in twelve days at the box office. Due to the expensive production costs, the movie was regarded as a financial failure.
...
5. EEGA
In 2012, S. S. Rajamouli wrote and directed the fantasy action movie Eega. The movie's production company, Vaaraahi Chalana Chitram, spent an estimated US $5–7 million (26–40 crore) on its production. Both Telugu and Tamil were used in the production of Eega. After the film's debut, Rajamouli's direction, the cast's performances, and the special effects all won praise from critics. With about 125 crores (or $23 million) in revenue, Eega was one of the highest-grossing Telugu movies of the year. Eega received two National Film Awards The National Film Awards gets presented every year >> Read More... (for Best Feature Film in Telugu and Best Special Effects).
...
A 2018 Indian mystery-thriller titled "U Turn" was written and directed by . It was also co-produced by Rambabu Bandaru Bio coming soon... >> Read More... and Srinivasa Chitturi under the production companies BR8 Creations, V. Y. Combines, and Srinivasa Silver Screen. The plot centers on the murder of drivers who violate the law at a certain flyover and the subsequent identification of the offender by a team consisting of an intern journalist and a police inspector. It is a remake of the director's own 2016 Kannada film of the same name, which was simultaneously shot in Tamil and Telugu. The movie made about 12 crore rupees (about US $1.6 million) in its opening weekend.
...
7. Bhaagamathie
In 2018, G. Ashok wrote and directed the suspenseful movie Bhaagamathie. The film was released on January 26, 2018, in Telugu and Tamil, as well as a dubbed Hindi, Malayalam, and Kannada version. Principal production began in Hyderabad in June 2016. The movie was a financial triumph, earning more than 67 crore. Anushka Shetty Anushka Shetty is the popular South Indian star wh >> Read More... became the second Indian actress after Sridevi to have a $1 million grossing film at the US box office with Bhaagamathie.
...
Gautham Vasudev Menon wrote and directed the 2010 Telugu-language love drama Ye Maaya Chesave. Samantha made her acting debut and is partnered with Naga Chaitanya Naga Chaitanya is a Telugu actor and he is into th >> Read More... . Its music, which was created by A. R. Rahman, was produced by Manjula Ghattamaneni Manjula Ghattamaneni or also known as Manjula Swar >> Read More... under the Indira Productions label. The movie was a box office hit and earned favorable reviews from reviewers. According to Film Companion, the movie is among the "25 Greatest Telugu Films of the Decade."
...
9. 180
The love drama 180, which was released in 2011, was co-written by Jayendra Panchapakesan Jayendra Panchapakesan is a director and filmmaker >> Read More... , Subha, and Umarji Anuradha Umarji Anuradha, a well-known author of Indian ori >> Read More... . The movie was simultaneously shot in Tamil with the working title of Nootrenbadhu. A Red One camera was used to capture the movie. The Tamil version of the movie, which was made by SPI Cinemas and Aghal Films, was distributed by Ayngaran International. Kishore Te Kishore TE was born on 24th March 1978 in Valavanu >> Read More... did the editing, Balasubramaniam did the cinematography, and Sharreth composed the music. In Chennai, the movie made $8 million in its first three days, with theaters reporting an average occupancy rate of around 90%. It made $12 million in two weeks and had a 90% occupancy rate.
10. Game Over 
In 2019, Ashwin Saravanan's psychological thriller movie Game Over came out in India. The movie, which was made by YNOT Studios and Reliance Entertainment, stars Taapsee Pannu Taapsee Pannu is an actress and model of Indian or >> Read More... as a PTSD sufferer who defends her home from unidentified attackers. On October 10, 2018, the start of principal photography was announced. On June 14, 2019, the movie was released, and the reviews were largely favorable. The total theatrical revenue for Game Over was Rs. 15.91 crore ($2.1 million).