1. Bobbili Puli
Bobbili Puli (1982) is a Telugu action-drama film written and directed by Dasari Narayana Rao Dasari Narayana Rao is an Indian cinema director w >> Read More... . N T Rama Rao and Sridevi were in the lead roles. The film shows the story of a Military officer, how he turns into vibrant character and eliminate anti-social elements from the society. Zakhmi Sher was the remake of this movie in Hindi.
2. Alluri Seetarama Raju
Alluri Seetarama Raju (1974) is a Telugu film based on the life of Indian revolutionist Alluri Sitaram Raju and the tribal leader, Gam Mallu Dora, directed by V Ramachandra Rao. The film shows Sitaram Raju's contribution and role in Rampa Rebellion, how he grouped with tribal leaders and fought for them against British Raj.
...
3.
...
Vande Mataram is a Telugu film released in 1985 directed by T Krishna. The names Rajasekhar, Vijayashanti and Rajendra, were in the lead roles. The film was about contemporary society conditions, and in the way, situations were dealt. The film won the Nandi Award.
4. Maro Prapancham
...
Maro Prapancham is a Telugu drama film directed by Adurthi Subba Rao Telugu film industry has tasted the direction of v >> Read More... in 1970 starring Savitri, and Jamuna in the leads. In the movie a revolutionary group calls to create a utopian world, a world according to them no problems will be present, no poverty, no discrimination and establishing a social system with freedom of thoughts and in this process faces criminal charges.
5. Parama Veera Chakra Click to look into! >> Read More...
...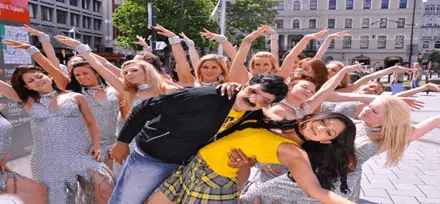 Parama Veera Chakra is a Telugu war drama film released in 2011 written and directed by Dasari Narayana Rao starring Nandamuri Balakrishna Nandamuri Balakrishna usually called as Nata Simha >> Read More... , Ameesha Patel Ameesha Patel was born on 9th June 1975. She is an >> Read More... , Neha Dhupia Neha Dhupia is a Bollywood actress who began her c >> Read More... , Sheela in the leads. This movie reflects the patriotism and won the Sarojini Devi Award for containing the spirit of National Integration. The film is about Chakradhar who is a famous Telugu hero and alongside in the movie also presents the role of a sincere Army Major Jay Simha, who dies and how Chakradhar impersonates Jay Simha to protect the Nation from terrorists.
...
6. Khadgam
...
Khadgam is a Telugu film directed by Krishna Vamsi Krishna Vamsi or also known as Vamshiramya, is an >> Read More... and released in 2002. Khadgam was a movie with patriotic spirit and won numerous awards for its motivational story. Prakash Raj Prakash Raj, born on 26th of March, 1965, as Praka >> Read More... , Ravi Teja Ravi Teja is the popular Telugu hero, whose birth >> Read More... and Srikanth were in the lead roles in the film. The movie's story revolves around three people; Koti, an actor, Amzad, a rickshaw driver and Radha Krishna Click to look into! >> Read More... , a cop showing how they came together and worked unite to fight against terrorism.
7. Sardar Papa Rayudu
Sardar Papa Rayudu is a Telugu film starring N T Rama Rao and directed by Dasari Narayana Rao. It was a historical fiction film and released in 1980. In the movie, NTR has played the role of Mohan, a sincere Police Officer. Opposite to him, Sridevi portrays the character of Vijaya, a crazy modern girl, the daughter of Raogopal Rao. When Raogopal meets Mohan and found Mohan resembling with Sardar Papa Rayudu that is the turning point in the story.
8. Tagore
Tagore is a Telugu movie released in 2003 and directed by VV Vinayak. It was crime-drama film and was the remake of Tamil film Ramanaa released in 2002. The film starring Chiranjeevi, Shriya Saran Shriya Saran, the timeless beauty, is a much loved >> Read More... and Jyothika in the leads. The film was about fighting against corruption and a story of a man who made his anti-corruption task force to work to eliminate the corrupt individual and clean the anti-social elements from the society.
9. Mahatma
Mahatma is a Telugu film released in 2009. The film was written and directed by Krishna Vamsi starring Srikanth in the lead role. The film features a local goon, Dasu (Srikanth) who is impressed by the ideology of Mahatma Gandhi which revives the Patriotism in him and changes him into a good character.
10. Subash Chandra Bose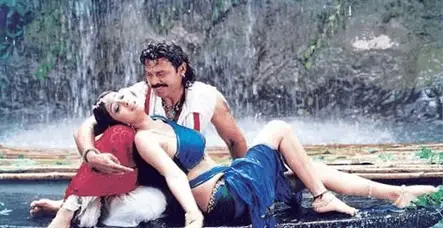 Subash Chandra Bose is a Telugu film released in 2005. It is a historical drama film and reflects Patriotism in its story line and directed by K Raghavendra Rao. Venkatesh, Shriya Saran and Genelia D'Souza played the lead roles. In the movie, Venkatesh, playing the role of Ashok, a TV channel reporter, covers a meeting of a politician (Prakash Raj). To see this politician Ashok gets the image of the bygone pre-independence era. It is revealed in the flashback that Ashok was a freedom fighter and Bandodu (Prakash Raj) was the traitor and betrayed Ashok's ally.