The first award of Filmfare Awards South Filmfare Awards South is the South Indian segment >> Read More... for Telugu Films was introduced in 1964 for the movies which were released in 1963. For Filmfare Awards, the votes of both public and committee of experts are taken into consideration, unlike in National Awards.
1. 2015: Bahubali
The Beginning The movie was aired on 10 July 2015, directed by S. S. Rajamouli and put before the public by ShobuYarlagadda and Prasad Devineni Prasad Devineni is a film producer in the South In >> Read More... . The stars Prabhas, RanaDaggubati, Tamannaah and AnushkaShetty, have emoted the lead roles in the movie. This Indian saga is almost the highest grossing movie and the only south Indian movie with 650 crores worldwide, and highest grossing Telugu film. This film was made on a budget of 180 crores (1.8 billion).
...
2. 2014: Manam
Manam is a creative stagecraft directed and written by Vikram Kumar Bio coming soon... >> Read More... and produced by Akkineni Family. The movie has AkkineniNageswaraRao, AkkineniNagarjuna, Akkineni Naga Chaitanya, Shriya Saran Shriya Saran, the timeless beauty, is a much loved >> Read More... , Samantha Ruth Prabhu Born on April 28 1987 Samantha is a model and actr >> Read More... as the leading actors. NageswaraRao died on 22nd January 2014 during the film's production phase. As this was his last movie, Nagarjuna promoted and publicized the movie as a solemn tribute to his father. This film was based on the concepts of rebirth and beautiful immortal love story.
...
3. 2013: Attarintiki Daredi Attarintiki Daredi serial on ETV revolves around K >> Read More...
...
AttarintikiDaredi is a 2013 comic drama movie, directed and written by TrivikramSrinivas and produced by B. V. S. N. Prasad. For the lead roles, PawanKalyan, Samantha Ruth Prabhu and PranithaSubhash who did their astonishing work. Famous and prominent Bollywood actor BomanIrani was seen in supporting role. After Bahubali: the beginning, this movie is the highest earning Telugu film of all time. This epic film has won 4 Filmfare awards. This movie has been dubbed into Hindi as Daring Baaz and replicated in Kannada as Ranna and Bengali as Abhimaan on public demands.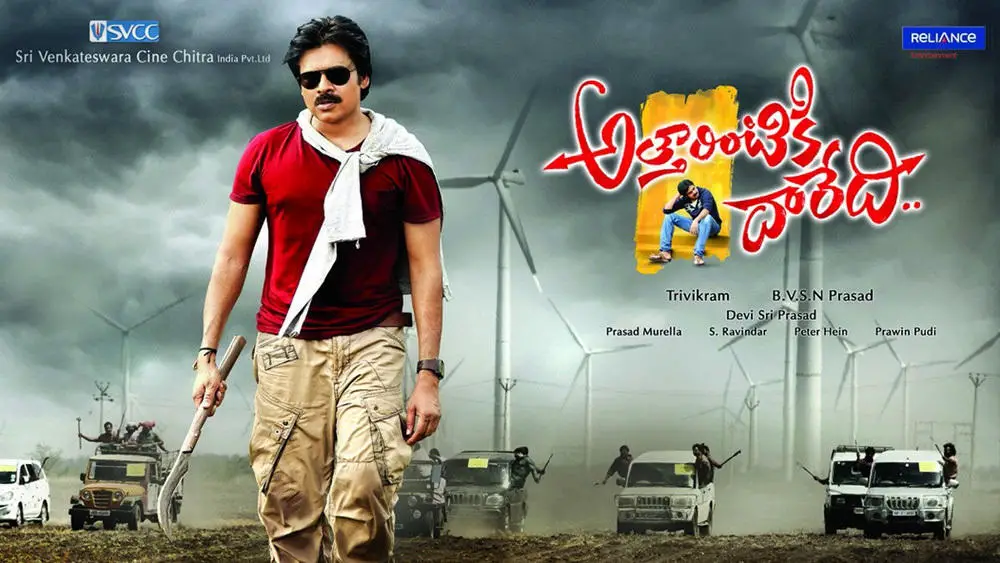 4. 2012: Eega
...
Eega is a fantasy film, compiled by K. V. Vijayendra Prasad and directed by his own son, S. S. Rajamouli. It was put before the public by KorrapatiRanganathaSai'sVarahiChalanaChitram. This movie was based on the concept of imagination. A human is reincarnated as a fly, to take revenge from the rival and protect his love. The movie won 5 Filmfare awards and many international awards too. This innovative notion was being introduced as a joke between Prasad and Rajamouli in the 1990s, and then both of them penned it into a script.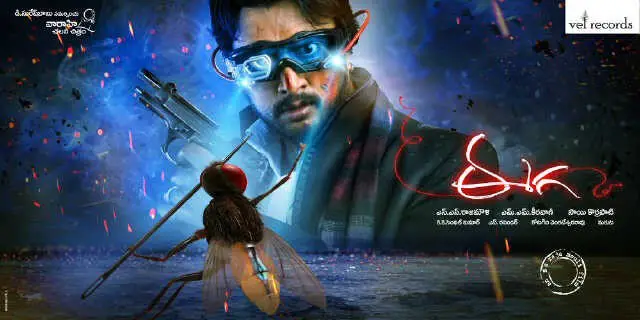 ...
5. 2011: Dookudu
Dookudu is an action comedy movie which is directed by SrinuVaitla. It was funded by Ram Achanta Ram Achanta is a leading producer in the Tollywood >> Read More... , GopiAchanta, and Anil Sunkara Anil Sunkara is an Actor, Director and Producer in >> Read More... , starring Mahesh Babu Born on 9 August 1975 in Chennai, Mahesh Ghattaman >> Read More... and Samantha Ruth Prabhu in the lead roles. This film was complied by SrinuVaitla in company with Kona Venkat Kona Venkat is a prominent Indian screenwriter, di >> Read More... . This movie has been titled as "The best hit you've never heard of."It has been shot in many portions of the world such as India, Istanbul, Turkey, Dubai and Switzerland. This film has won six Filmfare awards.
...
6. 2010: Vedam
...
Vedam is a 2010 Telugu drama film, which was compiled and directed by RadhakrishnaJagarlamudi, starring AlluArjun, Manoj Manchu, AnushkaShetty, ManojBajpayee, SaranyaPonvannan, Deeksha Seth Deeksha Seth was born in 14 February 1990 in Delhi >> Read More... , Lekha Washington Lekha Washington started her career as a video Joc >> Read More... , and SiyaGautham. This epic grand movie was but before the public by ShobuYarlagaddaDevineni Prasad. This movie won four Filmfare awards. Vedam's first promotional activity was very creative. They released the poster, after the music launch, by obscuring the main characters and accentuated the title of the movie.
7. 2009: Magadheera
Maghadheera is the combination of an action and romantic movie, written by K. V. Vijayendra Prasad and directed by famous director S. S. Rajamouli. This movie was produced by AlluArvind of Geetha Arts. This movie is based on reincarnation. This film featured Ram Charan Ram Charan is a famous Tollywood actor and an entr >> Read More... , KajalAgarwal, Dev Gill and Srihari as lead actors. This film was the first film which listed "visual effects producer."This movie has been in theatres for more than 100 days and has won six Filmfare awards.
8. 2008: Gamyam
Gamyam is a road screenplay movie, directed by RadhakrishnaJagarlamudi. The film features AllariNaresh, Sharwanand, and Kamalinee Mukherjee Born on 4th March 1980, Kamalinee Mukherjee has wo >> Read More... . The production of the movie is performed by SaibabuJagarlamudi. The idea of this movie crossed the mind of Jagalamudi when he was traveling in the state of Maharashtra and had a conversation with his driver. After this conversation, he got the concept of this movie, where two people with different perceptions, different minds, different outlook towards things travel together.
9. 2007: Happy Days Happy Days is a Telugu-language show on ETV Telegu >> Read More...
This movie is musical coming-of-age genre movie, written, produced and directed by Sekhar Kammula Sekhar Kammula or Kumar Sekhar Kammula is a direct >> Read More... . "Coming-of-age" movies are the movies which focus on the idea of the growth of youth into adulthood. Sekhar Kammula has decided to remake this film in Hindi, with Salman Khan Salman Khan is a very famous Indian actor and a pr >> Read More... as a producer. This film won six Filmfare awards along with three Nandi Awards. This movie was based on the lives of eight engineer friends, thereby connecting the audience with their ebb and flow and breathtaking journey of their engineering.
10. 2006: Bommarillu
Bommarillu is an action-comedy film which is directed by Bhaskar, produced by DilRaju, written by Bhaskar and AbburiRavi.It is one of the highest grossing Telugu films. It has been dubbed into many languages like Bengali, Hindi, Tamil and Oriya. This movie has broken several records at the box office. The movie features Siddharth, Genelia D'Souza, Prakash Raj Prakash Raj, born on 26th of March, 1965, as Praka >> Read More... and Jayasudha for the leading roles. This movie revolves around the love of the father-son relationship. The film won three Filmfare Awards South.