Love transcends time and space. It has no language, but that of the heart. So does the romantic movies. They have the unique power to touch the heart of anyone and everyone, irrespective of language and time. Moideen and Kanjanamala of 'Ennu Ninte Moideen', Vinod and Aisha of ' Thattathin Marayathu Click to look into! >> Read More... ', Clara of 'Thuvanathumbikal' and Shantanu of ' Anarkali Click to look into! >> Read More... ' are epitomes of the ideal hero concepts gifted to us by Malayalam cinema. The Malayalam film industry has left us with a handful of such movies that touches the dormant emotions that lie deep in the mind of the audience and take them to another world of love and romance.
1.'Ennu Ninte Moideen'(2015)
Set in the 1960s in the village Mukkam in Kannur District, Kerala, the film 'Ennu Ninte Moideen' took the Malayalam film industry by storm, creating a romantic upsurge all over Kerala. It tells the tragic tale of Moideen and Kanjanamala, whose love for each other were torn apart by the highly casteist and patriarchal society of Kerala. They loved each other like anything on earth, rested under that love for long ten years, even without seeing each other. Finally, the Iravazhinji river which Moydeen loved as his mother took him away into the shade of death under her waters. But even death did not separate them. Kanchanamala sill lives, in the sweet memory of her love and her only man. Directed by ' RS Vimal R.S. Vimal is a filmmaker of Malayalam cinema by p >> Read More... ', this real life story of Moideen and Kanchanamala, tinged with politics made it to the top of the list of the Evergreen Malayalam movies.
...
2. 'Anarkali'(2015)
Written and directed by Sachy, 'Anarkali' is one of the most popular and recent hits of the year. The movie begins when the hero Santhanu(Prithviraj) arrives at Kavaratti in pursuit of his search for his lover, Nadira. The suspense and mysteries at the beginning add to the romantic charm of the movie. As the plot tightens the mysteries starts unlocking, and a magnificent love story is revealed before us. Santhanu is a naval officer and he happens to fall in love with his senior officer's daughter Nadira. Their relationship was out soon. Shantanu got a dismissal and he went back to his hometown. But their love was too strong to be broken by distance. After long years of anticipation Santhanu finds Nadira even putting his life at stake.
...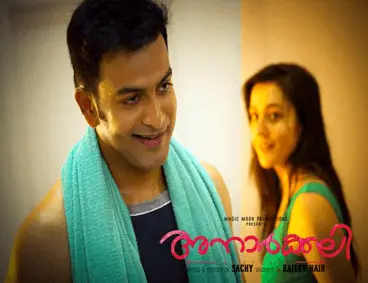 3. 'Thattathin Marayathu'(2012) .
...
It is a simple, sweet and marvelous tale of Vinod and Aisha, who falls in love with each other, separated by caste and religion but finally united by love. Unlike other intercaste love stories with full of disputes and frenzy, this story is light as a feather and leaves us with a smile in the end. After the release of this movie, it took the youngsters by a revolution, redefining the meaning of romantic films. Vineeth Srinivasan directed this movie, and Nivin Pauly Nivin Pauly is predominantly a Malayalam actor. Bo >> Read More... played the role of Vinod.
4. 'Thoovanathumbikal'(1987)
...
This movie directed by Padmarajan turns out to be one of the greatest romantic movies in Malayalam. It is the story of Jayakrishnan (Mohanlal), an aristocrat from Thrissur, who falls in love with two women, Radha( Parvathi)who is a distant relative and Clara(Sumalatha), an escort. In this movie, Clara outshines more than anyone. Even though she is in deep love with Jayakrishnan, she withdraws herself from him, and clears Radha's path.
...
5. ' Pranayam Pranayam is a Malayalam television soap opera. It >> Read More... '(2011)
A spectacular movie directed by Blessy with exceptional acting skills of Mohanlal, Jayaprada, and Anupam Kher Anupam Kher is a very popular actor, director, and >> Read More... . Grace, Mathews and Achutha Menon are the main characters.This picture unveils before us two greatest universal truths, that love can happen even at an older age, and that it could be even between two men. But the love between Mathews and Achutha is not of the kind tat one thinks. It is the love for Grace that unites them. This movie reconstructs the traditional notions about marriage and love.
...
6. ' Premam Click to look into! >> Read More... '(2015)
...
It is a romantic comedy film written and directed by Alphonse Putharen. It traces the three phases in the life of the hero George. This movie tells the story of three love relationships of George; Mary, his first love, Malar, his sincere love, and Celine, his accomplished love. This movie has created a deep impact upon the youth.
7. 'Amen'(2013)
This film portrays a very innocent rustic and pastoral love of Solomon('Fahadh Fazil') and Shoshanna(Swati Reddi). Lijo Jose Pallissery is the director. The love between Solomon and Shoshanna is so sincere that, finally God himself descends to earth to unite them. It has an ideal romantic setting of a pastoral village in Kuttanadu for the love to take place.
8. ' Nandanam Click to look into! >> Read More... '(2002)
It is a simple movie with the story of a simple romance. Manu, the hero who is a software engineer in Bangalore, falls in love with the maid Balamani. Their love was so heartfelt and earnest that it had the power to resist any oppressions. But at times, the thread started breaking, and it was then that God himself came down to earth to unite them.
9. 'Aniyathipravu'(1997)
Sudhi and Mini loves so much that they cannot live without each other. So they decide to elope ignoring the objections from both the families. But finally' they change their decision and goes back to their houses for the sake of their family even though they are crying at heart. But realizing their sincere love for each other, the families let both of them to live together. Directed by Fazil and enacted by Kunchaco Boban and Shalini, this movie not only tells of the love between two persons, but also exemplifies the importance of family relationships.
10. 'Namukku Parkkan Munthiri Thoppukal'(1986)
Last but not the least is the evergreen hit movie of Mohanlal, 'Namukku Parkkan Munthiri Thoppukal' directed by Padmarajan. Love of Solomon and Sophie is beyond the heavens and anything material. Even when Sophie's stepfather destroys her chastity, Solomon keeps her close to his heart. The many allusions from Bible add to the romantic charm of the movie.