1. Bhavana Menon Bhavana, a Malayalam Actress, was born in Thrissur >> Read More...
Director ' Kamal Kamaluddin Mohammed Majeed, more prominently known >> Read More... 's film 'Nammal' showed the world a new actress named Bhavana. Talented and beautiful this actress from Thrissur later conquered South Indian film industry. Her original name was Karthika Menon which she changed to Bhavana during her first film 'Nammal'.
...
2. ' Dileep Dileep was born in Kerala as Gopalakrishnan Padman >> Read More... '
Malayalam actor Dileep's original name was Gopalakrishnan. He was popularly known by his stage name from the beginning of his film career. But he fancies his old name since many of his movie characters have the same name.
...
3. ' Mammootty Muhammed Kutty Ismail Paniparambil is the original >> Read More... '
...
Malayalam movie superstar showed his presence in the film "Anubhavangal Paalichakal". His original name was Muhammad Kutty Ismail Paniparambil. But many of his fans don't know his original name, since he is all too famous by his stage name, Mammootty. He was known as Mammootty from his very first film itself.
4. Navya Nair Navya Nair is a familiar face on Mollywood. Navya >> Read More...
...
Navya Nair was an acting talent from her early school days itself. She was a talking point before her entry into the movie industry as she was a talented actress. Her name was changed from Dhanya Nair by director Sibi Malayil Sibi Malayil is an acclaimed director in Malayalam >> Read More... during her very first film ' Ishtam This is the story of two made-for-each other coupl >> Read More... '. Because he thinks that the name was so common and came with a suitable stage name.
5. 'Nayantara'
...
The most famous actress from South India debuted in her film career in Malayalam. She changed her name from Diana Mariam Kurian to Nayantara during her very first film 'Manasinakkare', under the instruction of director Sathyan Anthikadu. She later officially changed her name into Nayantara, by which she is known all around India.
...
6.
...
Malayalam's very first superstar Prem Nazir's original name was Abdul Khader. "Nithya Haritha Nayakan" of Malayalam film started his film career by acting in the film 'Marumakal'. But changed his name from his second movie "Visappinte Vili" onwards.
7. ' Revathi Bio coming soon >> Read More... '
The talented actress-dancer Revathi's original name was Asha Kutty Nair, which she changed during her very first film " Mann Vasanai Mann Vasanai is a Tamil dubbed serial which showca >> Read More... " which was directed by ' P Bharathiraja Director P Bharathiraja is a popular person, who r >> Read More... '. Her name was a real lucky charm since she was a successful actress later on. She even won National Award for Best Actress.
8. ' Sharada Noted South Indian actress Sharada, a three-time r >> Read More... '
Sharada is not a Keralite by birth, but she made a wonderful career with her performance in many vast numbers of Malayalam films. Her real name was Saraswati Devi Saraswati Devi was the second Hindi female music c >> Read More... and born in Tenali in Andhra Pradesh. She later changed her name which is suitable in Malayalam film industry.
9. ' Sheela Winner of the Guinness World Record along with Pre >> Read More... '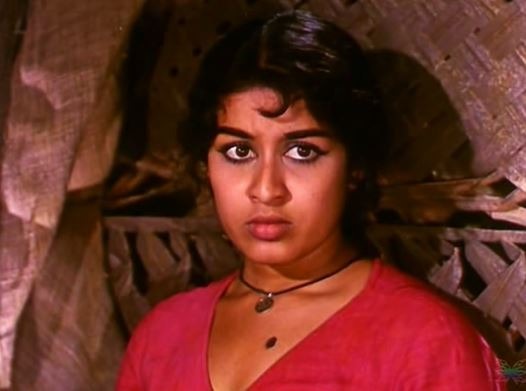 Malayalam's all time hit actress Sheela was a very talented actress and acted in many numbers of films during her career. She is still acting in mainly Malayalam films. Her original name was Clara, which she changed into Sheela when she was at her peak in Malayalam movie industry.
10. ' Urvashi Urvashi is the stage name of Kavitha Ranjini, a pr >> Read More... '
Urvashi was the youngest of the trio of sisters, ' Kalpana Click to look into! >> Read More... ', '', and Urvashi. Her original name was Kavitha Ranjini which she changed into Urvashi after director's insistence so that the name "Urvashi" is more suitable for an actress. She later became a very famous actress all along South India.