1. Pulimurugan
The new sensation in Malayalam film industry. 'Pulimurugan' is the only Malayalam movie that reached the 100 crore mark. As the name indicates, there is a tiger in this movie and a wonderful fight scene between the tiger and superstar ' Mohanlal' in this movie.
2. The Guard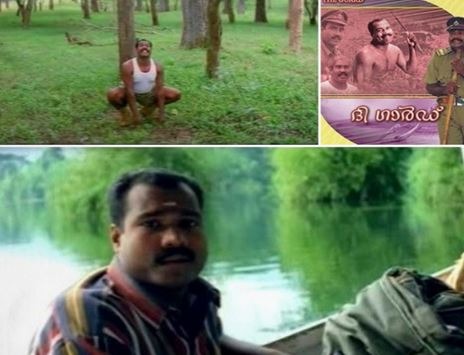 "The Guard" is a 2001 released film, in which Kalabhavan Mani played the title role. Most importantly, he is the only cast in this movie. His character plays the role of a forest guard and his view of nature and animals.
3. 'Ringmaster'
Janapriya Nayakan ' Dileep' played the title role in this Malayalam movie. It is a story about a dog trainer and his favorite dog, and their journey to the film world. Although the movie was not a success because of lousy direction and lack of strong story, it was a timely watch.
4. 'Mrigaya'
Superstar ' Mammootty' played the lead role in this tragic movie. Mammootty appears in a different getup in this Malayalam movie. There is a tiger in this movie which has a strong contribution towards the movie plot. The movie was a real hit and still remembered for its wonderful story and action sequences.
5. CID Moosa
"CID Moosa" was a complete comedic movie and never stops making us filled with laughter. Dileep played the main role in this film, and there is a dog named Arjun in this movie. The dog was a hit in this blockbuster comedic movie.
6. My Dear Karadi
"My Dear Karadi" is a funny film which was released in 1999. The movie was a total disaster due to a very weak direction and lack of strong story. There is a bear in this movie, and it has a part to play in this movie. Apart from the comedy, the movie was a complete failure.
7. Pattabhishekam
An Elephant, a man and a lot of problems. Simply put 'Pattabhishekam' is this much only. A film with lots of comedic moment and a wonderful cast. This Malayalam movie is a complete family entertainer and a watchable film in all aspect. ' Jayaram' played the lead role in this movie.
8. Aanachandam
Another Jayaram movie into the list. 'Aanachandam' is a complete animal film. It talks about a man and his love towards an Elephant. The movie is filled with Elephant issues and story related to Elephants.
9. Guruvayoor Kesavan
Yet another Elephant movie into this list. "Guruvayoor Keshavan" is a Malayalam movie based on true events and stories. The film talks about an Elephant of the same name on which the movie is named, and its adventure to become the most famous Elephant in Kerala.
10. Sindooracheppu
A sad and lovable movie. 'Sindooracheppu' is yet another Elephant story in this list. The movie was released back in 1971 and talks about the love between an Elephant and its trainer. ' Madhu' played the role of the main title character role in this wonderful movie