Prithviraj Sukumaran Prithviraj Sukumaran is one among the bubbly actor >> Read More... is an accomplished and brilliant film actor from Kerala. He has also tried his hand in producing and playback singing as well. He has an extensive list of Malayalam, Tamil, Telugu, and Hindi movies to his credit. Prithviraj has also produced a couple of successful movies under his Production Company, August Cinema. The films, Celluloid Celluloid is a movie based program telecasted by S >> Read More... , Ayalum Njanum Thammil Click to look into! >> Read More... , and Vasthavam, brought him two State Awards for Best Actor. He also received a National Award for producing the film, Indian Rupee Click to look into! >> Read More... .
1. 'Ennu Ninte Moideen' (2015) This 2015 hit movie marks a milestone in the career of this young actor. Directed by RS Vimal R.S. Vimal is a filmmaker of Malayalam cinema by p >> Read More... , it won more than 40 awards including a national award. In this picture, Prithviraj played the character Moideen, who is a revolutionary and a social activist. He received many best actor awards for this character. It was a box-office hit, collecting over 50 crores. Parvathy, Sai Kumar He was born on July 27, 1960 in Vijayanagaram, And >> Read More... , Tovino Thomas Tovino Thomas is a well-known face in the Malayala >> Read More... and Lena appeared in other lead roles.
...
2. ' Anarkali Click to look into! >> Read More... ' (2015) Another top hit of 2015, the film Anarkali is a saga of eternal love. Directed by Sachi, it stars Prithviraj, Priyal Gor Priyal Gor is a gorgeous young Indian model and ac >> Read More... , Biju Menon The tall, dark and handsome Biju Menon started his >> Read More... , and Miya in the lead roles. Prithviraj appears as Shanthanu Varma, a diving instructor at Kavaratti, who was a former naval officer. Rajeev Nair Rajeev Nair is a writer, lyricist, and producer in >> Read More... produced the picture under the banner of Magic Moon Creations. All the songs of the movie received wide acclaim.
3. 'Indian Rupee' (2011) Prithviraj produced this film under the banner of August Cinema, for which he got a national award. It stars Prithviraj, Tini Tom Tini Tom is a famous Indian movie actor, TV awards >> Read More... , Jagathy Sreekumar Jagathy Sreekumar, a famous Indian film actor know >> Read More... and Rima Kallingal Rima is one of the gifted actors of the industry. >> Read More... as the main characters. It tells the story of Jayaprakash, a real-estate dealer who is in pursuit to make quick money. It was a commercial and critical success of the year 2011, and also received a National Award for Best Film.
...
4. 'Celluloid' (2012) This movie is based on the real-life story of J. C Daniel, who is known as the father of Malayalam cinema. The veteran director Kamal directed the film, produced by Prime Time Cinema. Prithviraj plays the role of Daniel with Mamtha Mohandas as his wife, Janet. It received a National Film Award in 2012 for The Best Feature Film in Malayalam, and also six Kerala State Film Awards including the Best Actor Award for Prithviraj.
...
5. 'Ayalum Njanum Thammil' (2012) It is a 2012 box-office hit film of Prithviraj directed by Lal Jose Best known in Malayalam cinema, Lal Jose is a film >> Read More... . It tells the story of a doctor, Ravi Tharakan, who works at a private hospital. The artistic excellence of Prithviraj in this film paved him the way towards the Kerala State Best Actor Award for 2012. It also received much critical appreciation, and also three other State Awards.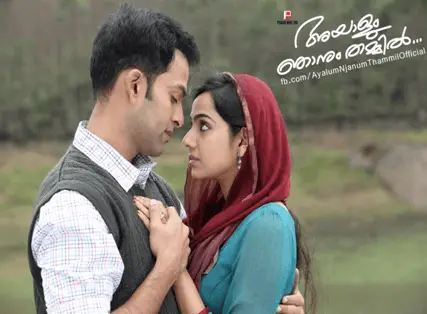 ...
6. 'Paavada' (2015) This film brings out the finesse and artistic excellence of Prithviraj as an actor. It features Prithviraj as the character Pambu Joy, an around the clock drunkard. Directed by G. Marthandan and produced by Maniyanpilla Raju Maniyanpilla Raju act is a South- Indian film acto >> Read More... , the film became a commercial success, collecting more than 15 crores. Anoop Menon Anoop Menon is an Indian film actor, script writer >> Read More... , Asha Sharath, Miya George The young Indian model and South Indian actress Gi >> Read More... , and Maniyanpilla Raju handle other lead roles.
...
7. ' Mumbai Police Click to look into! >> Read More... ' (2013) This film gives a different appearance to the actor in Prithviraj. It is the story of a police officer, Antony Moses, who moves forward through mysterious and bewildering incidents in life. The movie, directed by Rosshan Andrews has the script of Bobby and Sanjay. It met with positive reviews and praises at the theaters and made an average profit.
...
8. 'James and Alice' (2016) This film is the directorial debut of the accomplished cinematographer . Though the theme is a cliché, the narrative style and unique cinematography have made it exciting and heart-touching. Produced by Dharmik Films, the movie met with a fair commercial success and many positive reviews.
...
9. 'Urumi' (2011) It is a historical film directed by Santosh Sivan Santosh Sivan (born 8 February 1964) is a film dir >> Read More... , starring Prithviraj, Prabhu Deva Prabhu Deva is one among the populous cinema perso >> Read More... , Jagathy Sreekumar, and Genelia D'Sousa in the lead. Prithviraj co-produced it under the banner of August Cinema. He plays the role of Chirakkal Kelu, who fights against the Portuguese who tries to rule their land. The production cost is estimated to be 20 crores, and the film opened to many accolades and critical appraisals.
10. 'Memories' (2013) It is a crime thriller directed by Jeethu Joseph Jeethu Joseph is a Malayalam film screenwriter and >> Read More... , with Prithviraj enacting the role of a police officer, Sam Alex. The film got overall good reviews and appraisal of critics. With Sujith Vasudevan's cinematography, it effectively conveys the feelings and emotions to the audience. Produced by P. K. Muralidharan under the banner of Anantha Vision, the movie met with fair success at the theaters. Vijayaraghavan, Meghana Raj Meghana, whose full name is Meghana Raj, is an Ind >> Read More... , S. P. Sreekumar, Rahul Madhav Rahul Madhav is one among the actors presently hav >> Read More... , and Mia George appears in other lead roles.