Kannada film industry has recently given many blockbusters action films and is also known as Sandalwood. Kannada cinema has made a big comeback in the 21st century with its action movies. After giving super hit films like K.G.F, Ulidavaru Kandanthe Click to look into! >> Read More... , and Uppi 2, Kannada cinema has caught the eyes of the audience. If you are also looking for some of the best action movies you can watch, then you are at the right place. Here you will find the top 10 Kannada action movies from the 21st century that you can't miss.
1. K.G.F Chapter 2
K.G.F Chapter 2 is the number one Kannada action movie on our list, becoming one of the highest-grossing Kannada films. It is a period action film released on 14 April 2022 and is the continuous part of K.G.F Chapter 1 (2018). The film features Yash, Sanjay Dutt July 29, 1959, was the day when the two legends of >> Read More... , Raveena Tandon Raveena Tandon is an Indian film actress who is kn >> Read More... , Srinidhi Shetty Srinidhi Shetty well-known as Srinidhi Shetty Miss >> Read More... , and Prakash Raj Prakash Raj, born on 26th of March, 1965, as Praka >> Read More... in the main cast. The story revolves around an assassin name Rocky.
...
2. K.G.F Chapter 1
K.G.F Chapter 1 is a Kannada period action film written and directed by Prashanth Neel Prashanth Neel is an Indian filmmaker who works in >> Read More... and stars Yash and Ramachandra Raju Ramachandra Raju is a producer cum actor in the Ka >> Read More... in lead roles. Yash acting as Rocky was highly praised and became the blockbuster hit of 2018. The film follows Rocky, a gangster who hides as a salve to assassinate the owner of a gold mine.
3. Ulidavaru Kandanthe
Ulidavaru Kandanthe is a neo-noir crime drama anthology Kannada film that became the best cult classic in Kannada film Culture. It has received highly positive reviews praising the direction, performance of actors, and cinematography. Directed and written by Rakshit Shetty Rakshit Shetty is a Kannada film actor and directo >> Read More... , Shetty also appears as the lead actor in the movie.
...
4. Uppi 2
Uppi 2 is a Kannada psychological thriller film released on 14 August 2015 and became a commercial success. The film revolves around a man name Neeenu, who believes that Today is a gift, that's why it's called a present. Starring Upendra, the film is also written and directed by Upendra. It also stars Kristina Akheeva Kristina Akheeva, an Australian actress and a mode >> Read More... and Parul Yadav Parul Yadav is a popular Kannada actress in both t >> Read More... in the main cast.
...
Avane Srimannarayana is an action-adventure Kannada movie that revolves around a corrupt cop who is on a mission to solve an ancient history. Directed by Sachin B. Ravi, it stars Rakshit Shetty and Shanvi Srivastava Shanvi Shrivastava, who recently turned 23 on 8th >> Read More... as the main character. It was released on 27 December 2019 and became the second highest-grossing film after K.G.F.
...
6. Ugramm
Ugramm is one of the best action-thriller films of Kannada cinema, released on 21 February 2014. The film stars Srimurali and Haripriya in the lead roles, directed by Prashanth Neel. The action-packed performance of Srimurali as Agasthya in the movies has won the heart of many people. Agasthya witness a girl raped by a group of goons and decide to protect the girl.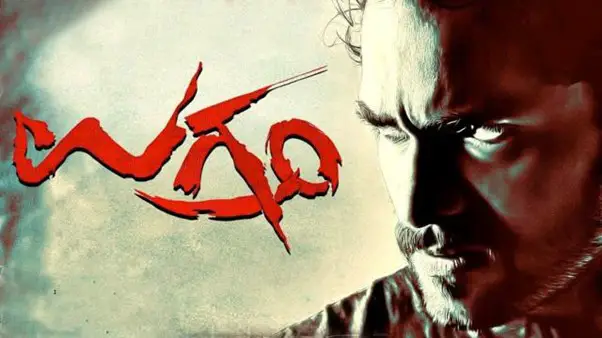 ...
7. Raajakumara
Raajakumara is an action drama Kannada film directed and written by Santhosh Ananddram Santosh Anandram is a highly talented person since >> Read More... . The film features Puneeth Rajkumar Puneeth was born on 17th March 1975 in Madras, Tam >> Read More... and Priya Anand Priya Anand is a popular Tamil actress who has app >> Read More... as the main cast. It follows an adopted son, a kind-hearted man who takes care of his father's business. It received positive reviews from the critics and audience and was released on 24 March 2017.
...
8. Mufti
Mufti is a neo-noir action thriller Kannada film starring Shiva Rajkumar Shiva Rajkumar is the populous Kannada actor, who >> Read More... and Sriimurali in the lead roles. Directed by Narthan, the film was released on 1 December 2017 and received praise from the audience. It follows a police officer who goes into a place taken over by a don, where his safety is not guaranteed.
...
9. Tagaru
Tagaru was directed and written by Duniya Soori Duniya Soori is and Indian director who works in m >> Read More... and starred Shiva Rajkumar, Bhavana, and Manvitha in the lead roles. The film follows Shiva, a kind-hearted man who takes an oath to eliminate sinners from society. The film got praised for its brilliant screenplay, direction, creative cinematography, and promising music.
10. Navagraha
Navagraha is an action thriller Kannada film directed and written by Dinakar Thoogudeepa Dinakar Thoogudeepa is an Indian film director pre >> Read More... . The film was released on 7 November 2008 and starred Darshan and Sharmila Mandre in the lead roles. The story of the film revolves around a gang who tries to steal AMBARI's sacred and royal thing crafted from 750 kg gold.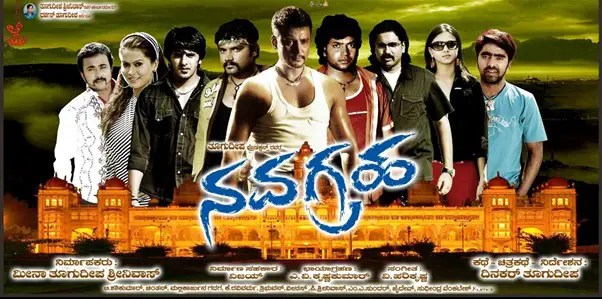 Conclusion
These top 10 Sandalwood action movies are defiantly worth your time. If you still haven't watched these action movies, you can give them a try.