Fondly known as the "Chitra Brahma", meaning the Brahma of movies,
Puttanna Kanagal
was born on 1st December 1933. Since he was from a poor family, he had to do odd jobs to earn money. The "publicity boy" job what he did got him closer to the film industry. He worked as an assistant director under B.R.Pantulu before becoming a director. He has been a role model to all the filmmakers and even today his words surround the industry. He insisted the movies be visually appealing than oral. This gave a new dimension to the films at that time. It is till date being followed and will be followed in the decades to come. He has given over thirty movies to Sandalwood in which a huge majority of the movies were blockbuster hits. We have here a list of top ten movies of his great contributions.
1. Belli Moda
Belli Moda is a film in the year 1967. It stars
Kalyan Kumar
and Kalpana in the lead roles. This story is based on the greediness a human has when he doesn't know the value of true love. It is one of the greatest movies that Puttanna Kanagal ever directed.
2. Kappu Bilupu
This is a story regarding two twins who are completely different in their behaviours. It is also a way that Puttanna found to share his learnings from Vivekananda to youngsters. The dual role is played by Kalpana. This movie is based on a novel "Kappu Bilupu" by the author Aryambha Pattabhi.
3. Gejje Pooje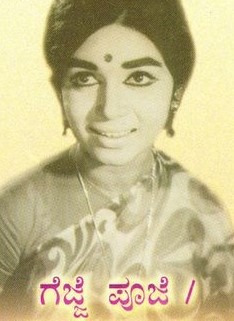 Gejje Pooje is a 1969 movie directed by Puttannaji. It is based on a social issue; prostitution. It brings out the difficulties and the plight of all the prostitutes. It is very sad that nobody is trying to know what their state is and just passing comments. This film has tried getting justice to all the prostitutes in the world.
4. 'Sharapanjara'
This is a movie of 1971 which attracted a lot of audiences. In this movie too Kalpana has showcased her acting talent beautifully. It is a story of a mentally imbalanced person who finally doesn't find any happiness in her life. This story even shows how the society looks at mentally imbalanced people.
5. 'Naagarahaavu'
Naagarahavu is a story of a youngster named Ramachari. It gave a very big opportunity for Dr.Vishnuvardhan and Ambareesh. It was produced by the father of Crazy Star Ravichandran's father N.Veeraswamy. It was released in the year 1972.
6. Edakallu Guddada Mele
It is a story of a faithful wife who got into a complex relationship with a young neighbour. The young neighbour tries cheating her by going out with her sister. The wife is protective and tries to make her sister understand and the husband over hear her. This leads to the end of her happy life and the start of her misery.
Ranganayaki is a story of an actress who was left behind by her husband when she decided to continue her career in acting. Her son is not shown to her after that. But, unknowingly he is in contact with her as her fan. He gets to know that she is her mother only after her suicide. It was a movie released in the year 1981.
This story by Puttanna Kanagal has a basis of three short stories in Kannada. Puttanna Kanagal is famous for bringing out his ideas that he has learned from something. The same way, he decided to get his ideas from the three short stories in a combined way.
9. 'Dharmasere'
This movie stars Aarathi and Pranayaraja Srinath in the lead roles. This movie showed the plight of women in that time. It made a sound in the box-office in the year 1979. It was an eye-opener to all women of that decade.
This movie stars Aarathi and Srinath in the lead roles. This story tells about how a totally dependent girl turns to be an independent girl when the circumstances prove difficult. It was released in the year 1975.