1. Cheluvina Chittara:
Cheluvina Chittara is a must watch for every teenager. It beautifully depicts the infatuation one has for the opposite sex at that age. The story talks about a rich school girl and a garage mechanic. The two of them fall in love with each other. They elope and get married. But the climax is a tragic one. The girl's family goes in search of her. They find them and get the girl married to someone else. They hit the boy so badly that he becomes mentally retarded in the end. It shows how an immature step taken by the two youngsters spoiled their lives.
...
2. Mungaru Male:
Mungaru Male was a big hit and broke all industry records in the year it was released. The movie is about a boy who falls in love with a girl at first sight. He is so fortunate that he was invited to live in the same house that she lived, as their parents were family friends. Unfortunately, the girl's marriage is fixed. The hero still has hopes that he could convince the girl's father to get his daughter married to him. But he finds out that her father is sick and would die at any time. His last wish is to get his daughter married to the other boy. Hence, he doesn't want to displease her father and leaves the place on the day of her marriage. It is a wonderful love story that will leave you in tears.
...
3. 'Ambari':
Ambari was the first Kannada movie which ran in many cinema halls for more than 100 days. The film is about a girl who falls in love with a cobbler. He, on the other hand, falls in love with her feet. They travel from Bangalore to Taj Mahal on a cycle. It is a sweet love story. The climax is a very painful one, though. Once they reach Taj Mahal, some rowdies kill the boy, and the girl is left alone.
...
4. Sanju Weds Geetha Click to look into! >> Read More... :
Sanju Weds Geetha is a romantic movie with a tragic ending. Sanju sees Ramya on the street and instantly falls in love with her. He somehow convinces her, and she falls in love with him. She tells him that during her childhood her cousin used to abuse her, but he only starts liking her even more. They plan to get married soon as her cousin starts abusing her again. They decide to elope, but on the way, Geetha's cousin kidnaps her. Sanju goes to save her and ultimately kills her cousin. He is sentenced to life. When Geetha goes to meet him, he asks her to marry someone else. She is depressed and goes to their previous meeting place. She slips there and loses her memory. So many more things happen and, in the end, both of them die.
...
5. 'Geetha':
...
Geetha, a college student, falls in love with Sanjay, who sings at concerts. She somehow makes him love her back. It was only after a few days that he gets to know from her mother that she is suffering from blood cancer. She starts losing her sight, her hair and gets marks all over her body. Geetha becomes very sick. Sanjay, on the advice of the doctor, imports a drug from California, which can cure cancer. He reaches the airport to collect the drug. But by the time he returns, she breathes her last.
...
6. Taj Mahal:
This movie is about two college mates Ajay and Shruthi. Ajay confesses his love to Shruthi, but, she likes Kumar. Well, Kumar is Ajay himself, but Shruthi doesn't know that as she has only spoken to him on the phone. Ajay fails to complete his Engineering because of his love. He goes back to his parents who are poor farmers and, asks them to forgive him. They welcome him back with a lot of love but suddenly a lorry hits Ajay, and he dies. Shruthi gets a diary of Ajay and understands that he was Kumar. She goes to the place where he is buried, which the villagers there called Taj Mahal because they thought he died for his love.
...
7. 'Gilli':
Gilli is the story of a boy whom people consider useless as he fails in his exams. He falls in love with his neighbour. She finds out his hidden talent , and he gets a good job. The girl's parents do not let them get married, as are indebted to a family, and want to clear their debts by giving their daughter in marriage. Hence, the two lovers go to a hotel room where they make love. The next morning the girl feels that he is only attracted to her physically, and both of them keep arguing while crossing the road. Suddenly a truck hits the girl, and she dies. The boy unable to forget about her tries to commit suicide, but he always fails. He feels like her spirit is with him and keeps talking to her like that.
8. ' Hudugaru Click to look into! >> Read More... ':
The movie is about three friends who have different aims in life. One wants to join the police, the other dreams of opening a computer centre, and the last one decides to settle in Dubai. One of their best friends falls in love with an MP's daughter. The three friends try to help the girl elope from her house. In the mission one friend loses his leg, one his ear and, the other got hurt badly on his forehead. In the end the couple for whom they sacrificed so much, plan to divorce and all their efforts goes to the dogs.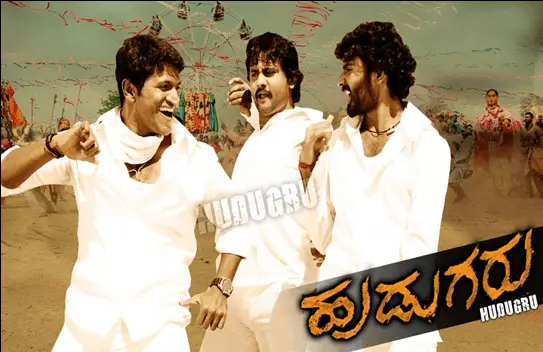 9. 'Amruthadaare':
This movie is about a married couple who love each other a lot, but fight over petty issues. Later on the guy finds out that his wife has a tumour in her brain, and will die soon. So, he tries to fulfil all her wishes. She meets her favourite actor . He takes her to Taj Mahal, where she breathes her last.
10. Raktha Kanneeru:
This movie is about a young Indian man who loves the western culture. He hates Indian traditions. He marries a simple girl just for his parent's sake. He has an affair with a sex worker. He ill-treats all the low caste people. In the end he suffers from leprosy, and becomes a beggar.