In Bollywood, there have only been a handful of occasions where the antagonist has received more cheers and praise than the main character. However, it becomes simple when a talented antagonist like Amrish Puri Amrish Lal Puri was born on 22nd June, 1932 in Pun >> Read More... plays the lead role. Amish is without a doubt one of the most adored villains that Hindi cinema has ever produced. In addition to demonstrating his versatility as an actor, from being rejected as a hero in 1952 to producing outstanding acting performances such as Mogambo, and Baba Ji, he left an indelible impression on viewers.Although he had also worked in films in Telugu, Kannada, Tamil, Malayalam, and Marathi, his work had primarily been in Hindi-language productions. In the Best Supporting Actor category, Puri won three Filmfare Awards.
Here is a list of Amrish Puri's top 10 films, in honor of a wonderful actor, that helped to establish him as one of Bollywood's most adored antagonists:
1. Mr. India
Amrish is well-known for his role as a notable antagonist in this movie. His portrayal as Mogambo in the film Mr. India earned positive reviews from both the general public and the reviewers. The term "Mogambo" has become imprinted in our culture as a result of the actor's remarkable performance.
...
2. Nayak 
The best scene in the movie is Anil Kapoor's interview with Chief Minister Balraj Chauhan, played by Amrish Puri, which helped the former win the position of the next Chief Minister. It was a box office flop, bringing in only 205.6-million-yen ($2.6 million) despite having a 210-million-yen ($2.6 million) budget for production and marketing.
...
3. Koyla
Amrish Puri deceived Shankar, played by Shah Rukh Khan Shah Rukh Khan or also known as SRK is a prominent >> Read More... , thinking he was his well-wisher and misled Gauri, played by Madhuri Dixit Madhuri Dixit is not just known as the also a smil >> Read More... , in marrying him. He portrayed a man who, to cure his condition and resume performing in the bedroom, marries a young girl. Puri was nominated for a Filmfare Award for Best Performance in a Negative Role for his performance as Raja Saheb, one of the darkest characters he has ever played. The movie only received one nomination.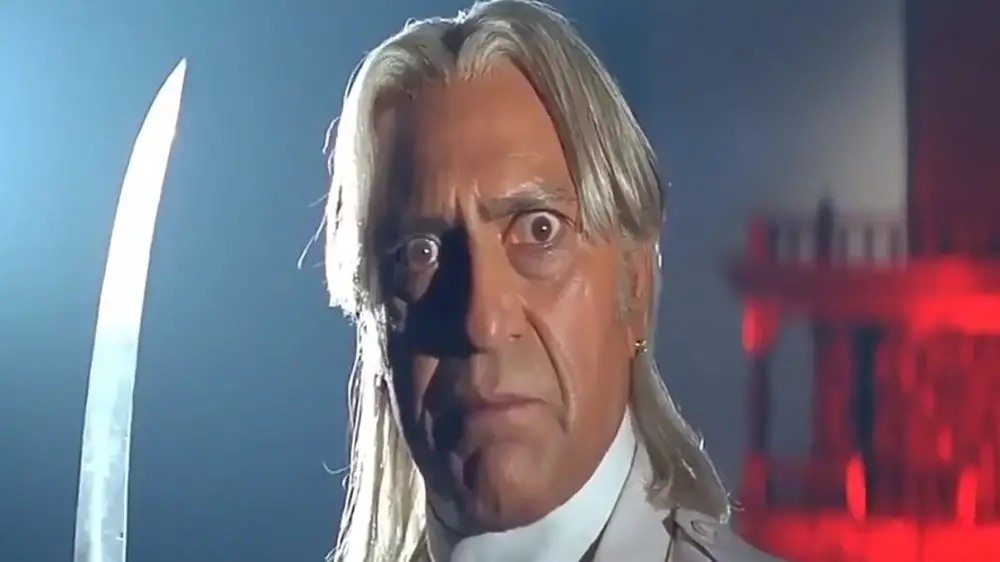 ...
4. Ram Lakhan
Amrish Puri played the depraved character in the film, Ram Lakhan, who stole the ancestors' fortune by murdering his nephews. In the end, he was a ruthless and nasty man who received what was just his. However, he made it plain throughout the film that no one could do it better than him
5. Ghayal
Another excellent film by Rajkumar Santoshi Rajkumar Santoshi is an Indian filmmaker who shot >> Read More... , released in 1990, stars Mr. Amrish Puri as Balwant Rai, who falsely accuses Ajay ( Sunny Deol Sunny Deol is a film actor, director and producer. >> Read More... ) of killing his brother. Watch Ghayal right away if you want to see a plot built on a successful comeback with revenge.
...
Puri was nominated for a Filmfare Award for Best Performance in a Negative Role for his performance as Thakur Durjan Singh in the story of two brothers named Karan and Arjun, whose murders were brought on by the hated and powerful person in the neighborhood.
...
The song "Main Nikla Gaddi Leke" and Amrish Puri's characterization of Ashraf Ali Bio coming soon... >> Read More... are two of Gadar's most well-known cultural contributions. The performer played a character that was so potent that it gave the film a new type of authority.
...
8. Damini
Damini, a 1993 film directed by Rajkumar Santoshi, was made available to the public. The plot centers on a woman who defies the law and brings a lawsuit against her brother-in-law and his associates to get justice for her housemaid. Amrish Puri portrayed Indrajit Chadda, a criminal defense attorney with a cunning intellect who will do anything to further his goals.
...
9. Tahalka
Amrish Puri rose to prominence as a film industry villain. He represented a character so deftly that even if one were to forget the film and the plot, they wouldn't be able to forget him. He had characters that people will never forget, including General Dong.
10. Nagina
Throughout his career, Amrish Puri has taken on several different roles. In the film Nagina, Amrish plays a sadhu (a being with snake-controlling abilities). He was the one who had control over the deadly, unpredictable serpent that Sridevi was playing. Amrish Puri has the power to represent any character that has ever been written about or envisioned.