Versatility has always been a quality of Indian singers. What is versatility? Versatility denotes the capability of a singer, how many different genres has a singer mastered. Achieving versatility is a difficult task, but the Indian talent is a shining star. So here they are the top ten most versatile Indian singers ever.
Just try to say his name without a smile and if you've heard him, you absolutely can't. His name is itself a synonym for versatility, and he has been the idol for all Indian singers since decades. From "Chatur Naar" to "Ghungroo Ki Tarah" he is absolutely the best India can offer. With such a simple personality and overwhelming talent, he was in the industry without much effort. We love you Kishore-da, and we can never forget you.
If I could revive someone from the dead, I would thoughtlessly revive him. His voice is soul touching and was a lovely personality. He never made many efforts for singing; singing was something like speaking to the man. The listeners always feel a speciality in his singing; nobody could sing his melodies better than him. Every Indian soul respects him and regrets that he is not with us today.
The Nightingale of India, Lata mangeshkar is one of the finest singers India will ever see. Her voice sounded like goddess Saraswati bestowing her blessings, it made people rejoice in happiness, and cry in the sad. She has almost sung every type of song you can think of and sang it so beautifully like stars in the sky. No matter how many singers come and go, no one can occupy her space in our hearts.
4. Asha Bhosle
When it comes to versatility, no one can come equally to the queen of indie pop. The songs she had sung are so diverse in nature from romantic love songs to crazy party poppers; there is absolutely nothing she can't sing. She can twist your mood as she wants, you can't help it, and you end up being carried away with her melodies. She has made an impact on Indian singing, and as well as on our hearts.
5. Sonu Nigam
Old is gold, yeah alright but when you hear the name Sonu Nigam, you will re-evaluate the statement. Commonly known for his love songs, Sonu's tracks are emotionally loaded such that make you listen to the same song repeatedly. Even when you see him in a music reality show, and he spontaneously sings any song, and you're left confused that why he didn't originally sing it! Unlike most on the list, he still sings and may he sing forever.
6. Mukesh
Who is this guy? Perhaps most of the younger generation don't know of him, but if you are of the 70's you can't forget his tracks. Remembered as the king of sad songs his songs are lovely and emotionally filled. From "Kabhi Kabhi" to "Jis Dil Me", he has covered all types of songs with such grace, which makes him a legend. If you haven't heard him, then you really have missed something great in your life.
7. Alka Yagnik
Can I complete this list without mentioning her? Yeah, it's impossible. With awards as much as vegetables in a vegetable grocer's cart, she is a god-gifted person with a voice that soothes your soul. She started singing very early and has a thirty-year singing span. She has one of the widest ranges as a singer, and it is an honour that she has been in Bollywood and we admire her from our hearts.
8. Kumar Sanu
With a great voice comes to an even greater man, loaded with classics in his bag like Santa himself. Being a man of sheer talent, he has such a charming and capturing voice; it appeared while listening to his songs that he was somewhere alongside you. His songs were poetry, and the way he sang them was like a goldsmith working on gold. He always had a happy face and made everyone rejoice with him.
Beautiful looks and an even beautiful voice make her a total package and earn a spot on this list. She has a very recognisable voice and has a unique style of singing. She makes a man visualise his dream girl, and she does it in such a beautiful way that we end up in love with her! She is a great personality and is a queen of many hearts. Her versatility is unquestioned, and hey, try not to fall for her!
10. Arijit Singh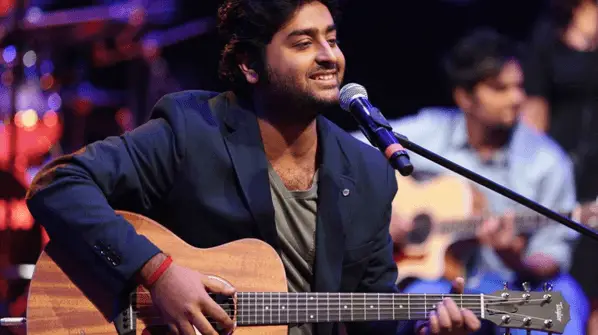 An upcoming talent with a beautiful voice, he has been on hit streak ever since he joined the industry. With hits like "Tum Hi Ho", he is a sensation and a talent of a lifetime. He has sung quite a variety of songs till date and is expected to give some great works in the future. We expect much from him, and we quite surely can say that will stand up to it.