Reality shows constitute some part of Indian television. From adventurous genre to romantic, dramatic to terrific, we see all the shades in them. One common thing that happens in such shows is love. People come closer, some for reel and others for real. Here is a list of those contestants who parted their ways once they were not a part of the reality shows.
1. Karishma Tanna Karishma Tanna is an Indian Television actress bor >> Read More... - Upen Patel Upen patel is a well known film actor in Indian fi >> Read More...
Bigg Boss Bigg Boss Tamil is the Tamil language version of t >> Read More... plays cupid for many people. Every season there comes at least one couple in the limelight for their love angle. Such a Jodi was season eight's Karishma and Upen, which was rather shocking because Karishma had been very vocal about her past relationship. They further appeared together in Nach Baliye Whooping success to its credit of 145 episodes and >> Read More... 8, where Chetan Bhagat Chetan Bhagat is a renowned Indian author who was >> Read More... entitled them the reality show couple. Both along with Karishma's mother announced that they'd get married soon, but had a sad ending after NB went off-air.
...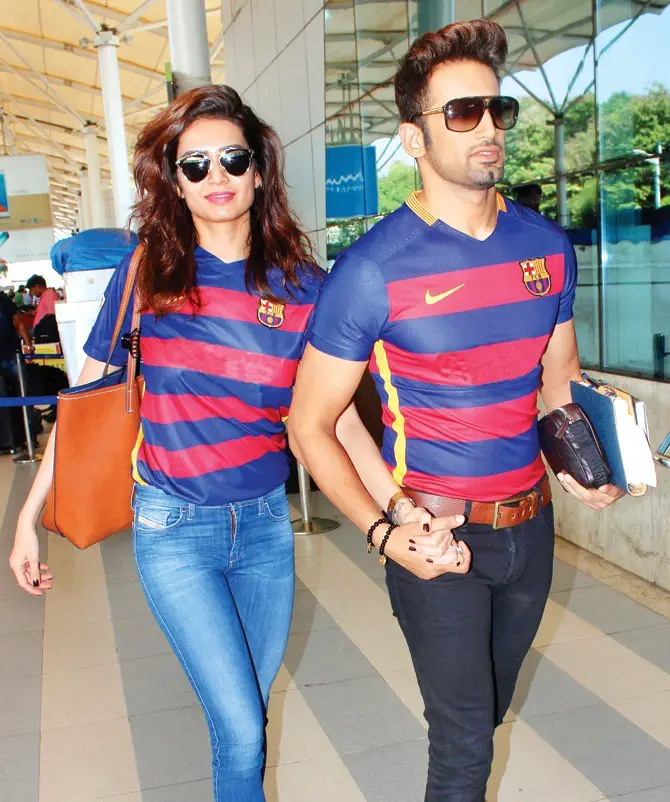 2. Narayani Shastri Narayani was born on 16th April 1978 in Pune, Maha >> Read More... -
Audiences were glad to see the two of them together on the second season of Nach Baliye, although they got eliminated a bit too early. With the show ended the love and they parted ways. While some say it was because of Gaurav's involvement with actress Mouni Roy Mouni was born on 28th September 1985 in Cooch Beh >> Read More... , some blame Narayani for the split. Whatever is the truth, the two were spotted again after their five years of break-up, and on being asked Gaurav said they were just friends.
...
...
3. Armaan Kohli What Lady Luck had in store for Bollywood supersta >> Read More... - Tanishaa Mukerji Tanishaa Mukerji is the popular actress who hailed >> Read More...
A steamy love story that happened in the seventh season of Nach Baliye was of Armaan and Tanishaa. The two were seen quite cosy with each other to the extent that even the cameras could not stop from capturing them. If we believe the reports, brother-in-law Ajay Devgan Ajay Devgn is an Indian film actor. He is perhaps >> Read More... had requested Salman Khan Salman Khan is a very famous Indian actor and a pr >> Read More... to evict Tanishaa from the show, but she made it to the finals. However, the two parted ways soon after BB ended.
...
4. Deepshikha Nagpal Deepshika Nagpal was born on 2 September 1977 in P >> Read More... - Keshav Arora
Everybody deserves to get a second chance, and so got the actress Deepshika Nagpal remarried model Kaishav Arora in 2012 after coming out of a bad marriage with Jeet Upendra Jeet Upendra is a Malayalam and Hindi film actor. >> Read More... . The two entered Nach Baliye 6, and the lady had boasted about her relationship with Kaishav, and how he got her out of a tough phase of her life. Sadly, the history repeated itself, and she divorced him on the grounds of physical abuse and a threat to life.
...
5. Amita Sethi Amita Sethi is the wife of actor Vikas Sethi. Amit >> Read More... - Vikas Sethi Vikas Sethi is a popular actor known to both the t >> Read More...
...
Vikas Sethi who is famous for his role of Swayam Shergill in Kahin to Hoga, entered the third season of Nach Baliye with wife Amita Sethi. The two were a loved couple and favorites of the fans. But something went wrong between the duo, and they parted ways after the show.
...
6. Karan Patel Karan Patel is an Indian television actor born on >> Read More... -
Karan has been quite a name among the women and had a list of affairs. One such was with co-star Amita Chandekar. The two met on the sets of Kasturi soon started dating each other and appeared on the second season of Nach Baliye. They broke up right after the show for reasons unknown. In an interview, Karan even said that he was never in a relation with Amita.
7. Rakhi Sawant Rakhi Sawant, the well-known drama queen of the In >> Read More... - Abhishek Avasthi Abhishek Avasthi is an actor, choreographer, dance >> Read More...
Rakhi and Abhishek got together when he had a struggling career. The two lived together at Rakhi's apartment, entered the second season of Nach Baliye and went on to be the runners-up. After the show ended, so did the relationship. Rakhi threw him out of her place after the two burst out into an argument. The two consider each other to be the biggest mistake of their lives.
8. Rakhi Sawant - Elesh Parujanwala Elesh Parujanwala is a Canadian-based NRI Business >> Read More...
Can we expect something that involves Rakhi Sawant to be simple and dull? No, we can't. After breaking up with Abhishek, she decided to take things in a different way. So, imagine TV organised a reality show, Rakhi Ka Swayamvar where sixteen men participated with the wish to marry the drama queen, and Elesh Parujanwala was the winner. The two got married, appeared on another reality flick, Pati Patni Aur Woh, and soon separated after the show due to their incompatibilities.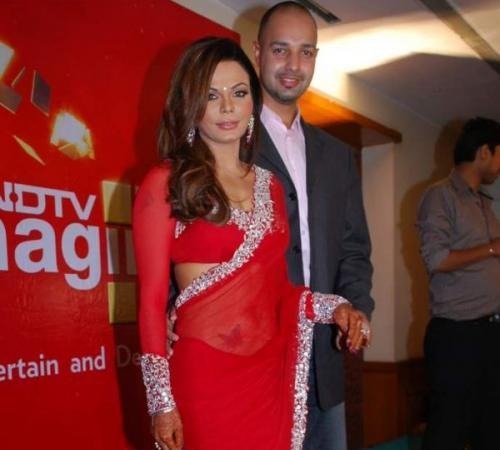 9. Ashmit Patel Ashmit Patel is an Indian film actor and director >> Read More... -
We all remember the steamy love story that cooked between Ashmit Patel and Pakistani actress Veena Malik on Bigg Boss 4. Their intimacy had gone up to the level where the two were allegedly said to make love on the show. They emerged as a couple of the season, but soon their break-up story circulated where Veena Malik accused Ashmit of cheating on her because of which she moved out of her place.
10. Daljeet Kaur - Shaleen Bhanaut
While some use reality shows as a platform to publicise them by involving into love angles; some use it as a way to make their love public. One such couple was Daljeet and Shaleen, who emerged as the winners of Nach Baliye 4. They got married after the show and were parents of a child, but things did not work well, and the duo parted ways on the grounds of physical abuse between the two.
11. Delnaaz Irani Delnaaz Irani is a well known actress in Hindi TV >> Read More... - Rajeev Paul Rajeev Paul is a prominent Indian Television artis >> Read More...
Rajeev Paul who looks so calm and innocent participated in the debut season of Nach Baliye with his cute wife Delnaaz Irani. The couple could not make it to the finals, but they gathered quite a fan following. Their fourteen years marriage came to an end in 2012, and before their divorce, they appeared in the sixth season of Bigg Boss where we could clearly see the differences between the two.
12. Amit Sadh A well-known actor who appears in Indian Televisio >> Read More... - Neeru Bajwa Neeru Bajwa, is a Punjabi actress born on 26th Aug >> Read More...
The cute couple Amit and Neeru participated together in the first season of Nach Baliye and made their love public. The two were in a relation for seven long years before the actress called it quits. At that time, Amit Sadh was in Bigg Boss's house, and although we still don't know why she chose to walk away, Rakhi Sawant's crush on Amit in BB could be a reason, if we believe the reports.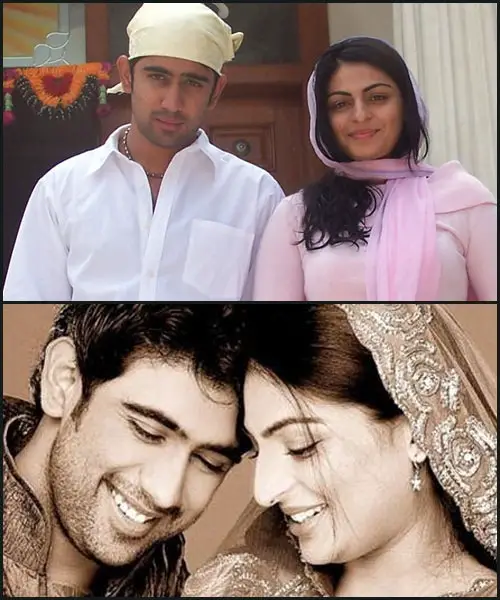 13. - Kavita Kaushik Kavita Kaushik is an Indian Television popular act >> Read More...
The two first met at a hotel followed by a Christmas party meeting. Then they appeared together as a couple in Nach Baliye 2. They had always been outspoken about their relationship, and they parted ways, they accepted it gracefully, although they never openly told the reason. Sometime later, when the news of their getting back together was in the air, Karan said, "I don't like talking about her." Kavita replied, "With due respect towards him, I don't even remember his face."
14. - Dimpy Ganguly Dimpy Ganguly, an Indian model and actress was bor >> Read More...
If Rakhi Sawant is a drama queen, we can also say that the politician turned actor Rahul Mahajan also craves for publicity, and to his bad luck, more for bad reasons. After his divorce, Imagine TV came up with a show Rahul Dulhaniya Le Jayega, where Dimpy Ganguly emerged as a winner and Rahul's second wife. The two then participated as a couple in Nach Baliye 6, but soon after NB; Dimpy accused him of physical violence and the two parted ways.
15. Gauhar Khan Gauhar Khan or Gauahar Khan or Gauahar Zafar Khan >> Read More... - Kushal Tandon Kushal Tandon is a famous Indian model and Hindi s >> Read More...
After breaking up with the ex, Kushal entered the seventh season of Bigg Boss where the news of Kushal and Gauhar dating each other hit the news flash. The duo soon appeared together in Khatron Ke Khiladi after BB7 but soon parted ways. Religion differences were said to be the reason for their split. Gauhar's friend further added that he had been threatening Gauhar of walking away for a while.
16. Kushal Tandon - Elena Boeva Elena Boeva is a 29-year old gorgeous Bulgarian mo >> Read More...
When Kushal flew to New York Click to look into! >> Read More... for taking acting lessons, he started dating his fellow classmate Elena Boeva. The two were in a long distance relationship but appeared together in Nach Baliye 5. The couple got eliminated soon but did not come for the finale because they had already parted ways by then. They never spoke up openly about it.
17. Prince Narula Prince Narula is a famous Television celebrity and >> Read More... - Nora Fatehi Nora Fatehi is yet another foreigner to get a brea >> Read More...
It seems Prince had entered BB9 house in search of love. After proposing to Yuvika Chaudhary Yuvika Chaudhary is a famous Hindi actress of smal >> Read More... , she soon got evicted. Before he could come out of it, Nora Fatehi, a wild card entry became his intimate partner. The two were often seen getting cosy, and Prince was seen making promises of continuing the relation after BB, and she reciprocated, but Nora denied any relationship with Prince soon after the show went off-air.
18. - Charlie Chauhan The beautiful and pretty Charlie Chauhan known for >> Read More...
Charlie had been following Amar's show, and when the two met at a party, he fell for her looks. Soon, they got to know each other better and entered the fifth season of Nach Baliye as a wild card couple. Sometime later they mutually broke up, never chose to speak openly about it and continue to be friends.
19. Shweta Tiwari Shweta Tiwari is the well known face of Indian Tel >> Read More... - Raja Chaudhary Raja Chaudhary was born on 23 rd July 1975, in Mee >> Read More...
The happily married couple participated in the second season of Nach Baliye. The two could make it to the end, and soon things got bad between the two. Shweta accused him of physical abuse and eventually the seven years long marriage came to an end.
20. Jatin Shah Jatin Shah is one of the famous actors on Indian T >> Read More... - Priya Bathija Priya Bathija or Priya Ashok Bathija is a renowned >> Read More...
The two were seen together in Nach Baliye 4, and their journey ended before it could smoothly start. Likewise, the two separated in their real life since they say things were not working.