Television shows us a lot of things through its daily soaps. Crime shows, religious shows, regional shows, everything. Each show has a plot and sub-plots, which it begins with. The sub plots change frequently, but it is rare for a plot to change too often. So, we peep into the lives of many people, look at various cultures while sitting in our living rooms, enjoying the day's last meal, and forgetting the worries of our daily lives for a while as we immerse in someone else's story. The love stories that these shows portray are also idealistic, something perhaps out of the ordinary, and never fails to bring a smile on our faces. Some of them go ahead and become legendary, because of a little extra that the makers add here and there, and today we will be discussing 20 such love stories.
1. Armaan and Riddhima
A reboot of the classic show ' Sanjeevani Click to look into! >> Read More... ', ' Dill Mill Gayye Dill Mill Gayye is a medical drama show which aire >> Read More... ''s Armaan and Ridhima made us all want to be interns at this romantic hospital where more love stories were born more than babies. Some amazing actors who are ruling the television industry were a part of it, like Drashti Dhami Drashti Dhami is a Bollywood model and television >> Read More... , Karan Wahi Karan Wahi is an Indian presenter and an actor who >> Read More... , and so on. What made the show most memorable was how the bad boy Armaan was converted into a romeo by Riddhima.
2. Khushi and Arnav
The rich, arrogant man who has forgotten to laugh falls head over heels for a simple girl next door, whose life revolves around him and who cooks jalebis when she is angry or upset. Khushi was so cute that sometimes it became painful (in a good way) to watch her and Arnav, who was so much in love with her, and it pained us that there existed only one Arnav.
3. Ram and Siya
We have all seen the traditional ' Ramayan 'Ramayan' was an Indian epic theme based on Valmik >> Read More... '. The two characters that I am talking about here belong to the show ' Siya Ke Ram Siya Ke Ram belongs to historical drama genre. It >> Read More... ' that is on air on Star Plus, where Siya and Rama's love is the focus. The purity of the love and the amount of trust, compromise and sacrifice in it has indeed never been seen before!
4. Sanchi and Aryan
Although the show is relatively new, what makes this love story special is how easy it is to relate to it for Indians. Most of the country today gets into arranged marriages and hopes to find the kind of love that these two have found. What makes the show even more special is the way they tackle most of the stereotypes that are attached to arranged marriages.
5. Shivanya and Rithik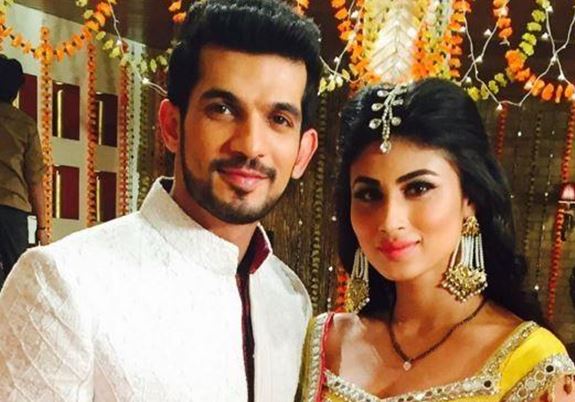 This is the ' Naagin Inspired by supernatural powers and incidents Ekta >> Read More... ' couple. The show became popular and reached new heights because of the romance between these two, and the way Rithik was completely crazy for his wife, even after knowing that she was not exactly a human. The show will soon be seen in its second season and the fans are extremely eager to see it start.
6. Naitik and Akshara
This age old love story is memorable because of how many problems they have faced together, hardly ever leaving each other's side. They are the ideal couple, who almost always do the right thing and are truly connected through their hearts, even after so many years of marriage.
7. Dev and Sonakshi
These two are just getting married after giving an elaborate display of how much they love each other and how they cannot stay without each other. Even in the beginning, when their romance had just started, it was the cutest, and more similar to teenage romance than anything else. It was first love for both of them, and the strength with which they held on to each other made it very clear.
8. Abhi and Pragya
These two have been going on a different track altogether now after Abhi's memory loss. Earlier with the track where Pragya pretended to be a greedy woman and Tannu pretended to be pregnant, a different side of their love came into picture when they were supposed to hate each other, but could not forget the love that they had for one another.
9. Rana ji and Gayatri
This was when the first generation of ' Ek Tha Raja Ek Thi Rani Season 1 Ek Tha Raja Ek Thi Rani belongs to the drama genre >> Read More... ' was still in the show. The lead actors fell in love without much hassle and faced their problems keeping their own love as a strong and steady base for their fight. Their issues were not stretched for too long, like in shows such as Kumkum Bhagya Kumkum Bhagya was broadcasted on Zee TV channel. I >> Read More... , and it kept the audience happy and entertained.
10. Rudra and Paro
The ' Rang Rasiya Click to look into! >> Read More... ' couple became popular as Rudra's intensity was matched by Paro's innocence. It took some serious matters into consideration in its beginning episodes itself and became a favourite among the audience as the meek Paro would become fearless when she faced her husband.
11. Geet and Maan Singh Khurana
These two constantly fought for all the time that their show was on air. The audience loved the way they would be romancing in one moment and come at loggerheads at another, by arguing in the most adorable way. This show had also picked a very serious issue, that of NRIs cheating simple families and women and marrying them, after which they leave them.
12. Jodhaa and Akbar
The smoldering Rajat Tokas Rajat Tokas is a prominent Indian television actor >> Read More... as Akbar, and the sassy Paridhi Sharma Paridhi Sharma is popularly known as the beautiful >> Read More... as Jodhaa did a great job as a couple. The people loved to see the way Jodhaa changed a ruthless emperor into a loving king who cared for his people and his family and believed in being fair more than anything else.
13. Megha Amar Vyas and Mohan Bhatnagar
The couple from 'Na Bole Tum Na Maine Kuch Kaha' took romance to new heights with their chemistry. It is the story of a single mother who has everything except love, and a man who has a whole lot of love in his heart and is just waiting for her to come around so they can share their lives together. It does not matter to him that she has two children. Rather, he accepts them as a part of his life and as a part of her.
14. Aaliya and Zain
A love story set in a Muslim background, ' Beintehaa Beintehaa was launched on 30th December 2013 on Co >> Read More... ' is the story of two cousins who fall in love after a lifetime of hating each other and then, a rare love story takes off. What is cuter than anything else is the amount of time spent in intricately designing each part of their story, so in the end, when they do come together, it seems like a fairytale.
15. Ishita and Raman
This one is still going on in the show 'Ye Hai Mohabbatein'. Their love story is still taking twists and turns, but throughout it all, they still find a way back to each other. What is even better is that they were brought together by Raman's children, who Ishita accepts as her own.
16. Manik and Nandini
Their love story was insanely popular among the youth. Countless fan fictions were written and the chemistry and the innocence of the love story was praised to the moon. The lead characters, especially Parth Samthaan Parth Samthaan was born on 11th March 1991 is Pune >> Read More... who played Manik in the show, rose to insane amount of popularity. So much so, that he now has three upcoming films!
17. Arzoo and Sahir
Harshad Chopra was seen in an all new avatar in the show and what kept his love story with Arzoo interesting was the many layers of truth that needed to be gradually uncovered for them to live a happy life. The innocent Arzoo proves herself to be worthy, takes care of all his emotional wounds and he fights alongside her, and together they move away from the past and into the future.
18. Ram and Priya
Another mature love story, the show ' Bade Acche Lagte Hai Bade Acche Lagte Hai was an Indian Television Fami >> Read More... ' was a treat to the audience, and especially Sakshi Tanwar Sakshi Tanwar is a leading Indian television and f >> Read More... and Ram Kapoor Ram Kapoor is an acclaimed and renowned television >> Read More... 's fans. These two are not just great actors, but also show great chemistry together, which makes them worth the watch.
19. Sooraj and Sandhya
The story revolutionized television when it first came on air. A man, who himself could never study, supports and pushes his wife and her dreams ahead, way ahead of his own self and loves her regardless of whether she confirm to the notions of a typical wife or not. All he cares about are that her dreams need to be fulfilled.
20. Harman and Saumya
This is by far the most unique love story till date, and perhaps that is why it has engaged so many people and remains at the top of the TRP chart. The fight for a normal existence of a transgender is truly moving, and so is the social message, that they are the same as us, they are a part of the world, and they need to be accepted as such.