The Bollywood industry is full of different genres of web series or movies. At this time, it's hard to decide on new content to watch on television. But a lot of celebrities live by our expectations and don't disappoint us. Their performance made us fall in love with them and glued to the television. Here is the list of some famous Bollywood celebrities whose name starts with 'O.'
1. OMNA HARJANI
...
Omna Harjani OmnaHarjani is newly introduced in Bollywood in a >> Read More... is a beautiful actress who debuted with the Bollywood movie '1982: A love Marriage' that gained appreciation in various international film festivals. Besides being a phenomenal actress, she has also finished her chartered accountant curriculum and achieved a high paying job with an international firm in Delhi. Yet, she left all that to continue her love for acting while featuring in various Ads of renowned brands such as Dove, etc.
2. OHM KALIRAMAN
...
Ohm Kaliraman Ohm Kaliraman is a model, fitness instructor, athl >> Read More... is a charismatic young actor who made his fame initially into the world of wrestling after following the footsteps of his honored Arjuna Award and Padma Shri winner father in wrestling Late Mr.Chandgi Ram. Ohm is a professional wrestler, model, and actor now. He first appeared in Mr. India WorldWide Contest in 2013 and was the first runner-up. Then he debuted in a reality TV show titled Ace of Space(Season 2), which gained him a lot of young fan-following over social media.
3. OJASVA VARDHAN
...
Ojasva Vardhan Ojasva Vardhan is an Actor and a Model. He is also >> Read More... is one of the most talented actors, who holds a complete chart of filmography talents under his LinkedIn Bio. He is an actor, dancer, writer, filmmaker, and model. Belonging from a small town of Sahibabad in the U.P., this young chap has worked pretty hard to make his name in Bollywood. He started his career in dancing and proceeded over theatre plays. But he gained recognition when he first appeared in ALT Balaji web series Bose, based on the real-life events of renowned nationalist Subhash Chandra Bose Click to look into! >> Read More... .
4. OLEXANDRA SEMEN
...
Olexandra Semen Olexandra Semen is an Indian actress working in th >> Read More... is not famous yet, but this actress has made her mark from the role of Alice in MSG: The Messenger of God movie, based on a real-life Indian guru playing with himself. Even though the movie was a disaster, Olexandra acquired recognition in Bollywood and wishes to work with more professional directors in the film industry.
...
5. OLIVIER LAFONT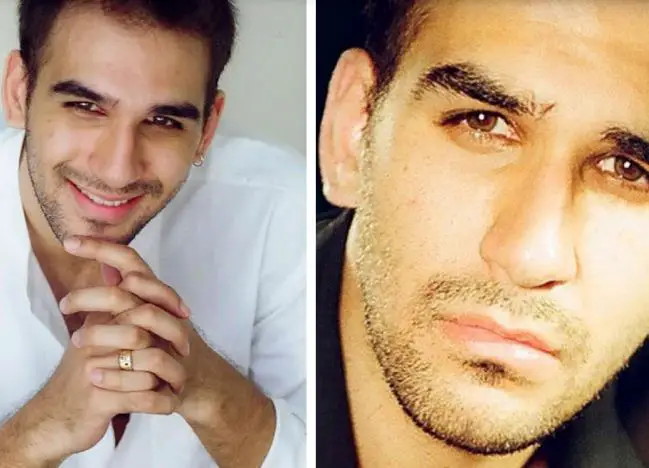 ...
Olivier Lafont Bio coming soon... >> Read More... is an experienced actor, producer, and writer, known for his acting skills in 3 idiots, Guzaarish and Coffee Story. He is the son of a French author. You might remember him as (no offense)'Gadha' in 3 idiots portraying the role of the fiance of Kareena Kapoor Khan Kareena Kapoor is a super hit actress working in I >> Read More... . Despite his phenomenal theatre roles, you can always spot him in various comic side roles of big-budget movies of Bollywood.
6. OMKAR GOVARDHAN
...
Omkar Govardhan Omkar Govardhan is an Indian actor who appears mos >> Read More... is one of the famous Marathi actors, born on 18 September 1986 in Pune, Maharashtra. Omkar had an interest in acting from his childhood. He performed the role in movies, including Nilkanth Master, Page4, Ruth, Dokyala Shot, and Dither in Marathi movies. He made his acting debut in the Hindi film Kaminey (2009). He also worked in the Marathi serial Savitri Joti.
7. OMKAR KAPOOR
Omkar Kapoor Omkar Kapoor is a movie and television actor of In >> Read More... is a well known Indian actor, born on 31 October 1986 in Mumbai. He started his career as a child actor in Masoom from where he became popular. And later, he worked in movies Judwaa, Hero No.1, and Judaai. Omkar had also worked with directors like Sanjay Leela Bhansali Born on 24th February 1963, Sanjay Leela Bhansali >> Read More... , Ahmed Khan Ahmed Khan is a multi talented personality of the >> Read More... , and Farah Khan Farah Khan is an Indian film actress, producer, di >> Read More... . But his desire to work as an actor became full after getting Pyaar Ka Punchnama Click to look into! >> Read More... 2.
8. OJASWI OBEROI
Ojaswi Oberoi Ojaswi Oberoi is a well-known face of Indian TV sc >> Read More... is a talented Indian television actress who was born on 6 August 1985 in Mumbai. She is known for her role in Kya Hal, Mister Panchal. She acted in some daily soap dramas like Behenein, Devon Ke Dev - Mahadev, and Aahat. She also appeared in the episodic roles of CID, Crime Patrol, and Pyaar Tune Kya Kiya. She has done dance performances in many shows like STAR Parivaar Award.
9. OM BHUTKAR
Om Bhutkar Om Bhutkar is a very known face in the Marathi fil >> Read More... is one of the popular Indian actors known in the Marathi film industry. Bhutkar's first debut movie is Chota Sipahi, from which he gained popularity. He was awarded for this as the Best Child Artist. He acted in Ek Cup Chya, Chintoo, Astu, Ajoba, etc. He also got a chance to work with famous directors and actors like Kishore Kadam Kishore Kadam rose as a playwright and actor in Mu >> Read More... , Sumit Sanghamitra, Bhau Kadam Bio coming soon... >> Read More... , Usha Naik Usha Naik is a senior actress in the Marathi Cinem >> Read More... , and . He did impressive work in Marathi Industry.
10. ONISHA SHARMA
Onisha Sharma Onisha Sharma is an Indian TV actress and YouTuber >> Read More... is a skilled Indian television actress. She is a famous Youtuber and acted in the tv shows, Balveer and Partners. She also played a comic role in the Happy Hours Created and written by Subhash Chandra, Happy Hour >> Read More... show and has an interest in Singing, Dancing, and Travelling. She has posted the covers of many songs on her YouTube channel, which is praised by her fans.
11. ORVANA GHAI
Orvana Ghai Orvana Ghai was born to parents Manoj Ghai and Kav >> Read More... is a multi-talented Indian television actress who was born in Delhi. Along with acting, she also engaged herself in the field of writing and literature. She first played the role of Manya. Later she got a chance to work with her mother, Kavita Ghai Bio coming soon... >> Read More... , a TV actress in Dosti Yaariyan and Manmarziyan. She played the role of Payal Walia in the serial Jamai Raja Jamai Raja drama series, broadcasted on Zee TV cha >> Read More... . She is also a blogger.
12. OMAR KHAN
Omar Khan Omar Khan is an Indian based artist who has taken >> Read More... is an Indian actor who also worked as a writer and producer. He first appeared on television for commercial ads and acted as a lead role in his famous play 'Smile Of Despair.' He worked in the blockbuster movie Yeh Jawani Hai Deewani and Jhootha Hi Sahi Click to look into! >> Read More... . His latest movies are The Equalizer Click to look into! >> Read More... 2 and Huff. Besides this, he was also a part of the Sony TV show, , which was successful.
13. OMAR WANI
Omar Wani is a simple and talented Indian television actor who was born in Kashmir. He had a desire for sports since childhood, but the acting field turned his life in another direction. He became successful after his drama Hamari Betiyoon Ka Vivaah. He played roles in other serials like Darampatni, Kehna Hai Kuch Mujhko, Mahima, and Adalat. Omar also played comic roles, but he likes to play powerful roles.
14. ONJOLEE NAIR
Onjolee Nair Onjolee Nair was just 21-year-old when she made he >> Read More... is a film Indian actress who made her first debut film Holiday at 21 years. Onjolee worked opposite Dino Morea Dino Morea is a die-hard Bollywood actor and a for >> Read More... in the Holiday movie. In this film, she acted as the teenage girl, who meets the dance instructor Dino Morea in Goa. Instead of being a dancer, she felt hesitant while dancing with Dino Morea. But overall, she was praised by the movie's director Pooja Bhutt for her dedication in Holiday.
15. OMKAR DAS MANIKPURI
Omkar Das Manikpuri Omkar Das Manikpuri is a film as well as a stage a >> Read More... is a well known Indian film actor. At the age of 17, he started as a performer in local folk theatre, Nacha. He also performed as a dancer, singer, comedian, and mimic. After that, he worked in Naya theatre, founded by Habib Tanvir Habib Tanvir was an acclaimed poet, actor, theatre >> Read More... in Bhopal. He played classics with Naya theatre groups in India and abroad. He made his first Hindi film debut in Aamir Khan Aamir Khan or Mohammed Aamir Hussain Khan is Bolly >> Read More... productions, Peepli Live. He also performed in Ebn - E-Batuta.