Directed by Farah Khan Farah Khan is an Indian film actress, producer, di >> Read More... , it is still one of the favourite movies in our hearts. The lead, Shah Rukh Khan Shah Rukh Khan or also known as SRK is a prominent >> Read More... , stole our attention by his all new avatar as Ram. This movie had every spice in it, be it emotions, comedy, or action. The story revolves around the plot of how one son from another wife tries to unite the family of his father's first wife. It is a bittersweet story and won the hearts instantaneously. Shah Rukh Khan played the character of Ram and was a captain by profession. His father had a close friend whose daughter was angry with him, and that friend asked Ram to help him protect and get her daughter. The whole story is how Ram adjusted into the lives of the teenagers, and did his work. Some best scenes are -
1. The Famous Train Scene
Is it possible that Shah Rukh is in the movie, and there is no epic scene? This scene gave goose bumps when SRK came out of the patch of fog. Here, we all knew Sanjana would now be in safe hands, and Ram would do whatever it takes to do what he was asked for.
...
2. The "I can't stop singing" Scene
This scene from the movie showed us the comic side of Shah Rukh's skills. In this scene, Ram is dared to sing for any girl that comes to him. Unfortunately, his new teacher came in front of him, and he did not know about this, so he started singing. Also, he felt mesmerized by his beauty, and just couldn't stop singing.
...
3. The Spitting Professor
...
The professor Rasai made us laugh our hearts out. The role was played by Satish Shah Satish Shah is a Hindi and Marathi TV actor. He ro >> Read More... , and was very well appreciated. He was in the shoes of a professor who had a bad habit of spitting, and everyone around was scared when was in the room. All the students invented many methods to save themselves from him.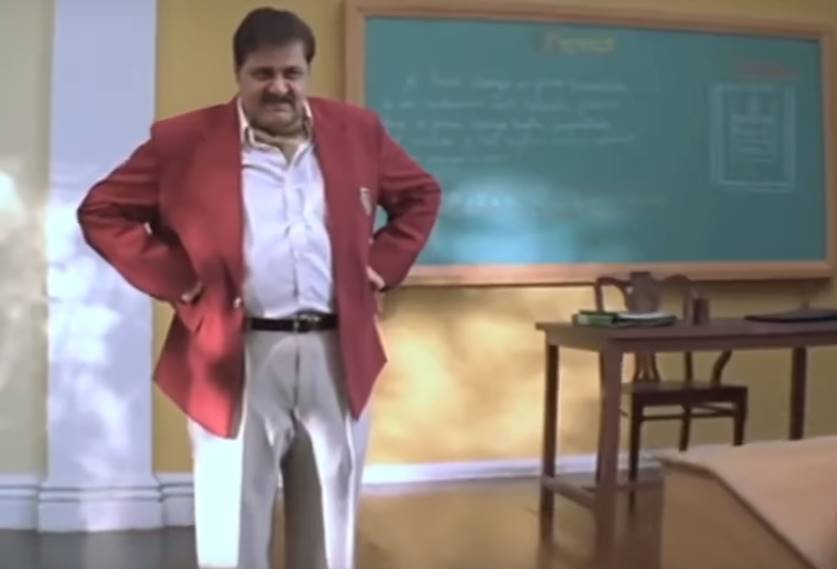 4. When Sanjana wore a Suit
...
Sanjana, played by Amrita Rao Amrita Rao was born on June 7, 1981 in Mumbai, Mah >> Read More... was a tomboy. Her appearances were more like a guy, and she was also treated as one. She loved Laksman, and came to know he doesn't love her as she behaves like guys. Ram then came to the rescue, and took her to the teacher to make her look like a girl. The next day, the whole college went crazy when they say Sanju in a suit.
...
5. When Laksman cut off his pony
The cool dude of college, Laksman, forgot to bring a gift for his mother on her birthday. Then, again, Ram came to rescue, and gave him an idea of chopping off his pony which his mom hates. The lad does so, and makes his mother awestruck by this move.
...
6. Ram chasing the bad guys
...
The group was having fun when suddenly Ram noticed that there was a pointer on one of his friend's head. He then dodged the shot, and chased the bad guys. He was hurt in this but still wanted to find out who was behind the act.
7. Laksman in the Library
This was one million dollar scene. Here, the cool dude Lucky, who doesn't go to the library was about to enter it, he imagined it like a temple when bells hanging around, and people coming to greet him. The people in the library were shocked seeing him in the library.
8. The Saviour in School
It was Ram's first day in school, and he saw the teens having a competition. He was there to find out his step brother, and gets to know that his step brother was also in that competition and was about to fall off the roof. Being a military person, he had skills, and saved his little brother.
9. Entry of Professor Raghvan
Sunil Shetty played one perfect villain in this movie. He was the person who killed Ram's father, and was now after Sanjana. He was against the Indian army as once he was in it too. There he was court marshalled for his aggressive behavior, and hated it after then. Raghvan's entry gave everybody goose bumps as nobody expected him to be a professor to accomplish his mission.
10. The "Bomb" Scene
This is the scene where the names Ram, and Raghvan(Ravan) came to justice. The end made us realize that truth always wins. This scene was most hooted for as here SRK played the smart card, and pulled out the strings from Raghvan's bombs, and ended the bad. That's what happens in life, right?