Hrithik Roshan Hrithik Roshan with his unimaginable dance moves i >> Read More... and his journey with Sussanne Khan The Krrish of Bollywood and his Queen were the most adored couple in the industry. Their love and bond were an epitome for other people. Though we know, they have parted their ways right now, but we all know that they had an amazing journey together. Hrithik knew Sussanne since childhood and had same friend group while growing up. At the age of 12, Hrithik decided to be with his dream girl forever. He saw her at the traffic signal and couldn't take his eyes off. One day, Sussanne was invited to Hrithik's sister engagement and he was mesmerized by her traditional look and told his best friend that one day he would marry her and did so.
After few days, they started dating and Sussanne was much better than Hrithik, but the ego never found any place between them. One year passed, and Hrithik found out that he couldn't spend a single day without the love of his life. On Valentine's Day, he got down on his knees and proposed his lady love on a beach in Mumbai. Tears of joy were filled in Sussanne's eyes, and she said yes. They both were made for each other.
...
It was the beginning of Hrithik's career, and Sussanne had a lot of faith in him than anyone else in the world. She played a huge role in his success. They had a four long year relationship and then tied the knot in 2000. The world never saw matrimony like this, a Hindu and a Muslim uniting in a Christian way. They had a lavish wedding in Bangalore, walked over the bridge of a huge pool and took their vows to be one forever. They later got married according to Hindu and Muslim culture. The couple exchanged vows the same year "Kaho Na Pyar Hai," Hrithik's debut film was released.
Little moments like the love birds were seen sharing kisses during their vacation in the United States. Cute gestures like these made the relationship adorable. Every fan of Hrithik was so jealous yet admired the couple and wanted them to stay this way forever.
...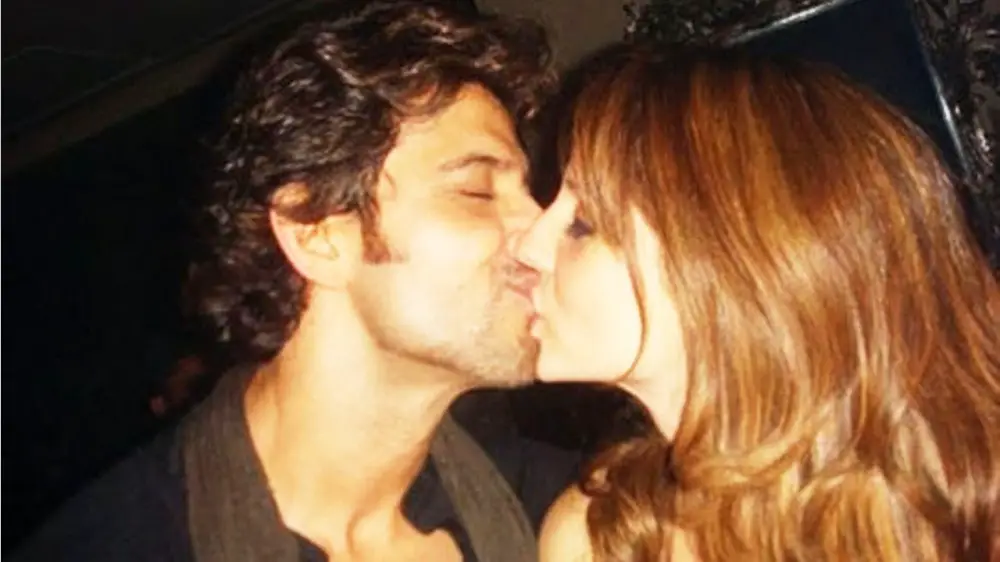 Also, the two had their symbol of love, a star, inked together. Isn't it adorable? This picture of them flaunting their tattoo won hearts.
...
They welcomed in their lives their pretty boys, Hrehaan and Hridhan. The two adorable boys made their lives complete. The eyes never tell a lie and so we all could figure out how much happiness these little muffins filled in their lives.
...
As parents, they make sure that their kids get to see the world, and here we can see the family getting clicked with the " Dhoom Click to look into! >> Read More... " star's wax statue at Madame Tussauds.
...
The very famous "Koffee with Karan" starred the lovely couple and, here is a sneak peak of how close the two were when we saw them exchanging cute smiles and glances.
...
The kisses can never define their love for each other. They went to Bora Bora on vacation, and Sussanne could not get enough of her husband. The picture here made us go "awwww" as we saw the love birds and their happy life.
...
On the Red Carpet The Hindi entertainment program which makes you fe >> Read More... , they both complimented each other. They appeared to be Greek Gods Of Love. Their presence made us feel the passion between them right through the pictures.
They both gave real couple goals, and were cast for Femina Magazine cover, and the lines by Hrithik filled tears in our eyes. He said that Sussanne is still his girlfriend and his best advisor.
Their pictures of having dinner dates gave us real complex. How can someone's life be so perfect? Even after having adorable kids, the romance in between them never really ended. They still acted as girlfriend/boyfriend.
Unfortunately, this beautiful couple took decision to be apart. After a year of being away from each other, on the moring of 1st November 2014, their divorce was finalized.