1. Virat And Anushka At Party
Cricketer Virat Kohli Virat is counted amongst the very best players, th >> Read More... and Anushka Sharma Born in an army family to Col. Ajay Kumar and Ashi >> Read More... 's photo at Yuvraj Singh's party shows that when both the lovers are together, they enjoy as hell. They both set the dance floor on fire at the party. Virat Kohli, who is always full of energy, showed every bit of his enthusiasm when he started dancing with Anushka.
...
2. Anushka And Virat At Kolkata Airport
The world saw Virat's deep love for Anushka when, he hugged her in front of a huge crowd at Kolkata airport. The couple made it clear that they are not at all scared of displaying their affection for each other despite the crowd.
...
3. Virat and Anushka Kissing
...
Both lovers were caught Kissing when Virat came to see off Anushka at the airport. Both of them wore black coloured clothes. A lovely smile was seen on her face while she was walking inside the airport.
4. Anushka And Virat Romance At Vogue Awards
...
The love birds were seen in a romantic mood when they visited an award night organized by Vogue. Anu was wearing a beautiful yellow dress in which she looked like a doll and in contrast, Virat was spotted in black suit. When a question was asked by the anchor of the party, she started laughing and suddenly hugged him in between. Not only this, the cricketer was caught looking at Anushka secretly with love when she was enjoying the event.
5. Virat Tweets With A Picture For Anushka Sharma
...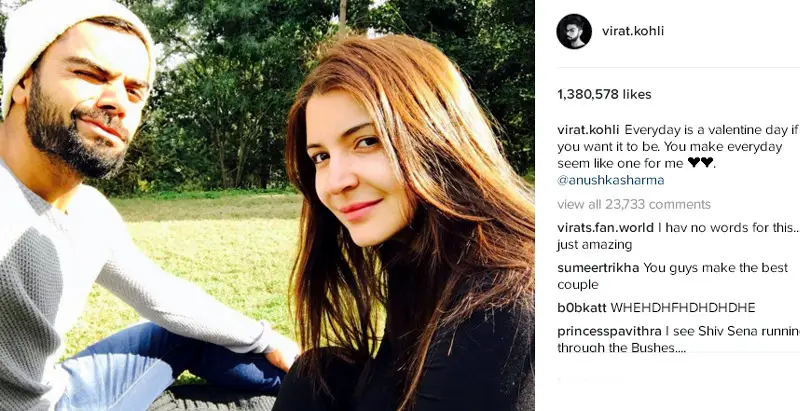 Virat posted a social tweet with a beautiful caption for his love. The tweet went viral among the fans and liked by millions. Virat and Anushka were seen with a sun-kissed glow in the photo.
...
6. Love Birds On A Dinner Date
...
Media camera caught Anu and Virat on a lovely dinner date. Considering how jolly Anushka seems these days, it is sure that Virat knows how to win a girl's heart. He also knows how to pamper and take care of her lady love. A casual grey t-shirt paired with a white bottom was the outfit which he chose for his date night.
7. Virat Blows A Flying Kiss To Her Lady Love
Anushka was shocked to see Virat's sudden gesture of love when he blatantly gave a flying kiss to her after completing hundred runs in the middle of a huge crowded audience in the stadium. He has shown every time that he loves her to the moon and back.
8. Virat Holds Anushka Hands
Our very own Virat knows how to take care and protect his love. The couple is seen holding their hands firmly signifying the strong bond they share. Not only once but they have been spotted holding hands very often.
9. Anushka And Virat At Manish Malhotra Party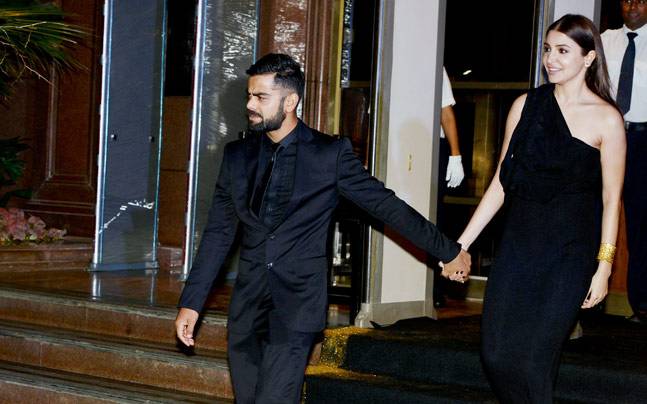 Twinning the colours of their outfits, Anushka Sharma and Virat Kohli were looking classy and beautiful together when they were captured by the media while leaving Bollywood's famous designer Manish Malhotra's party. They make a perfect glamour couple. Both held each other's hand and posed for the camera.
10. Virat's Post On Women's Day For Anushka
On International Women's Day, our brilliant cricketer Virat Kohli posted a wonderful and heart touching post on social media for two of the most important ladies of his life, one being her mother and the other was Anushka Sharma.