There are many movies in Indian Cinema which remain un-noticed but are worth watching. Because of low promotions, these films are lesser known. Few of those films are listed below:
1. Angry Indian Goddesses Click to look into! >> Read More...
...
The film stars few of the familiar faces and is directed by Pan Nalin Pan Nalin is an Indian director who directs motion >> Read More... . It portrays various social issues prevailing in our society. It's a much watch film for every female; being a complete female buddy movie. One can surely connect with one of the many characters atleast somewhere in the film.
2. Shanghai
...
It is a Bollywood thriller by Dibakar Banerjee Dibakar Bannerjee is a director and screenwriter a >> Read More... starring Abhay Deol Abhay Deol is an actor and director of the TV indu >> Read More... , Emraan Hashmi Emraan Hashmi is one of the most successful & cont >> Read More... and Kalki Koechlin Kalki Koechlin is a famous film actress, model and >> Read More... , in which a group of youth engages themselves in solving the mystery and finding the truth behind the death of a social activist. IOne of the songs, jo bheji thi dua had become very popular from this film.
3. Shool
...
A Ram Gopal Varma Ram Gopal Varma is a famed Indian film director an >> Read More... film, portraying Manoj Bajpayee Born on 23 April 1969, Manoj Bajpai is first a Bol >> Read More... and Raveena Tandon Raveena Tandon is an Indian film actress who is kn >> Read More... , it is about the fight of an honest inspector against the corrupt politicians. This is the same movie with the song mein aayi hun UP bihar lootne pictured by Shilpa Shetty A model turned actress, producer, entrepreneur and >> Read More... .
4. Shagird
...
A typical Nana Patekar Nana Patekar is a popular Indian actor who was bor >> Read More... film; Indian crime action movie directed by Tigmanshu Dhulia Tigmanshu Dhulia is a super talented and multi-fac >> Read More... . Both nana and his new junior colleague have different ideologies and thus their ego clash. At the end, they turn tables on each other. The film might be slow but holds you till the end.
...
5. Yeh Saali Zindagi Click to look into! >> Read More...
...
A film with a simple plot but great twists at intervals directed by Sudhir Mishra Starring Aditi Rao Hydari As her title may be suggesting, Aditi the talente >> Read More... , Chitrangada Singh With her stunning good looks it was not surprising >> Read More... , Arunoday Singh Arunoday Singh is an Indian film actor. He was bor >> Read More... and Irrfan Khan Irrfan Khan is a noted Bollywood actor who started >> Read More... . The film has other known faces like Saurabh Shukla Saurabh Shukla was born at Gorakhpur in Uttar Prad >> Read More... and Yashpal Sharma Yashpal Sharma is that actor who has performed his >> Read More... too. It is about how a hopeless romantic lover plans to rescue her kidnapped boyfriend. It's a film of guns and roses.
6. Pan Singh Tomar
...
The story is based on true events. It shows how an athlete is forced to turn evil. How the nation fails to pay back those stars who bring home gold and silver medals. Irrfan Khan in the lead role directed by Tigmanshu Dhulia has done complete justice to the film.
7. Jaago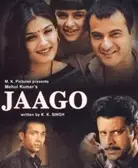 An old film, starring Raveena Tandon and Hansika Motwani Hansika Motwani is a young and beautiful actress, >> Read More... . A 13-year-old school girl gets raped in a train in Mumbai and nobody helps her. It shows how a mother fights against her daughter's rapists and gets them caught red handed.
8. Black Friday
A film with 8.6 IMDb rating is written and directed by Anurag Kashyap Born on 10th September 1972, Anurag Kashyap has es >> Read More... starring himself, K.K. Menon and Pavan Malhotra Pavan Malhotra is a famous actor and is seen on te >> Read More... . It is about the investigation series that follows after a serious bomb blast.
9. Udaan
A lucid movie, with a very common plot and story, touches you deep inside. It is the story of a guy who is forced to do what his Hitler like father says and is punished ruthlessly in the case of any misbehaviour.
10. Gulaal
Yet another political drama, starring K.K.Menon. It is the story of an India that is struggling to come up carrying along its past, culture and history.