The colour palette of Bollywood seems to be brimming with new colours every year. With the coming of new faces, the film industry can paint new stories with greater vibrancies every time. But the go home message is, talent and hard work never goes to waste; if you've worked hard only then will you be noticed. In the past years, some applause-worthy performances have been flaunted by debutantes who have left their impressions on the silver screen. Movies like Udaan, Dum laga ke haisha, Vicky Donor Click to look into! >> Read More... , Masaan, etc. have proved that the amateur actors are not just sugar and spice but have immense amounts of talent within them. 2016 also does seem promising with new debutantes, waiting to set the screens on fire. Make way for the freshmen of Bollywood!
1. Harshvardhan Kapoor Harshvardhan Kapoor is the youngest son of famous >> Read More...
...
You know you have an unimaginable amount of expectations speeding up your way when you're the son of Anil Kapoor Anil Kapoor was born on 24th December 1956 in Mumb >> Read More... , Nephew of Boney Kapoor Achal Kapoor or Boney Kapoor is a very famous Indi >> Read More... , brother of Sonam and Arjun Kapoor Arjun Kapoor is a Bollywood star. He was born on 2 >> Read More... . I mean look at all the talent oozing out of this family and their baby's all set to make his way into Bollywood this year! He'll make his way into the silver screens through Rakeysh Omprakash Mehra's Mirziya, which will be releasing soon this year. Fingers crossed!
2.
...
This Lil' damsel also has her roots deeps down in Bollywood. She happens to be the niece of Shabana Azmi Shabana Azmi is a film actress of Indian origin an >> Read More... and her mother; Uttara Mhatre Kher happened to be Miss India Miss India was a TV serial that was aired on Doord >> Read More... way back in the 80's! She has already modelled her way into fame by making it into the Kingfishers' exotic Calendar once. She has been paired up with Harshvardhan Kapoor in Rakyesh Omprakash Mehra's Mirziya. Watching their chemistry is a must!
3. Aparshakti Khurana Aparshakti Khurana was born in Chandigarh to a ver >> Read More...
...
Now what if I tell you that this young masterpiece is Ayushmann Khurrana's baby brother! He too tip-toed on the trials of his elder brother to become a successful VJ and was also seen in a couple of television serials. He's a part of Aamir Khan Aamir Khan or Mohammed Aamir Hussain Khan is Bolly >> Read More... 's Dangal which is just released. We hope he matches the excellence of his brother to set better levels!
4. Fatima Sana Shaikh
...
I know most of you won't remember who she is and would gasp if I told you so. Remember Kamal Haasan's daughter in Chachi 420? Yup, she's grown up all pretty. Puberty has done something finally right! She will be debuting this year as Aamir Khan's daughter in Dangal and being a child artist, it's expected out of her to perform even better than the others. Can't wait to see you!
...
5. Mahira Khan Mahira Khan or Mahira Hafeez Khan is a Pakistani a >> Read More...
...
This actress is all set to make her debut this year, all the way from Pakistan! She has featured in many Pakistani TV serials in many leading roles and this time she has been paired up with 'The Badshah of Bollywood'; Shah Rukh Khan Shah Rukh Khan or also known as SRK is a prominent >> Read More... in Raees. Though she has been in a rough patch with Shiv Sena and the Halloween controversy but the news has been hushed for good.
6. Sanya Malhotra Sanya Malhotra is an actress and choreographer and >> Read More...
...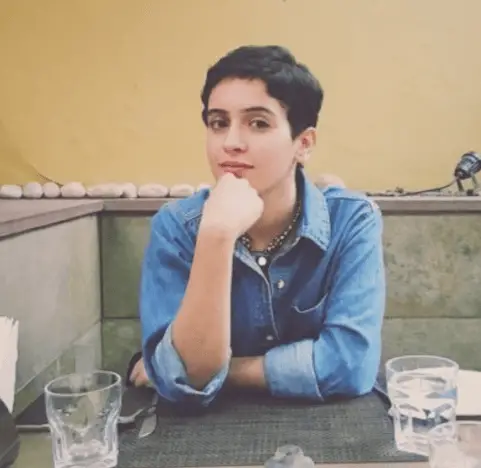 This 'Dilli ki Chori' is not only good with acting but is a professional dancer too. Tip toeing her way into fame, she too will be seen as Aamir Khan's daughter in Dangal along with Fatima Sana Sheikh. Seems like Aamir Khan has been very keen in choosing his star cast this year.
7. Ayesha Kapur Ayesha Kapur is a child artist born on 13 Septembe >> Read More...
Long curly hair and hazel brown eyes, I can bet upon it that no one has forgotten her role in Sanjay Leela Bansali's Black. She brilliantly portrayed the role of a young blind girl but that was years ago. She now will be beginning her career, again with Sanjay Leela Bansali in the movie Paani with Sushant Singh Rajput Sushant Singh Rajput is one of the famous Indian t >> Read More... . The audience has waited quite enough for this to hit the theatres and most of us are looking forward to see the on screen chemistry of this couple! Long way to go girl!
8. Sayesha Saigal Sayesha Saigal is a gorgeous and beautiful girl wh >> Read More...
As very well evident in the trailers, this bombshell is all set to step into Bollywood with Ajay Devgan Ajay Devgn is an Indian film actor. He is perhaps >> Read More... in Shivay. It's going to be a pretty intense movie and just so you know, she's Saira Banu's niece! So, some excellent skills will be working on the screens this season. To gain experience, she did a Telegu movie last year and I bet upon it that she's talented enough to deepen her roots in Bollywood as well.
9. Diljit Dosanjh Diljit Dosanjh, born on 6 January 1984, in Jalandh >> Read More...
The "Heartthrob of Punjab" is not a new face to most of us. Being an upcoming Punjabi actor and singer, he has already built his stairway to fame. But not leaving any opportunity aside he ventured amazingly into Bollywood, by giving a dazzling performance in Udta Punjab Click to look into! >> Read More... . Kudos to your success Paagi! There has been news of him star cast in another movie, but no conformations yet!
10. Abrar Zahoor Abrar Zahoor was born on 16th January 1989 in Srin >> Read More...
This Kashmiri actor also proved to be very promising as he gave a splendid performance in Neerja along with Sonam Kapoor Sonam Kapoor, Daughter of Anil Kapoor and model Su >> Read More... . He has set the ramps on fire in the past and also did some commercials but his big break was with Neerja. Little do you guys know that Shekhar Ravjiani Shekhar Ravjiani is a renowned Indian music direct >> Read More... also debuted with him! Some excellent performances seen in this movie! Great job guys!!