1. M Cream
Rating: 7.1/10
This is probably the first stoner movie to be made in India. It is all about a road trip taken by four purposeless college students, in search of a whimsical drug named M Cream, to the paradise of Himachal Pradesh. This movie has bagged numerous awards in various film festivals.
...
2. The Blue Umbrella Click to look into! >> Read More...
Rating: 7.7/10
...
The movie is directed by Vishal Bhardwaj The most outstanding of a successful film producer >> Read More... and was adapted from the famous novel written by Ruskin Bond Ruskin Bond is a famous contemporary Indian writer >> Read More... . The story is about a little girl and a village shop owner set in Himachal Pradesh which has several turning points as the film proceeds. The screenplay and cinematography portrayed here is simply marvelous.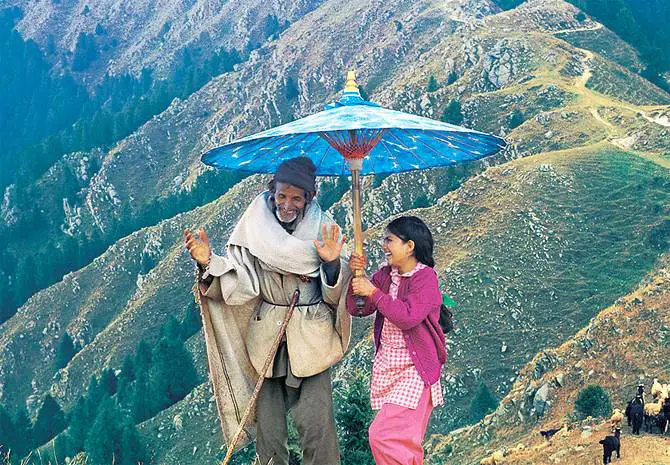 ...
3. Dev D
Rating: 8.1/10
This movie takes us on an amazing visual ride. It is a modernized version of the classic Bengali novel Devdas which is set in typical present-day Punjab and Delhi, filled with fresh and humorous content. The music given by Amit Trivedi Amit Rivedi is a phenomenal musician of the Bollyw >> Read More... was also one of the main reasons that attracted all the audiences and brought them to the theatre thus making it a big hit.
...
4. Margarita with a Straw
...
Rating: 7.3/10
Directed by Shonali Bose Shonali Bose, who was born in the year 1965, is a >> Read More... , this drama film is one of the best and perfect films at present. It showcases the social problems in society. A recalcitrant young woman from Delhi University is diagnosed with cerebral palsy and leaves to New York University with her mother for higher studies. Eventually, she commences a journey of different sexual discoveries and thus this inspiring journey causes a breach between herself and people closest to her.
...
5. Iqbal
...
Rating: 8.2/10
Seeing the nation's obsession with cricket, director Nagesh Kuknoor has not left any stone unturned to entertain the cricket fans of the country. This movie shows a poor deaf and dumb Muslim boy whose one and only dream is to play for the Indian national cricket team. Further, the movie shows various hardships that come along his way because of being physically disabled and poor.
6. Maqbool
Rating: 8.3/10
Maqbool is an adaption of the legendary writer Shakespeare's play, Macbeth. The director of this movie, Vishal Bhardwaj has brought all the finest actors together; thus making the film a big success. This film is an Indian crime film that whirls around Maqbool who is the right hand of Jahangir, the boss of the most influential and criminal gang in Mumbai, and Jahangir's mistress Nimmi.
7. Black
Rating: 8.3/10 The movie is about a blind and deaf woman Michelle McNally, portrayed by Rani Mukerji Rani Mukerji is one of the most celebrated Indian >> Read More... . Michelle is taught by Amitabh Bachchan, an old teacher, to control her mind by making her learn words and ways to express what she feels. The movie shows the bond created between the teacher and the student which is inexpressible in words.
8. Gangs of Wasseypur
Rating: 8.3/10
Directed, produced and co-written by Anurag Kashyap Born on 10th September 1972, Anurag Kashyap has es >> Read More... , Gangs of Wasseypur is one of the finest movies of the Hindi film industry. It portrays the real-life exploits of local gangs, power struggles, politics, vengeance, and revenge between three generations. The drama is divided into two parts as it was a movie of approximately six hours and was telecasted in Netflix in the form of eight episodes.
9. Black Friday
Rating: 8.6/10
Black Friday is another film by Anurag Kashyap which is about the investigations of the 1993 serial bomb blasts that happened in Bombay. The storyline involves stories of the people involved in and affected by the bomb blasts such as police, conspirators, victims, etc.
10. Pather Panchali
Rating: 8.4/10
Pather Panchali is one of the finest movies in the history of Indian Cinema. The story revolves around a very young boy, Apu and his life in his small village. Apu is born in a poor Brahmin family in Bengal whose father is a priest & poet and is the only earner of the family. He has an elder sister Durga, his mother, and an old aunt who is the storyteller. Durga and Apu share an intimate bond. The life of the whole family changes when Durga dies all of a sudden due to high fever and thus the family leaves the hometown with the hope of getting a new and better life. In a nutshell, Satyajit Ray Biographies reveal bare details about the maverick >> Read More... has shown from a child's point of view the social stratifications, issues like child marriage, gender inequality, and differences. In the climax, he shows that Apu's mind has been ingrained with the thought "The strong always devours the weak".