With loads of vivid, lively, sweet and cute treats animation movies are the best dessert for both adult and child human mind. Like Hollywood, there is a huge number of good, entertaining animation films from India. "Indian Animation Industry" is known for working on traditional 2D & 3D animation. The first Indian animated movie was "The Banyan Deer (1957)". It was a short film. On 1974, another landmark animated movie was made, "Ek Anek Aur Ekta." First 3D animation film was " Roadside Romeo Click to look into! >> Read More... (2008)". So, this is a long journey from 1957 to 2017. Here are the 10 Indian animated movies you don't want to miss.
1.    Goopi Gawaiya Bagha Bajaiya (2013):
...
There are many animated films, but undoubtedly this is the best Indian animation movie. "Goopi Gawaiya Bagha Bajaiya," directed by Shilpa Ranade Born in 1966, Shilpa Ranade is an acclaimed Indian >> Read More... , is adopted from globally acclaimed director Satyajit Ray's film "Goopy Gyne Bagha Byne (1969)", based on "Goopy Gyne Bagha Byne" written by Upendra Kishore Roychowdhury. This film is simply the best Indian animation classic. The story is about two musicians and their adventure. This film, starring Manish Bhawan Bio coming soon... >> Read More... , Shailendra Pande, Rajeev Raj Rajeev Raj is a Hindi actor who is known for his e >> Read More... , won 4 national and international awards. It was first screened at Toronto on 2013, later released in India on 2014.
2. Delhi Safari Click to look into! >> Read More... (2012):

 
Delhi Safari is an Indian Computer Generated 3D animated bilingual comedy feature film by Nikhil Advani Nikhil Advani is an ace Indian film producer, scre >> Read More... . It was first released in Annecy in June 2012. Later it was released in India in October 2012. It is a story of a journey. An adventure during a trip to Delhi of five animals and bird. Delhi Safari, starring Akshaye Khanna Akshaye Khanna is a popular Indian film actor. He >> Read More... , Sunil Shetty, Boman Irani Boman Irani is a well known name today in the Bol >> Read More... , Urmila Matondkar Urmila Matondkar is an Indian actress born on 4th >> Read More... and Govinda won 4 national awards. This film is full of fun and entertainment.
...
3.    Arjun: The Warrior Prince (2012):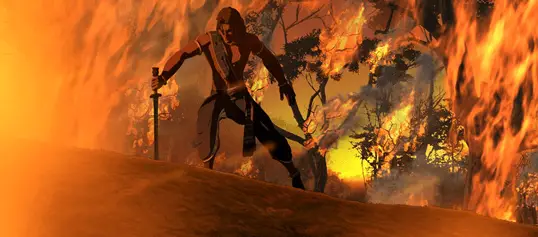 ...
Arjun: The Warrior Prince was a 2012 Indian 2D animation film directed by Arnab Chaudhuri Arnab Chaudhari is a name related to the world of >> Read More... produced by UTV Motion Pictures and Walt Disney Pictures. In the year 2013 it won "FICCI BAF Awards" for "Best Indian Animated Feature Film [Theatrical Release]" category. This movie is best Indian 2D animated movie. In the film, we can see life journey of Arjun, third Pandava. We can notice that the movie was made with 2D with 3D feel technology. It's a film packed with action and adventure.
4.    Chaar Sahibzaade (2014):
...
Harry Baweja's "Chaar Sahibzaade(2014)" was a Punjabi 3D computer-animated drama film. It was based on a historical incident of scarifications of 10th Sikh guru, Guru Gobind Singh's four sons, namely Sahibzada Ajit Singh, Fateh Singh, Zorawar Singh, and Jujhar Singh. The film's narration was provided by Om Puri Om Rajesh Puri is one of the widely noted senior a >> Read More... . Harman Baweja Born on 13 November 1980, Harman Baweja is the son >> Read More... played as Sahibzaada Ajit Singh in the movie. It was released in, Hindi & English Language. It handles the historical value and emotion and drama superiorly.
...
5.    Kochadaiiyaan (2014):
...
Kochadaiiyaan (The king with a long, curly mane) was a 2014 Tamil historical fiction. Soundarya R. Ashwin directed this movie and K. S. Ravikumar wrote this movie. Starring superstar Rajnikanth, as Hindi narrator, Deepika Padukone Deepika Padukone is an Indian actress and model. S >> Read More... and Shobana as female leads and music by A.R. Rahman made it one of the biggest movies of India. Aadhi, Jackie Shroff Intro: Jackie Shroff is a well known Bollywood act >> Read More... , R. Sarathkumar, Nassar and Rukmini Vijayakumar Rukmini Vijayakumar is an Indian dancer specialize >> Read More... also performed as support roles. A new era of Indian animation movies has started with the film as It becomes India's first photorealistic motion capture film. i.e. The characters in the main film look like the respective actors. And it has most successful international box office as an Indian animation film.
...
6. Roadside Romeo (2008):
It was the very start of the new era of Indian 3d animation. The "Roadside Romeo (2008)" was India's first 3D computer-animated romantic musical comedy film produced by Aditya Chopra Aditya Chopra is an Indian film director, scriptwr >> Read More... and Yash Raj Films. It was distributed in United States, United Kingdom and India by Walt Disney Studios Motion Pictures. It was directed and written by Jugal Hansraj Jugal Hansraj is a prominent Indian actor, screenw >> Read More... . Starring Saif Ali Khan and Kareena Kapoor Roadside Romeo wasn't a huge success as the first ever 3D animated movie. But still, it received National Film Award for Best Animation Film.
7. Hanuman Hanuman is an Indian playback singer working chief >> Read More... (2005):
The journey of Indian animation movies started with this movie. Hanuman was India's first full-length 2D animation film directed by VG Samant and jointly produced by Percept Pictures and Silvertoons and created by Kakarakaya Pulsu. It was based on the life of "Hanuman," a Hindu God. It was declared hit at the box office with 8.18 crores. Mukesh Khanna Most children born in the 90s era would be familia >> Read More... was the narrator of this film.
8.    Ramayana: The Epic (2010):
Chetan Desai's film Ramayana: The Epic (2010) was from Maya Digital Media. It was released in India by Warner Bros. India. It picturized ancient Hindu epic poem Ramayana. It was first animated version of Ramayana. It collected 1.45 crores at the Box Office Box Office is a Tamil entertainment TV serial whic >> Read More... .
9.    Bal Ganesh (2007):

Pankaj Sharma's "Baal Ganesh" was one step away from 3D animation. It was made using 3D like 2D sketches. It was composed of childhood stories of Hindu God Ganesh. It was Shemaroo Entertainment film. It was a great colourful movie filled with beautiful music and action. It worth a watch.
10.     Mahabharat (2013):
Amaan Khan's Mahabharat was the picturization of Hindu Epic Poem of the same name. Ajay Devgan Ajay Devgn is an Indian film actor. He is perhaps >> Read More... , Amitabh Bachchan, Shatrughan Sinha Shatrughan sinha is a well known name of the Hindi >> Read More... , Sunny Deol Sunny Deol is a film actor, director and producer. >> Read More... , Anil Kapoor Anil Kapoor was born on 24th December 1956 in Mumb >> Read More... , Vidya Balan Vidya Balan is an award winning Bollywood actress >> Read More... , Manoj Bajpayee Born on 23 April 1969, Manoj Bajpai is first a Bol >> Read More... , Anupam Kher Anupam Kher is a very popular actor, director, and >> Read More... , Deepti Naval Deepti Naval belongs to India. She is an actress, >> Read More... , Jackie Shroff, Vrajesh Hirjee Known for his comic timing and comic roles, Vrajes >> Read More... , Chandrakant Nayak played Arjuna, Bhishma.Krishna, Bhima, Karna, Draupadi, Yudhishthira, Shakuni, Kunti, Duryodhana, Dushasana and Dhritarashtra respectively. It was the most expensive movie of India and the biggest festival of stars. But it flopped with only 1.5 crore box office collection.