Most of us love hearing music and keep to calm while listing to it. Here are some songs below that makes our childhood memories, it brings out the innocent, relationships and a stronger bond. These lyrics of songs are meaningful and pleasant to hear which doesn't have any abusive languages.
1. Chanda Hai Tu Mera Suraj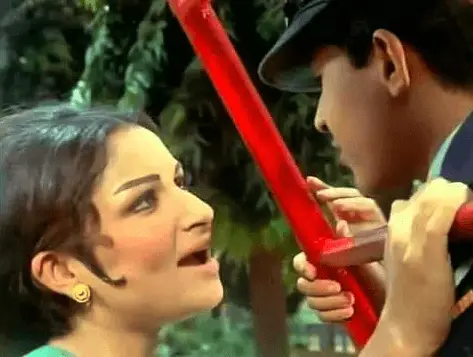 ...
'Chanda Hai Tu' from the movie ' Aradhana Click to look into! >> Read More... ', this song is emotional. Lata Mangeshkar Lata Mangeshkar, the veteran playback singer had >> Read More... sang this song. This song portrait that it is a full moon and also plays a role at times sends the message and also can be known for addressing the loved one.
2. Phool Ka Taro Ka
...
'Phool Ka Taro Ka' song from 'Hare Rama Hare Krishna' in 1971, it is Raksha Bandhan song, and plays while the sister ties a Raki to the brother in that sense that the brother would be with them in all situation, at bad times and even good times.
3. Jhoom Baba
...
 'Kasam Paida Kane Wale Ki' released in 1984. The song was famous because of Bappi Da music and was a peak time to Bappi Da and Mithun Chakraborty When we talk about the few legends in the Indian f >> Read More... combination. At that point, Mithun Chakrabortybecame Disco icon.
4. Lakdi Ki Kathi
...
'Lakdi Ki Kathi' is from the movie ' Masoom Click to look into! >> Read More... '; it had become a big hit with this song. The kid actor, Jugal Hansraj Jugal Hansraj is a prominent Indian actor, screenw >> Read More... and Urmila Matondkar Urmila Matondkar is an Indian actress born on 4th >> Read More... stole each and everyone's heart by acting in the role so gracefully, well everyone knows this song and still sings it joyfully.
5. Chal Mere Haathi:
...
This number is from the cinema, 'Haathi Mere Saathi', Rajesh Kumar Rajesh Kumar is a renowned Indian actor, who rose >> Read More... and the elephant played a fantastic role in the movie.The Elephant was a great help for him, as the actress car, stopped the elephant pushes the car and the other one bring rope and ties in front. Elephants are animals but also can help and are intelligent enough.
...
6. Chanda mama
...
This song was completely changed into night time song which definitely a child is going to sleep. This musical rhyme shows how the mother pampers and feeds the baby with love. This music is beloved by mom and child too.
7. La La Lori Doodh Ki Katori
 La La Lori is from the movie Mukti released in 1977. Most of the mom's in India must have said this song for their kids. In this film Master Boo, a child artist who played a small role of a girl instead of him, being a boy.
8. Check Pe Chakka
 The movie showcases that the orphan takes care of abandoned young kids. This song depicts where the fun-loving driver takes children out to have fun in a packed jeep. This song is played mostly when parents take their small ones out for a long trip.
9. Nanha Munna Rahi Hun
'Nanha Munna Rahi' is from the film 'Son Of India' which released in 1962. The movie is still famous for its patriotic song which we always listen in every Republic and Independence Day Click to look into! >> Read More... . Simi Agarwal the lead actress and also a renowned celebrity who hosted a talk show.
10. Humko Man Ki Sakti Dena
The movie, 'Guddi', which gives a divinity feel of the song, 'Humko Man Ki Sakti Dena' which school kids sings in the morning in their school days. This song also won National Award. The lines of the songs are meaningful which makes people aware, that we should correct our own mistake before pointing on others. The songs are formed through many religious books and translated into the simpler way so that the world understands the beautification of the song.