Comedy movies are the perfect method to experience laughter, which is supposed to be the finest medicine! Comedy films can be the ideal diversion from daily life, whether you're depressed, stressed, or just need a good laugh and relaxed time. Comedy has long been a popular genre in Bollywood and has given rise to some of the highest-grossing movies in the business. In this article, you'll find the best ten funny movies in Hindi cinema that have gained over 100 crores in collections at the box office. So, grab some popcorn and be prepared to laugh out loud at these box office successes.
Thanks to its realistic plot, top-notch acting by the cast, and provocative message against the educational system, the 2009 Bollywood film "3 Idiots" was an immediate smash. One of the highest-grossing Indian movies ever, the movie's blend of comedy, drama, and social critique found favor with viewers. One of the best ten comedies with more than a hundred crores collection in the box office is the movie 3 Idiots.
...
Due to its appeal and engaging plot, the 2011 Bollywood film "Ready," featuring Salman Khan Salman Khan is a very famous Indian actor and a pr >> Read More... , was a box office success. The flick was a booming hit of the decade because of its fantastic combination of comedy, romance, and action, as well as its fun dances and songs. Salman Khan's superb performance and his on-screen chemistry with co-star Asin added to the film's success. The film's rage was further boosted by Salman Khan's admirable performance and his on-screen connection with co-star Asin.
Shah Rukh and Deepika's "Chennai Express," a 2013 immense hit film, was a financial sensation appreciation to its combination of funniness, love story, and action. The film's appealing features included its distinctive South Indian location, vibrant images, and catchy soundtrack. A highlight of the film was the on-screen chemistry between Shah Rukh Khan's character Rahul and Deepika Padukone Deepika Padukone is an Indian actress and model. S >> Read More... 's character Meena, who frequently produced chuckles in their humorous encounters. The "Chennai Express" was, all in all, a thrilling and enjoyable experience for passengers.
...
Most famous actors like SRK, Deepika Padukone, and Abhishek Bachchan Abhishek Bachchan, or Abhishek Srivastava, is a ve >> Read More... are a few of the main ones in Farah Khan's heist comedy-drama "Happy New Year" from 2014. The film's plot centers on a band of outcasts who scheme to plunder a diamond vault in Dubai while competing in a dancing competition. The film became popular with viewers thanks to its energetic dance sequences, exotic settings, and humorous moments. A beauty of the movie was the passionate story between Deepika Padukone's character, Mohini, and Shah Rukh Khan's character, Charlie. For fans and lovers of Bollywood films, "Happy New Year" was enjoyable and pleasurable to watch with loved ones.
...
Kartik Aaryan His name is Karthik Tiwari, and he was born in Gwa >> Read More... , Kiara Advani She is an Indian film star born on 31st July, 1992 >> Read More... , and Tabu play the main characters in "Bhool Bhulaiyaa 2," a hugely successful Bollywood horror-comedy film directed by Anees Bazmee Anees Bazmee was born in the place of Modasa, Guja >> Read More... . It is a follow-up to Akshay Kumar's smash hit movie "Bhool Bhulaiyaa," which came out in 2007. The movie's plot revolves around a married couple who shift into a haunted palace. Psychiatrist Dr. Aditya Shrivastav, played by Kartik Aaryan, strives to solve the enigma of paranormal occurrences. This latest Hindi movie is funny and thrilling, also, this is one of the top 10, which crossed the 100-crore mark.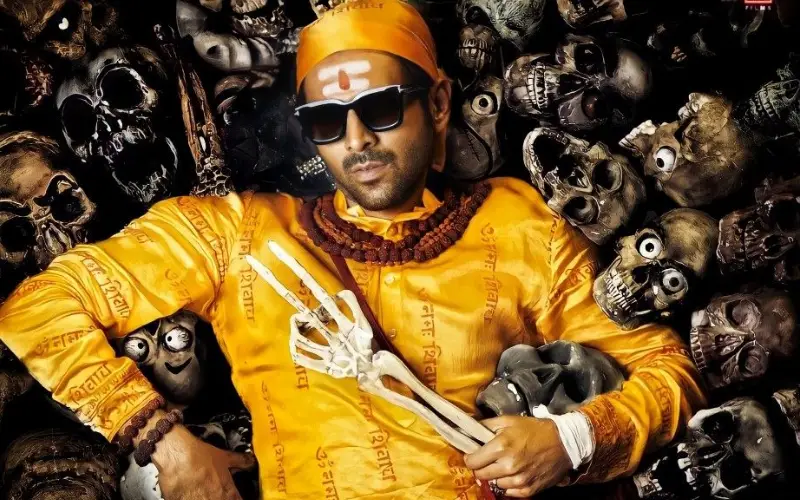 ...
6. Badrinath Ki Dulhaniya
Varun Dhawan Varun Dhawan, a new comer entered Bollywood with h >> Read More... and Alia Bhatt Alia Bhatt is a trendsetting actress from Mumbai, >> Read More... play the critical characters in Shashank Khaitan's 2017 Bollywood romantic comedy " Badrinath Ki Dulhania Click to look into! >> Read More... ." Badrinath Bansal, a man from a tiny town in Uttar Pradesh, and Vaidehi Trivedi, a young woman with aspirations, are the focus of the film's plot. The movie presents issues like gender roles, peer pressure, and how education shapes one's destiny. Audiences praised Varun Dhawan and Alia Bhatt's chemistry, and the film's upbeat music and vibrant images added to its appeal. Ultimately, "Badrinath Ki Dulhania" was a lovely and entertaining film that perfectly encapsulated small-town India.
...
The best in comedy and the one movie that crossed the 100 crore bar Badhaai Ho highlights the hypocrisy of society. It focuses on our opposition to understanding our parents' situations. Even those who play supporting roles stand out and sparkle on film thanks to the director's attention to their individual stories. One of Ayushman's mega-hit Bollywood movies has a strong sense of comedy with a clear message.
...
One of the very successful Rohit Shetty's action-comedy "Bol Bachchan"! The primary actors in this Bollywood film are Ajay Devgn, Abhishek Bachchan, and Asin. Abbas Ali Abbas Ali is an Indian gym trainer. He trains Indi >> Read More... , a character acted by Abhishek Bachchan, is the star character of this Hindi picture. He poses as a devout Muslim named Abhishek Bachchan to get a job in a small Indian village. Slapstick humor, witty one-liners, and fascinating characters abound in the movie. The majority of fans praised Ajay Devgan Ajay Devgn is an Indian film actor. He is perhaps >> Read More... and Abhishek Bachchan's on-screen chemistry. The film's catchy soundtrack and vivid visuals merely boosted its charm and appeal.
...
Varun Dhawan plays an important double role in the 2017 Bollywood comedy "Judwaa 2," which stars flawless actress Jacqueline Fernandez Jacqueline Fernandez is one of the top actresses i >> Read More... , Taapsee Pannu Taapsee Pannu is an actress and model of Indian or >> Read More... , and David Dhawan Born on 16th of August 1955, David Dhawan has alwa >> Read More... . The movie is a remake of the most loved 1997 Bollywood film, "Judwaa," in which Salman Khan played two roles. The movie's plot revolves around Raja and Prem, twin brothers, who split apart at birth, and how they met. A series of events concerning how they met is the primary subject of the film's plot. With its over-the-top humor, upbeat soundtrack, and vibrant images, the film is a laugh riot. Varun Dhawan received praise for his portrayal of the cheeky twins, and the movie's best scene included his interaction with both of the starring actresses.
Five friends who decide to stay in a haunted mansion experience paranormal activity in the movie's plot. With its slapstick comedy, clever one-liners, and vibrant cinematography, the film is a laugh-out-loud bonanza. The film's catchy music and enjoyable dance sequences added to its attractiveness, and the chemistry among the ensemble cast was admiringly praised. Overall, "Golmaal Again" was an enjoyable film that successfully blended the most significant aspects of the horror and humor genres.