A certain persistent quality might be found in Hrishikesh Mukherjee Hrishikesh Mukherjee is a film director, writer an >> Read More... 's films. He incorporated middle-class everyday experiences into his writings while deftly juggling serious and humorous themes. After all, this is the same filmmaker who oversaw " Abhimaan Abhimaan is a Hindi daily soap that aired on DD Na >> Read More... ," " Chupke Chupke With serials like Kuldeepak which has been recentl >> Read More... ," "," and "Gol Maal." His storytelling skills were exceptional since they were never oversimplified. Instead, it would improve the film-watching experience so that the audience would remember the characters, the conversation, their mannerisms, and even the clothing. We look at some of his timeless slice-of-life films that continue to make us laugh, contemplate, sympathize, and cry bittersweet tears decades later. The following is a list of the top ten Hrishikesh Mukherjee films:
1. Khubsoorat
The film, which included well-known actors like Ashok Kumar Ashok Kumar hails from Hyderabad, Andhra Pradesh. >> Read More... , Rekha, and Rakesh Roshan Rakesh Roshan Lal Nagrath is the original name of >> Read More... , was popular with both experts and viewers. While the film won the Filmfare Award for Best Film and was remade in several regional languages, Rekha received the award for Best Actress. This film served as an inspiration for the 2014 Sonam Kapoor Sonam Kapoor, Daughter of Anil Kapoor and model Su >> Read More... starrer of the same name, but it was not well appreciated by the general public.
...
The Hrishikesh Mukherjee film "Anand," starring Rajesh Khanna Born as Jatin Khanna on 29th December 1942, the ch >> Read More... and , must be mentioned if we are discussing his films. The film is about a man who is terminally ill and is about to pass away, yet he continues to spread happiness while he is still alive to live life to the fullest.
3. Kissi Se Na Kehna
The comedy film starring Farooque Shaikh, Deepti Naval Deepti Naval belongs to India. She is an actress, >> Read More... , and Utpal Dutt Utpal Dutt is a Veteran in Indian cinema who was a >> Read More... dismisses a myth that older people in that era had about educated females' ability to make decent spouses or daughters-in-law. Some filmmakers have also used this idea in their films or television programs, but this one stands out due to its outstanding performance and superb direction.
...
4. Mili
Mili was somewhat reminiscent of a female-focused adaptation of Hrishikesh Mukherjee's "Anand," a sweet love story in the middle of a disaster waiting to unfold. Both characters are sick, conscious of their short time, and possibly more animated than the others around them. Even Amitabh Bachchan, who plays the man whose life is changed by meeting and subsequently falling in love with the titular woman, fits this description. Our knowledge of her fate does, however, come to a slight conclusion.
...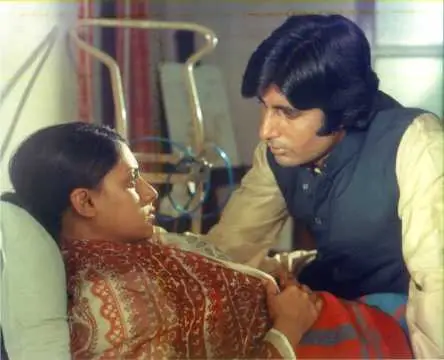 5. Bawarchi
"Bawarchi" will be remembered as one of Hrishikesh Mukherjee's and superstar Rajesh Khanna's best films. The actor plays a chef who not only creates delectable meals but also promotes closer relationships within the family. Both reviewers and spectators liked the film, which served as the sole inspiration for Govinda's hugely successful blockbuster hit "Hero No. 1" (1997), which featured Govinda.
...
6. Chupke Chupke
One of the most popular films ever made features Dharmendra, Amitabh Bachchan, Sharmila Tagore Sharmila Tagore is a Bengali actress, who later sh >> Read More... , Om Prakash Om Prakash was an Indian character actor who never >> Read More... , and Jaya Bachchan Born on 9th April 1948 Jaya Bachchan is an Indian >> Read More... . Even though the performers gave excellent performances, "Chupke Chupke" also had a wonderfully melodic and calming score. Despite having a small role, Amitabh Bachchan received a lot of appreciation for his comic timing in this film.
...
7. Gol Maal
The comedy "Gol Maal," starring Amol Palekar Amol Palekar was born on 24th November, 1944 in Mu >> Read More... , Utpal Dutt, and Bindiya Goswami Bindiya Goswami is a former actress from the late >> Read More... , is a riot of fun. What makes it unique is its fantastic storyline and some of the actors' most iconic acting work. Although other Bollywood filmmakers have attempted to adapt the film's primary plot, none of them has been able to match Hrishikesh Mukherjee's charm.
...
The film "Rang Birangi," which is about rekindling the passion in marriage, is one of the all-time best situation comedies, and Utpal Dutt had one of his best performances in it. The film features key roles by Amol Palekar, Farooque Shaikh, Parveen Babi The actress who changed the face of Bollywood and >> Read More... , Deepti Naval, and others.
...
The protagonist of the film "Guddi" is a straightforward schoolgirl played by Jaya Bachchan who is so smitten by actor Dharmendra (who portrays himself) that she thinks the latter is a superhuman being who is capable of anything. Guddi's uncle, played by Utpal Dutt, gets in touch with Dharmendra and requests his assistance in getting Guddi to understand the difference between reality and delusion.
10. Anari
The protagonist Raj is a kind-hearted but impoverished man who strives to make ends meet. Raj is an honest man who may be too kind for a corrupt world. His landlord, Mrs. D'Sa ( Lalita Pawar Lalita Pawar was a versatile actress in Indian Fil >> Read More... ), and the love of his life, Aarti (Nutan), both take a maternal interest in him because of his kind character. Things start to look up as he gets a full-time job, but as destiny would have it, tragedy hits, and his kindness ends up being taken advantage of by the powerful and dishonest.