The month of October is like Christmas season for Indians. So many festivals and so many functions are there to celebrate and enjoy. October is followed by November and December, the wedding seasons and so many more occasions to dress up ethnically. Our Bollywood celebs are frequently seen in so many parties and events, and hence we bring ten most awesome ethnic looks of them, here. These looks are our favourite ethnic looks of all these celebs from the entire year.
We begin with a woman who is the epitome of beauty, Mrs. Aishwarya Rai Bachchan. She looked ravishing and extremely beautiful in the golden dress/lehenga in the Diwali Party 2016 hosted by the Bachchans themselves. Her outfit was all shimmery in golden and beige. With her hair let down, red lipstick, and beautiful eye makeup, she looked amazingly pretty. Abhishek bachchan and Aishwarya are always coordinated in their outfits, and they always complement each other.
Parineeti is a girl with a fun and quirky personality. She always dresses up in different styles which suit her, and she is another hot girl in Bollywood after that amazing worked out body. Pari wore a lehenga recently in a pretty way. Her lehenga was light colored with heavy embellishments in the lower side of her skirt. She wore a Cape over her blouse very elegantly and neatly which made her entire outfit appear sexy and bright. Her Cape also was embellished at the corners. Even her blouse had the sequence work.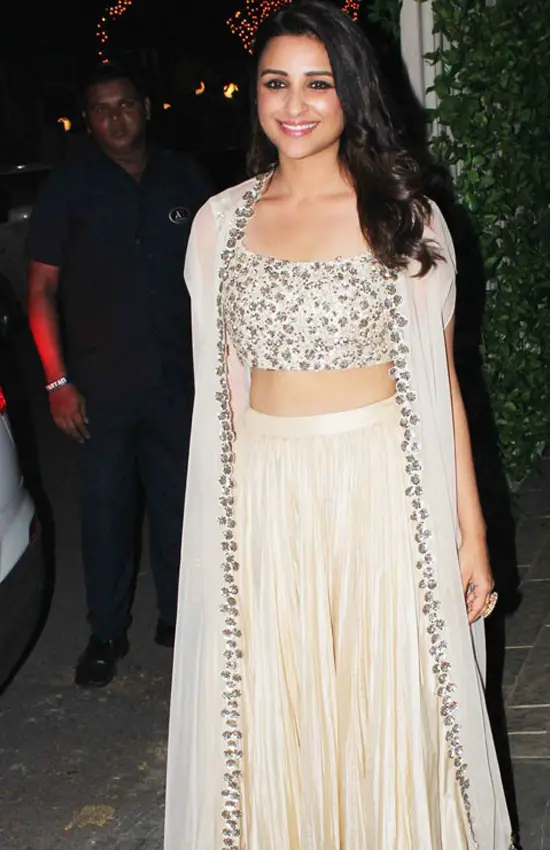 Karisma Kapoor is taking the internet by storm. She is frequently seen in most of the Bollywood events, and she is definitely one of the best-dressed celebs. Karisma looks very beautiful in this pretty pink ethnic outfit. This wore a heavily patterned dress in complete ethnic design. The dupatta that she flaunts makes this dress more elegant and royal. With a perfect bun with flowers on it and makeup, Karisma looks adorable in this outfit.
I think this whole family has an agenda to kill people with their looks. Ranbir makes us wonder how one can look so perfect every day. He walked the ramp at Lakme Fashion Week for designer Kunal Rawal in an ethnic wear. He wore textured bandi with a champagne-coloured printed kurta and a pajama. He wore matching footwear and looked dapper. This was my favorite look from LFW, this season.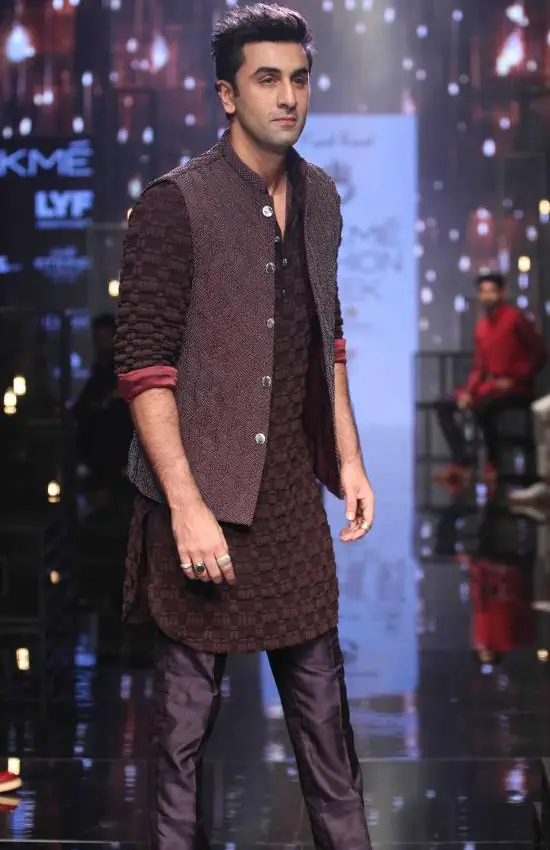 5. Alia Bhatt
Alia Bhatt dresses up in a quirky and trendy way generally but now we see her style statement changing from cute to beautiful. Alia Bhatt wore a light coloured sari with heavy sequence work at the borders with a cold shoulder top. This fusion outfit caught our attention. Her sleek and neat, side parted bun went well with the outfit, and the best part was her dark, smokey, and smudged eye makeup. Whatever style you flaunt, we love you, Alia.
Harshvardhan Kapoor has been rocking all the promotional events of Mirzya in various looks styled by her sister, Rhea Kapoor. We bring in our top favorite look of him in an ethnic outfit. He is a stud, hands down. He is wearing a long ethnic blue checked jacket, striped shirt, and a pajama in blue with black footwear.
Deepika chooses to dress in a different way every time we see her. She was seen recently at Mukesh Ambani's party in an ethnic outfit. She wore a white see through saree with golden border and a halter neck blouse in white. Golden is the color of the season, and every diva is rocking it in her own way. Deepika wore her favorite mauve color lipstick, and went for a low bun with twisted rolls. She managed to carry off this look very elegantly, and this look of hers became one of the favorite ethnic looks of the season.
8. Sonam Kapoor
We are talking about best ethnic looks of the year, so how can we not mention about the queen of fashion, Sonam? In a recent event, Sonam wore a white lehenga with a white cape. Her outfit was similar to that of Parineeti's, but Sonam has a different in hairstyle and makeup. Unlike Pari, she had a bun and an elegant neck piece to match the white outfit.
We loved this look of Jacqueline where she dressed up in an Indo-Western way. She wore a red maxi ethnic skirt with some ethnic prints and a cape or poncho style of a top which has some multi-color prints. This is a very sexy outfit we are crushing on. We love that high ponytail and red lipstick which is perfect for this outfit.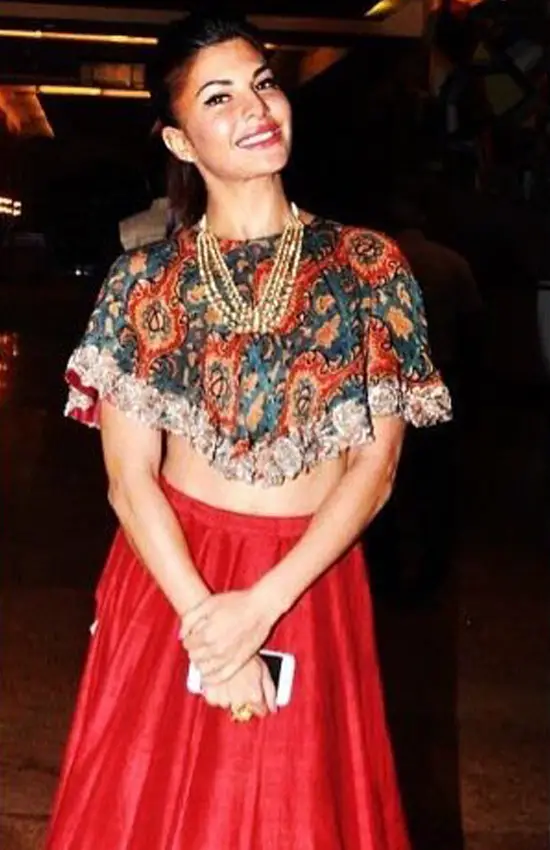 We also bring in one of our favorite look of Kareena in an ethnic style snapped at the airport. Begum is one of the prettiest women on this planet. She nails every outfit she wears. We love this look of her where she is wearing a long white kurta which is embellished all over with a white palazzo and a white dupatta to complete the look. She keeps her swag high with her shades on and a classy handbag. She is again on almost no makeup look and looks very beautiful.