Bollywood's obsession with banning movies is nothing new. But did you know that certain movies were massive hits in India but were outlawed elsewhere? There are several strange explanations for this; countries rejected some for screening because they were too progressive, while others got banned because of alleged indecency. We'll highlight the Bollywood movies that were huge domestically but outlawed overseas.
1. Padman
Pad Man is a 2018 Hindi-language biographical comedy-drama film written and directed by R. Balki. The film starring , which received praises in India for challenging taboos associated with menstruation, wasn't received favourably in Pakistan. The Federal Censor Board of Pakistan bizarrely outlawed a movie advocating readily available sanitary napkins for females. They said that the R. Balki movie went against their customs and culture.
...
2. Oh My God! (OMG)
Oh My God! is a 2012 Hindi-language satirical comedy-drama film written and directed by Umesh Shukla Umesh Shukla is an Indian actor, writer, dialogue >> Read More... . The film, which raked positive reviews in India for pushing the boundaries and raising some genuine questions over religious fanaticism, got banned in many middle-eastern countries. It was not allowed screening to hurt the religious sentiments of people. Among those who refused the film also included UAE.
The Dirty Picture, a 2011 Hindi-language biographical musical drama film, was based on the life of Silk Smitha Silk Smitha is an unforgettable personality in the >> Read More... , an Indian actress renowned for her passionate depictions. Vidya Balan's performance in The Dirty Picture garnered praise. Yet, it got outlawed in many other nations. The movie shows the true story of actress Silk Smith, who committed herself after struggling with depression. Due to Vidya Balan's bold performance for their target demographic, the movie got banned in Kuwait.
...
Delhi Belly is an Indian action-comedy movie written and directed by Abhinay Deo Abhinay Deo is an Indian commercial director who l >> Read More... . Imran Khan Imran Khan is an Indian film actor, who is famous >> Read More... , Kunaal Roy Kapur Kunaal Roy Kapur is an Indian director and actor k >> Read More... , Vir Das Vir is a stand-up comedian and actor. He is known >> Read More... , Poorna Jagannathan Poorna Jagannathan is a brilliant American actress >> Read More... , and Shenaz Treasurywala The stunning and breath-taking, Shenaz Treasurywal >> Read More... are among its cast members. The movie was prohibited in Nepal due to its graphic nature, even though it was also improper for India's young audience. The main culprits were the excessive profanity and the few pornographic sequences. Not only that, but Nepal also outlawed the Akshay Kumar film Chandni Chowk to China because it allegedly offended the Nepalese population.
...
5. Bombay
Bombay is a 1995 Indian Tamil-language romantic drama film written and directed by Mani Ratnam Mani Ratnam is an Indian filmmaker deeply rooted t >> Read More... . It features Arvind Swami and Manisha Koirala Manisha Koirala, is a Bollywood actress of Nepales >> Read More... in prominent roles, with the latter marking her formal debut in the Kollywood industry. One of India's best-made film cities will always be Bombay. Despite receiving favorable reviews, the Mani Ratnam film struggled when it was released. When the movie got released, there were several violent situations. The Singaporean government chose to prohibit the film there due to religious concerns. Whatever happens, Bollywood fans will always regard Bombay as a classic.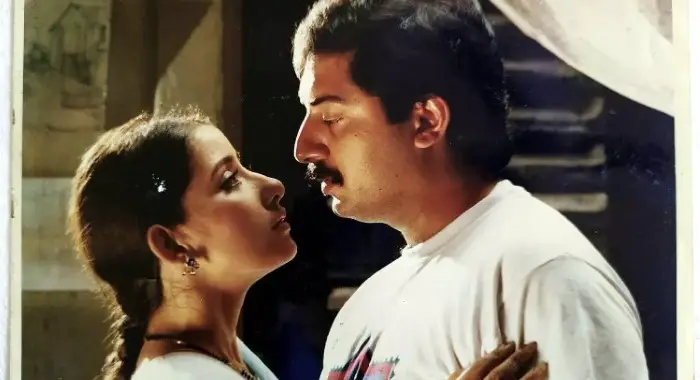 ...
6. Fiza
Fiza is a crime thriller film written and directed by Khalid Mohammed. The protagonist of a made-up narrative about a guy gone wild courted controversy for all the wrong reasons. Hrithik Roshan Hrithik Roshan with his unimaginable dance moves i >> Read More... portrays a middle-class Muslim man who leaves his home to become a terrorist in the movie. In contrast to what the movies show, Malaysian officials, claim that a Muslim cannot be a terrorist.
...
7. Baby
Baby is an action-spy thriller movie released in 2015, written and directed by Neeraj Pandey Neeraj Pandey is an Indian movie producer, directo >> Read More... . In addition to Taapsee Pannu Taapsee Pannu is an actress and model of Indian or >> Read More... , Rana Daggubati Rana Daggubati is a famous Indian actor. He was bo >> Read More... , Danny Denzongpa For Danny Denzongpa the voyage to the glittering w >> Read More... , Anupam Kher Anupam Kher is a very popular actor, director, and >> Read More... , Mikaal Zulfiqar Mikaal Zulfiqar is a British Pakistani model and a >> Read More... , Kay Kay Menon Kay Kay Menon or K.K. Menon or Krishan Kumar Menon >> Read More... , Madhurima Tuli Madhurima Tuli is an Indian actress as well as a S >> Read More... , and Rasheed Naz Rasheed Naz is a Pakistani Film actor well known f >> Read More... in supporting parts, Akshay Kumar plays the hero in the movie. To apprehend the famed Pakistani terrorist, R&AW embark on a secret operation in Dubai. The film was prohibited in Pakistan because it allegedly negatively depicted Pakistan.
...
8. Raanjhanaa
Raanjhanaa is a 2013 Indian Hindi-language romantic drama film written and directed by Aanand L. Rai. They were outraged by the film, which is essentially the story of a romance between two teens from Banaras. In the Sonam Kapoor Sonam Kapoor, Daughter of Anil Kapoor and model Su >> Read More... and Dhanush-starring movie, a boy (Hindu) followed a girl (Muslim) till he was ready to pass out. In India, the film was well received, and no one had any problems with it (at least not any religious one). However, Pakistan took issue with the heroine, played by Sonam Kapoor, who fell in love with two Hindu males. Due to this, the movie got banned in Pakistan.
...
Neerja is a biographical thriller movie directed by Ram Madhvani Ram Madhvani is an Indian Director. He has worked >> Read More... and written by Saiwyn Quadras Saiwyn Quadras is an Indian film screenplay writer >> Read More... and Sanyuktha Chawla Shaikh. The Bollywood film "Neerja" is based on the life of an air hostess Neerja Bhanot features one of Sonam Kapoor's most outstanding performances. Sadly, her admirers in Pakistan were unable to attend the movie. Neerja got added to the increasing list of Indian films that got banned in the neighboring nation for no reason other than that it painted Pakistan negatively.
10. Padmaavat
Padmaavat is an Indian historical romance and drama film directed by Sanjay Leela Bhansali Born on 24th February 1963, Sanjay Leela Bhansali >> Read More... in 2018. Deepika Padukone Deepika Padukone is an Indian actress and model. S >> Read More... portrays Rani Padmavati, a Rajput queen renowned for her beauty and the wife of Maharawal Ratan Singh, played by Shahid Kapoor Shahid Kapoor also identifies as the name Shahid K >> Read More... , in this epic poetry adaptation. After learning about her attractiveness, Ranveer Singh's Sultan Alauddin Khilji invades her realm to enslave her. This film caused controversy not just in India but also in Malaysia. The country's censor board outlawed the movie because the way it depicted Islam was inappropriate for the target demographic.