Anushka Sharma Born in an army family to Col. Ajay Kumar and Ashi >> Read More... is a well-known actress in Hindi Cinema. She has contributed many films to the Indian Cinema. She is a recipient of many awards. Some of her best movies of her are as follows:
1. PK (2014) 
Human-like an alien came to Earth Planet for research. He lost his locket, which was the only device to communicate to his spaceship. In search of his locket, he faced a completely new World. He comes across many people of different religions, guiding him to other places to get the locket. Anushka Sharma played the role of Jaggu, who is a journalist. She helped PK ( Aamir Khan Aamir Khan or Mohammed Aamir Hussain Khan is Bolly >> Read More... ) to bring back the locket.
...
2. Rab Ne Bana Di Jodi (2008) 
It is a super-blockbuster movie starring Anushka Sharma as Taani and Shah Rukh Khan Shah Rukh Khan or also known as SRK is a prominent >> Read More... as Raj and Suri. Suri, who is an ordinary man working in Government Offices, falls in love with his total opposite Taani, who is cheerful and fun-loving. She is joyful until her fiancée dies on her marriage day. Watch how Taani transferred herself opposite of her personality and married Suri. Her husband then becomes utterly opposite of himself in the hope of making Taani return to her original character.
...
It is a film directed by Maneesh Sharma Maneesh Sharma is a Bollywood Director and Storywr >> Read More... . Ranveer Singh Ranveer Singh Bhavnani is an Indian movie actor wh >> Read More... and Anushka Sharma played the lead roles of Bittoo and Shruti, respectively. Shruti is in third year of college and is focused on her goal. Bitto is also in his third year of college but has no plan for his career. Destiny brings them together where they become wedding business partners. Their most significant rule was to not mix business with love/pleasure. However, they realize that they are breaking their law by falling in love with each other.

4. NH-10 (2015) 
It is an action movie starring Anushka Sharma and Neil Bhoopalam Neil Bhoopalam, born 19th March 1983 and is of 32 >> Read More... in lead roles. It is a story about a happily married husband and wife who go on a road trip. The purpose for this trip was to relax and calm the mind of Meera (Anushka Sharma) as she faced an un- appropriate happening. However, the journey fades away when they encounter a gang of violent criminals at a roadside Dhaba.
...
It is a story of Kamal Mehra ( Anil Kapoor Anil Kapoor was born on 24th December 1956 in Mumb >> Read More... ), a well-known businessman, and his wife, Neelam, who kept a cruise trip for their friends and family to celebrate their wedding anniversary. Despite facing financial issues and not-so-good relationship with his wife, Kamal kept the luxurious trip to keep up his excellent image. Their daughter, Ayesha ( Priyanka Chopra Born on 18 July 1982, Priyanka Chopra is an establ >> Read More... ), is a businesswoman but is unhappy with her marriage. Her brother, Kabir (Ranveer Singh), loves flying but is forced to run the family business. Anushka Sharma played the role of Farah, who is a dancer. She has a bold and fearless personality. On this journey, everyone experienced their matters and changed for a better life.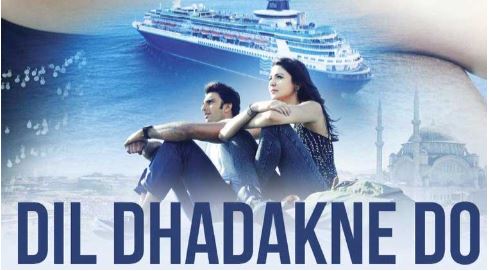 ...
6. Jab Tak Hai Jaan (2012) 
Samar Anand (Shah Rukh Khan) meets Meera () in London and falls in love. Their passion grows more by spending time together. However, Samar gets into a severe accident. Meera prayed to God to let him live again. She promises if he listened to her, she will leave Samar. God listened to her and let Samar live. Frustrated and angry, Samar challenged God to keep him alive by walking into the death's; mouth daily. He then became a bomb disposal chief in Armed Forces. He met Akira (Anushka Sharma), who fell for him. However, after knowing his past, she decides to unite his lover, Meera, with Samar.
...
7. Sultan (2016) 
It is a fictional story about Sultan ( Salman Khan Salman Khan is a very famous Indian actor and a pr >> Read More... ), who falls in love with Aarfa (Anushka Sharma), a state-level wrestler. They became good friends, but when Sultan proposed to her, she coldly rejected him, claiming that she would marry a man like her, who had a goal and a future. Sultan, feeling humiliated, decided to become a wrestler to win her heart and his self-respect. With his hard work and dedication, he won a state-level tournament and Aarfa's; heart. They were happily married and became successful wrestlers representing India worldwide. However, when Aarfa became pregnant, she gave her dream of winning an Olympic Gold Medal for India to her husband. Unfortunately, Sultan's; success led him in the wrong direction resulting separation of Sultan and Aarfa. Watch to find out what caused their split.
...
It is a film about a married couple, Mamta (Anushka Sharma) and Mauji ( Varun Dhawan Varun Dhawan, a new comer entered Bollywood with h >> Read More... ). The society and family of Mauji used to criticized him for not earning. Then, he decided to do something to become financially independent. With the support of his wife, he started a traditional garment business to earn money and respect.
...
9. Ae Dil Hai Mushkil (2016) 
It is a film showing the power of one side love. Ayan ( Ranbir Kapoor Ranbir Kapoor is a noted Indian film actor. He was >> Read More... ) and Alizeh (Anushka Sharma) become good friends after meeting at a pub in London. Alizeh saw a best friend in Ayan, while he saw more than a best friend in Alizeh. One day, Alizeh's; ex-boyfriend met her and wanted her back in his life. Their got together, and they decided to marry. She invited him to her wedding, but the happy moments turned into grief after Ayan confessed his feeling to her, and she rejected him. Aishwarya Rai played the role of Saba, who becomes Ayan's; girlfriend.
It is a film about a street boxer, Balraj (Ranbir Kapoor), who falls in love with a jazz singer, Rosie (Anushka Sharma). To win her heart, he decides to become a rich, wealthy man. To earn a lot of money, he and his friend met a businessman who got impressed by Balraj and gave him the responsibility of handling the "; Bombay Velvet"; club. Balraj faces lots of challenges as an ordinary man; entered the Crime business.