The founder of Indian disco, Alokesh Lahiri, often known by his stage name Bappi Lahiri Bappi Lahiri is a famous Music Composer of India. >> Read More... , was born in Kolkata, West Bengal, in 1952. While Bappi Lahiri is renowned for changing pop music in the Indian music industry, he also belongs to a musical family. Both his father and mother are musicians who previously mainly focused on Bengali classical music. At 19, he began his career, making his screen debut in the Hindi film Nanha Shikari in 1973 and the Bengali film Daadu in 1972. The blockbuster films Chalte Chalte Click to look into! >> Read More... and Surakshaa made Bappi Lahiri's extraordinary career in Bollywood possible, and he has quickly become recognized as one of the best vocalists in India. The top 10 iconic songs by Bappi Lahiri are listed below.
1. Tune Maari Entriyaan
One of its most well-known songs comes from the 2014 film Gunday, starring Ranveer Singh Ranveer Singh Bhavnani is an Indian movie actor wh >> Read More... , Priyanka Chopra Born on 18 July 1982, Priyanka Chopra is an establ >> Read More... , and Arjun Kapoor Arjun Kapoor is a Bollywood star. He was born on 2 >> Read More... . One of those songs you'll find yourself singing along to with your best friend when you're in the mood for cheerful Bollywood music is Tune Maari Entriyaan, which features the voices of Bappi Lahiri, Neeti Mohan Intro: Neeti Mohan appeared on Hindi television wh >> Read More... , KK, and Vishal Dadlani Vishal Dadlani mostly known by duo name Vishal She >> Read More... .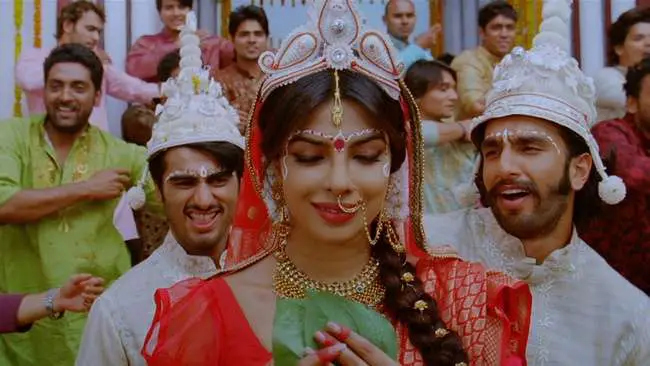 ...
2. Yaad Aa Raha Hai
"Yaad Aa Raha Hai" from " Disco Dancer Click to look into! >> Read More... ," released in 1982, is one of the most well-known love songs ever. Many people have referred to this music as a disco anthem, and critics around the country have deemed it Bappi Lahiri's best song.
3. I Am A Disco Dancer
"I Am a Disco Dancer" is a smash hit song composed by Bappi Lahiri and performed by Vijay Benedict >> Read More... . The music and Mithun's great dance made the song one of the first pop hits of its time, which helped it gain popularity.
...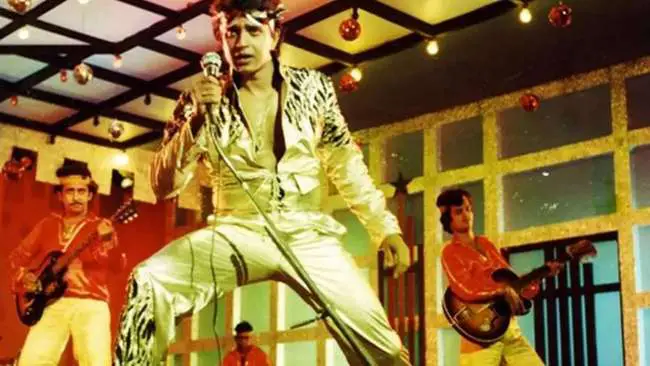 4. Ooh La La
One of the biggest hits of 2010 was Ooh La La. Bappi Lahiri performed vocals for Vidya Balan's film "The Dirty Picture." The level of vocal control he displayed shocked the listeners. His voice was so strong that it seemed age was no barrier.
...
5. Tamma Tamma Loge
One of his 1989 megahits is the Tamma Tamma song. This song was also remade for the film Badrinath Ki Dulhania Click to look into! >> Read More... , starring Varun Dhawan Varun Dhawan, a new comer entered Bollywood with h >> Read More... and Alia Bhatt Alia Bhatt is a trendsetting actress from Mumbai, >> Read More... .
...
6. Raat Baaqi
Raat Baaqi, a song from the 1982 film Namak Halaal, was sung by Asha Bhosle Asha is considered to be the second greatest femal >> Read More... . Anjaan was the song's lyricist, and Bappi Lahiri was its composer. This song is another one that lingers in our memory after we have heard it. You'll most likely start singing it because it's so catchy.
...
7. Yaar Bina Chain Kaha Re
When Saaheb was released in 1985, the song "Yaar Bina Chain Kahan Re," which featured Anil Kapoor Anil Kapoor was born on 24th December 1956 in Mumb >> Read More... and Amrita Singh Amrita Singh is an Indian film and TV actress. She >> Read More... , was one of the highlights of the film. The piece is so timeless that the creators of the 2020 movie Shubh Mangal Zyada Saavdhan used it, which stars Ayushmann Khurrana This Vicky donor worked as radio jockey, Video joc >> Read More... .
...
8. De De Pyar De
From the iconic Hindi film, Sharaabi comes the poetic song "De De Pyar De." The music is by Bappi Lahiri and is performed by and Jaya Prada Jaya Prada is a renowned Indian actress and politi >> Read More... . Kishore Kumar Kishore Kumar is an Indian playback singer, who ha >> Read More... provides a gentle voice. Couples and partners are familiar with the seductive tune, a significant hit.
...
9. Bambai Se Aaya Mera Dost
One of the songs that kids from the 1980s and 1990s would have heard was "Bambai Se Aaya Mera Dost." The full lyrics of the song will sound familiar even if you do not know the movie or actors on which it is based. The voice full of swag by Bappi Lahiri gives the well-known song extra brilliance.
10. Naino Mein Sapna
From the film, Himmatwala, which features Jeetendra and Sridevi in the lead roles, comes the hit song Naino Mein Sapna. Under the guidance of Bappi Lahiri, Kishore Kumar and Asha Bhosale perform the song. The song "Joyful" was a big hit at the time. He talked about his everlasting fondness for gold jewelry and how Elvis Presley's individuality inspired him to design his own. The singer-composer known as "The Disco King of Bollywood," Bappi Lahiri, passed away in Mumbai at 69 from obstructive sleep apnea. He had been ill for a while before he passed away on February 15, 2022, at CriticCare Hospital in Mumbai.