Bollywood has been exploring several genres of films. One of which includes the portrayal of the lives of models in the fashion industry. Here is a list of films that shows the struggles of a modeling career. How they balance their personal and professional lives. They show the real side of the industry which has glamour as well as the darker side.
1. Fashion
The film Fashion is about an aspiring model named, Meghna Mathur who wants to become a supermodel. She goes against her father's wishes and leaves for Mumbai. She auditions and gets rejected continuously. She is asked to prepare a professional portfolio. But her relatives ask her to leave their house when a magazine covers her lingerie photos. Shonali, a top model is replaced by Meghna due to her drug addiction. Meghna gains huge success after the show and gained recognition overnight. She also starts drugs and alcohol resulting in her career declining but again she revives her career in modeling.
The film Calendar Girls is about five girls named Mayuri Chauhan, Paroma Ghosh, Nandita Menon, Nazneen Malik, and Sharon Pinto. They are selected for the year's calendar cover. All the girls' personal lives are depicted individually belonging to four different cities in India and one from Lahore. Their struggles and hardship are shown which they must face in their modeling career. Five girls have high dreams about the annual calendar. They shoot their calendar finally and is released. After a series of incidents, one of the girls, Nazneen dies. Later the film ends with the four girls' current career positions.
3. Heroine
The film Heroine is about a model and actress Mahi Arora. She is in a relationship with Aryan, who is going to divorce his wife. They make intimate tapes of themselves which lead to some chaos. They make intimate tapes of themselves which lead to some chaos. Aryan leaves her. She realizes her place and goes into depression. She renews her career. The harsh reality of the film industry and modeling and acting career is portrayed. How outer glamour comprises inner struggle and manipulation is well depicted. As a result, Mahi's success is short-lived. She decides to leave her career and fashion industry after her agent quits and an actress whom she admired, dies. Finally, she walks away alone.
...
4. Ghajini
The film Ghajini is about the love story of a struggling model and a successful entrepreneur. They meet when Sanjay visits Kalpana to install an advertisement on her apartment. When his agents visit her boss, he mistakes them for a romantic proposal and starts hiking her modeling career, and gives her special treatment. She, to maintain her status, wants a man to pose as Sanjay. Unknowingly, she meets the real Sanjay and poses him, according to her, he is Sachin. Later, after a series of incidents, Kalpana dies and Sanjay sets out to take revenge.
...
5. Page 3
The film Page 3 is about the lives of three girls, Madhavi Sharma Bio coming Soon... >> Read More... , a journalist; Pearl Sequiera, an air hostess; Gayatri Sachdeva, an aspiring model, and actress. They are roommates living in an apartment in Mumbai. Gayatri becomes romantically attracted to an actor and becomes pregnant. He suggests her to get an abortion as this will ruin his career. She is depressed. She tries to commit suicide thus losing the child. Pearl, as she always wanted to marry a rich man, she does so, but with an old man. She leads a lavishing life but it is a loveless marriage. Madhavi finds her boyfriend with her male best friend in bed and discovers he is bisexual. Gayatri in the end, to make her name in the fashion industry, sleeps with a director. The film shows the dark side of this industry.
...
6. Aisha
The film Aisha is about a girl who thinks she is perfect for matchmaking. She is a rich and young girl. Everyone criticizes her for interfering in others' life for matchmaking. She is a fashionista. She loves to attend modeling shows, fashion shows, and parties. Real-life models are also shown in this film. They include Lisa Haydon Lisa Haydon is an Indo Australian model, who born >> Read More... , Cyrus Sahukar Cyrus Sahukar was born to Behram Sahukar, a colone >> Read More... , and Anurag Kashyap Born on 10th September 1972, Anurag Kashyap has es >> Read More... . Later she believes that love is spontaneous and can never happen if one plans for it.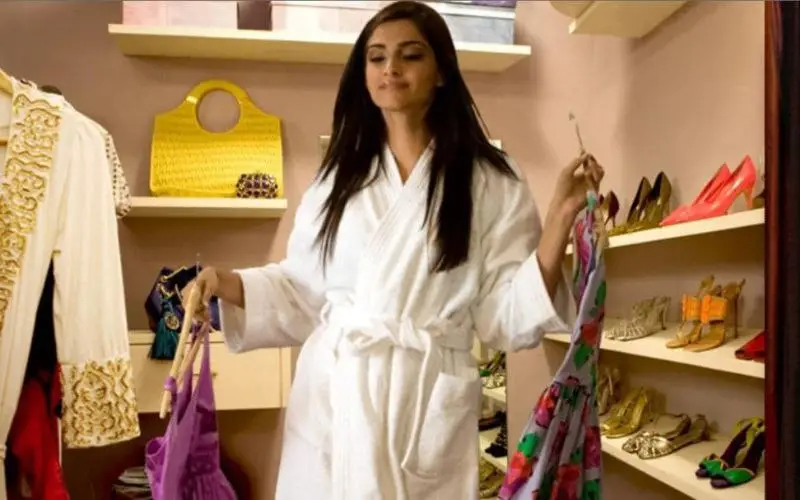 ...
The film Super Model is about five girls participating in a bikini calendar shoot contest in the Fiji Islands. They want to become a supermodel and fulfill their aspirations. One of the contestants is murdered and a rivalry starts, resulting in the models getting trapped in a web of conspiracy. They want to get into the fashion industry. The film shows professional and personal life conflicts. Especially middle-class girls must face several problems. A man is looking for a model when he launches his new wine brand. But mysteriously, all the girls consecutively start getting murdered blaming only one of the contestants.
...
8. Aitraaz
The film Aitraaz is about a successful model and her relationship with a man who gets married. Raj is living in South Africa. He falls in love with Sonia, the model. They start a live-in relationship. He wants to marry her when she becomes pregnant. But she wants to abort the child as it would ruin her modeling career. Raj leaves her and later marries an Indian lawyer, Priya. After a series of incidents, when he meets Sonia after 5 years, she tries to ruin his career accusing him of raping her. Priya fights the case and the truth is proved.
...
The film Masaba is about a successful model's biography named Masaba Gupta Masaba Gupta is one of the most accredited and you >> Read More... and her mother Neena Gupta Neena Gupta is a very popular and well-known figur >> Read More... . Her failed marriage is mentioned in a newspaper which is a rumor. But they end their marriage. It is based on her world of fashion, family, and dates. Her real-life struggles are shown that how she achieved her career despite broken family relationships. The way she manages her professional life is inspiring. It features real Masaba acting along with her mother.
10. The Fabulous Lives Of Bollywood Wives
The film The Fabulous Lives Of Bollywood Wives shows the Personal and professional lives of Seema Kiran, Maheep Kapoor Maheep Kapoor, previously known as Maheep Sandhu, >> Read More... , Neelam Kothari During the mid 80s Neelam Kothari had a successful >> Read More... , and Bhavna Pandey Bhavna Pandey is an Indian fashion designer and So >> Read More... . They are the wives of Sohail Khan Sohail Khan is an Indian Film Actor. He is also a >> Read More... , Sanjay Kapoor Sanjay Kapoor is a Bollywood actor. He had acted a >> Read More... , , and respectively. The women discuss their fashion industry lives including modeling and acting careers. They attend lavishing parties and fashion shows. They talk about their professional and private lives. They even show their relationship with their family members.