1. Aamir Khan Aamir Khan or Mohammed Aamir Hussain Khan is Bolly >> Read More...
In the below picture, you can see a double body standing beside Amir Khan Bio coming soon... >> Read More... . He is the person who did the stunts in Dhoom 3 for Amir Khan. On screen, it appeared that Mr. Perfectionist was doing all stunts, but in reality, his stuntman was behind all this.
...
2. Deepika Padukone Deepika Padukone is an Indian actress and model. S >> Read More...
A female stuntwoman was used in the film Chandni Chowk To China for Deepika Padukone. Deepu played adorable role in the movie. All the difficult stunts were performed by Geeta, her stunt woman. The body double was given a chance to be the contestant in the show Khatron Ke Khiladi.
...
3.Shahrukh Khan
King Khan made use of a stunt man in Fan, where he is running behind an insane fan to catch him. The image shows the two persons, on the left side is the body double who performed the scene, and on the right side is Shahrukh Khan. The fan was a big flop on Box Office Box Office is a Tamil entertainment TV serial whic >> Read More... .
...
4. Salman Khan Salman Khan is a very famous Indian actor and a pr >> Read More...
In Sultan you must have seen Sallu Bhai running behind the kite, but in reality, he was not the one whom you saw running. It was a stunt man who shot this scene for Salman. Many body doubles have been used for Salman in different movies.
...
5.
...
A lot of action scenes were used in Chandini Chowk To China. Akki learned many Marshal Arts for the film. He was trained by experts before the shooting started. Even after learning different actions, and stunts, he had to use a body double for few scenes, which were life risking.
...
6. Hrithik Roshan Hrithik Roshan with his unimaginable dance moves i >> Read More...
The below photo is of Duggu, and of his body double. He has done many dangerous stunts for Hrithik in the film Kites and Bang Bang Click to look into! >> Read More... . The same stuntman is used for both projects. He is one of the most favorite body double of Mr. Roshan.
...
7.
Kat also used a body double for the stunts; she needed to do in the films. In Ek Tha Tiger, her body double performed the stunts. Katrina was playing the role of an undercover agent for which she needed to perform much action sequence, for which a female stunt woman was hired.
8. Abhishek Bachchan Abhishek Bachchan, or Abhishek Srivastava, is a ve >> Read More...
Junior Bachchan was also in need of a stuntman when, he was asked to do action scene in Raavan film. The below photo is of Abhishek and his body double. The movie is directed by Maniratnam, but it was a huge failure on box office.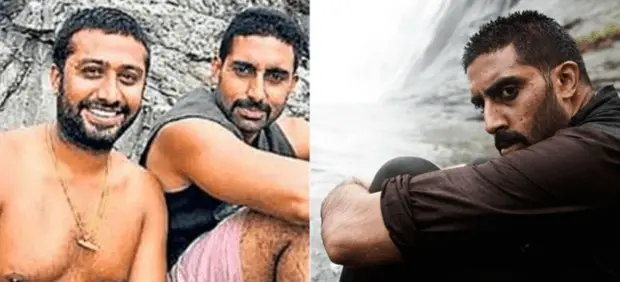 9.Aishwarya Rai
This picture is of stunt woman, who did stunts for many actresses like Aishwarya, Priyanka, etc. She is one of the demanding woman body doubles in the Bollywood. She is not given any credit, and the actresses steal all the limelight from her.
10.Ranvir Singh
The energy bomb Ranvir always tries to do all his scenes and stunts. His few dangerous stunts were performed by his body double in the superhit movie Bajirao Mastaani. He always gets all the attention, but this time his stunt man was the super hero for him.