The iconic TV show of 90's, is one of the popular shows ever made. The everlasting magic of the show still can be seen among the youngsters because of its amazing cast and flawless storyline. It's not just a show; it is a lifeline, a universe, it's everything. It made us laugh and cry both at the same time and realized us how much our friends irritate, fool us but they are our crazy friends and indispensable part of our life.
We know we can never recreate the same charm and magic of this sitcom, but hypothetically if there were be F.R.I.E.N.D.S, who would we pick? Here is our version of Bollywood FRIENDS …..
Rachel Green- Alia Bhatt Alia Bhatt is a trendsetting actress from Mumbai, >> Read More...
...
Rachel Green works in fashion, a beauty with less brain. It seems like this role is just only meant for Alia Bhatt. Little spoiled with great fashion sense Alia would perfect the character of drama queen Rachel Green of Bollywood FRIENDS.
Ross Geller– Fawad Khan
...
Ross is the most handsome guy in the show. In Bollywood, we have every other handsome actor, but we are looking for one who can pull off Ross's melancholy "Hiiii." Yeah!!! We got one, Fawad Khan who can get into this character like no one other. He is sensitive, emotional and looks great with our Rachel (Alia Bhatt) give us enough reasons to be him our "desi Ross".
...
Chandler Bing- Farhan Akhtar One of the most recognized young director of India >> Read More...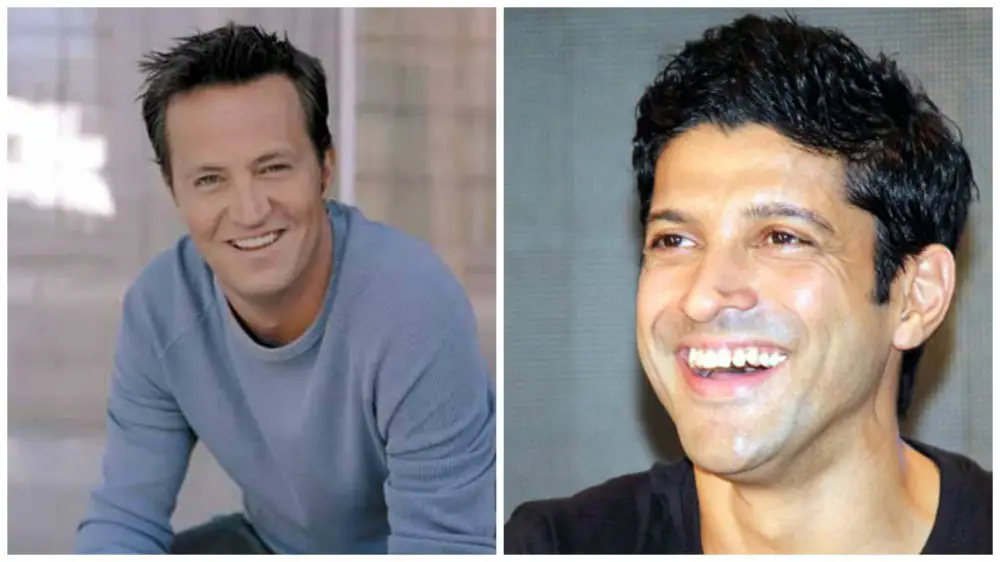 Mr. Funny Bones "Chandler Bing" is a favorite and wittiest character of the show. Like his charming face and his sarcastic sense of humor, we think we will go for Farhan Akhtar as Chandler because he has great comic-timing and he's versatile actor, can fill the shoes of Chandler.
...
Monica Geller- Priyanka Chopra Born on 18 July 1982, Priyanka Chopra is an establ >> Read More...
...
The image of Monica is of obsessive neat freak and very competitive and controlling girl. She never let goes the things she wants. Just like our global desi girl Priyanka Chopra who aces everything, she puts her hands in. We think this role Pee Cee make our hearts steal again. It will be fun to see Farhan and Priyanka cast as a couple.
Joey Tribbiani- Varun Dhawan Varun Dhawan, a new comer entered Bollywood with h >> Read More...
...
The cute face and childish behavior of Joey Tribbiani it gives us the idea of Varun Dhawan, who can ace this role. Good looks, great with girls and also love to goof around them seems like Varun have all these traits of Joey.
...
Phoebe Buffay–
This is a tricky one to found in Bollywood. But only beautiful Kangana Ranaut can match the character of Phoebe Buffay's craziness and her moody behavior. She is quirky, self-dependent and lives her life with her rules. She never thinks what others believe about her opinions, exactly like Phoebe.
Dr. Richard Burke– Kabir Bedi Kabir Bedi is well known Indian television and fil >> Read More...
When thinking of middle age man for the place of Dr. Burke, we get only one match that is Kabir Bedi. The strong build, the sexy voice, and charming face with dimples, he is synonymous with the character of Richard. And we can picture him romancing with a tweeny. Yeah!!! Kabir Bedi definitely go with this match.
Janice Littman – Sonam Kapoor Sonam Kapoor, Daughter of Anil Kapoor and model Su >> Read More...
Who doesn't remember the annoying and nagging voice of Janice. Her signature phrase "Oh My God." It will be fun to see Sonam Kapoor play this character in her style. Although the dressing sense of Janice was not up to Sonam, but their similar expressions will do the justice to the character.
Gunther – Vinay Pathak Vinay Pathak is a well known face in the field of >> Read More...
It seems FRIENDS is incomplete without Gunther, who has a hopeless crush on Rachel and played as wuss man. In our version of FRIENDS, I think Vinay Pathak is Bollywood counterpart of Gunther.
Judy and Jake – Ratna Pathak Ratna Pathak is an Indian actress who has been a p >> Read More... and Satish Shah Satish Shah is a Hindi and Marathi TV actor. He ro >> Read More...
Parents of Ross and Monica, Judy Geller and Jake Geller can be played by our Sarabhais, with an ease and oomph. Ratna Pathak as Judy Geller and Jake Geller would be fun to see as a couple again.
Ugly Naked Guy – Shakti Kapoor Personal life: Shakti Kapoor was born in Delhi, In >> Read More...
Last but not the least the ugly naked guy we saw his side view only in the show. But I'm sure none other than our Shakti Kapoor can pull off this character better than any other.