1. ' Taare Zameen Par'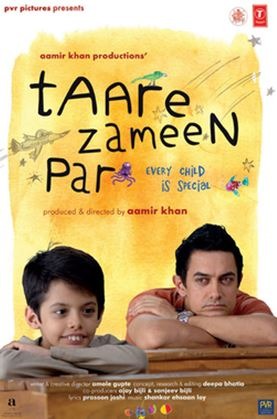 Ishan is a young child who is perceived to be lazy because he does not keep up with the fast paced world. His parents send him off to hostel, unaware of the fact that the child suffers from dyslexia, because of which he has trouble recognizing letters and keeping up with his classes. This is discovered because at his hostel he comes across an art teacher who finds his imagination for him with love and patience.
2. ' Paa'
The movie explores the theme of consequences, responsibilities and realization. Auro is a child in his early teens suffering from a disease called Progeria that makes him age much faster than his actual age and more often than not lands him in the hospital. Everyone known that he is not going to last long, but even as he leaves, he unites his parents and makes them realize where they belong, i.e., with each other.
3. ' Black'
The movie won many awards, making Amitabh Bachchan and Rani Mukerji 's place in the industry even more secure. Rani Mukerji plays a blind, deaf and dumb woman who is determined to finish her education. It is her and her teacher's dream to see her finish her graduation. But when she finally does complete her education, the teacher, Amitabh Bachchan, becomes too old to understand and then she starts teaching him.
4. ' Ghajini'
A man who is deeply in love with a woman and plans to marry her starts to suffer from Anterograde amnesia when he is hit repeatedly on the head. This is also where the woman he loves is killed. So not only does he suffer from the disease, but he must also deal with the loss of his love, which he keeps forgetting. So every time he remembers it, he must suffer all over again.
5. ' Barfi!'
The story explores the life of a man who is deaf and dumb. He finds love, and loses it. But then he falls for an autistic girl. What follows in a unique love story between these two innocent souls who fight all odds to be together, and in a world that is bustling, plotting and scheming, they find solace in each other. We see the two growing old and dying together in the end.
6. 'My Brother…Nikhil'
AIDS is a disease that the world is still opening up to. Unfortunately, due to the limited mindset of the people, the people who are already suffering have to suffer even more as they battle a deadly disease. Nikhil is also a regular guy who is a great swimmer. But when it is discovered that he has AIDS, he is made to leave his house, thrown out of his swimming team and is boycotted by everyone. In this situation, his sister and her friend step up to support him. The world boycotts Anamika too for standing with her brother, but she still stands, unmoved as his pillar of support.
7. ' My Name Is Khan'
The film deals with a lot of issues in one go. It deals with floods and its after effects, and it deals with the effects of being a Muslim after terrorists attacks by Islamic groups in the country. Shah Rukh's step-son is killed and he decides to take a cross country journey in order to talk to the United States's President and tell him that he is not a terrorist. Through all this, he must also battle his Asperger Syndrome.
8. ' U Me Aur Hum'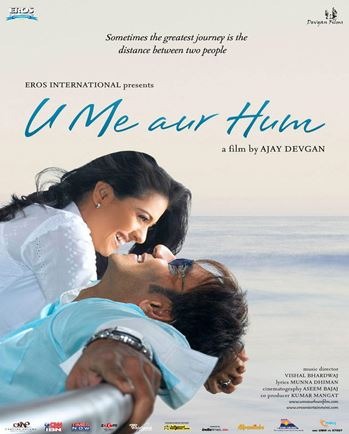 The film was Ajay Devgan 's directorial debut. In the film, Ajay and Kajol Devgan portray a couple in love, but soon, Ajay finds out that his wife is suffering from Alzheimer's when she gets pregnant. The situation and her disease only worsens with time.
9. ' Karthik Calling Karthik'
The film focuses on Karthik who spends his entire life believing that he is the cause behind his brother's death. He also gets strange calls from himself. The film is a psychological thriller focusing on the disease schizophrenia, a condition where it become difficult to understand what is true and what is imagination.
10. ' Guzaarish'
The Greek God Hrithik Roshan gained a lot of weight for this movie, for his character of a man suffering from quadriplegia. He is paralyzed neck down due to an injured spine and lives his life like a vegetable, unable to do anything. Earlier, he was an illusionist and very popular until one of his acts go wrong and it paralyses him.
11. ' Devdas'
The movie Devdas focused on Dev losing himself to his lost love. He lets himself go completely and becomes an alcoholic. Ultimately, he dies due to liver cirrhosis. Before his death and after his separation from Paro, Dev suffers from clinical depression. It is a condition that affects a person and his relationships heavily. He no longer believes that anything around him is worthwhile and chooses to just drown himself in something, anything. It is not uncommon for people to turn to substance abuse in such situations.
12. ' Koi Mil Gaya'
The film deals with a mentally disabled boy in his early 20s, and elaborately explores the trials and tribulations that the child and his mother are forced to face daily. The man's life improves when an alien enters his life and together, they save each other and improve each other for the better.
13. 'Tere Naam'
The film made Salman Khan the God of all gym enthusiasts who have ever been rejected by a girl. Salman's character suffers from schizophrenia and although the portrayal of the disease is not entirely wrong, not all suffering from the disease need to be put into an asylum. The disease causes the patient to take up substance abuse in 50% of the cases and causes delusions, auditory hallucinations, disorder in speech, paranoia, and much more, that often makes it hard to handle. The disease begins at a young age and stays until old age.
14. 'Heroine'
The movie may have focused on the glitz and glamour of Bollywood, but it also mentions Kareena Kapoor Khan 's bipolar disorder, which is what causes her to ruin her career. Bipolar disorder is not very uncommon, and it frequently sends the person suffering from it into depression. Since there are so many moods that this condition makes the affected person experience, it also allows them to sometimes be their 'normal' self. But it is otherwise marked with uncontrollable mood swings.
15. 'Koshish'
Considered to be Sanjeev Kumar's best performance; the film deals with a mute and deaf couple whose lives mingle due to their disabilities. They meet, fall for each other and subsequently get married in an insensitive world that is blind to their struggle. They then raise their son and make him an educated man, but problems arise when he is asked to marry a woman with disabilities just like his parents.
16. ' Sparsh'
The National Award winning movie is especially revered for its leads' subtle acting and the sensitivity with which the issue is dealt. It deals with a visually challenged principal of a blind school. Shabana Azmi plays a teacher who can see, and with time falls in love with Naseeruddin Shah as she sees how he deals with the issues in his life and handles the school. They must now handle their own baggage and the baggage of their past, relying on the 'touch' of love.
17. ' Sadma'
An all-time classic, Sadma is said to be among the best movies that its actors have ever given. It dealt with ' Sridevi', who loses her sound mental health in an accident, and lost in the big world, gets stuck in a brothel. She is rescued by Kamal Haasan, who is a teacher and rescues her. The film was directed by Balu Mahendra and was a remake of a Tamil film.
18. ' Khamoshi'
This is another old film, released in 1996, and was the directorial debut of Sanjay Leela Bhansali. Nana Patekar and Seema Biswas are a mute and deaf couple living in Goa. Their little girl and son are capable of talking and hearing. Their daughter, Annie, loves music, and tries to learn from her grandmother and take care of her parents at the same time. The film focuses on the sense of duty, on selflessly giving and about duty bound children.
19. 'Iqbal'
The film had a great message in store for its viewers. Often we let go of our dreams because people say they are impossible. Here, Iqbal cannot hear, as he is dumb and mute. He barely follows his dream and takes up Naseeruddin Shah as his coach. Naseer himself in an alcoholic ex-player, but together they prove anyone who ever doubted them wrong as Iqbal becomes a part of the Indian cricket team.
20. ' Margarita With A Straw'
A very bold step by the director, Shonali Bose and the actor, Kalki Koechlin, the film deals with a girl suffering from Cerebral Palsy. The film explores her coming of age as she discovers herself and explores her sexuality.