It is an honor to be in the Royal family and with their luxurious traditions. Very few in the Bollywood industry are from the Royal family. Some are from the families of real old-time Rajas and Nawabs. Here are some Royal actors and actresses.
1. ADITI RAO HYDARI
...
Aditi Rao Hydari As her title may be suggesting, Aditi the talente >> Read More... is a perfect royal family person. She has done many wonderful movies such as Bhoomi in 2017, Rockstar in 2011, Murder 3, Wazir in 2016, Padmaavat in 2018, etc. Aditi's mother is an Indian classic singer. Aditi belongs to two royal families Muhammad Saleh Akbar Hydari and Raja J. Rameshwar Rao. Her family is also based on politics.
2. SAIF ALI KHAN
...
belongs to the royal family in Pataudi. Saif's mother is a former Indian actress Sharmila Tagore Sharmila Tagore is a Bengali actress, who later sh >> Read More... , and his father, Mansoor Ali Khan Mansoor Ali Khan was born in the small village cal >> Read More... Pataudi, was a former captain of the Indian cricket team. Saif has worked with all three famous Bollywood Khan's. Saif Ali Khan is also known as Nawab of Bhopal or the Nawab of Pataudi.
3. KIRAN RAO
...
Kiran Rao She is an Indian film producer, screen writer and >> Read More... is the wife of Aamir Khan Aamir Khan or Mohammed Aamir Hussain Khan is Bolly >> Read More... . She is a producer and director. Kiran Rao belongs to the Hydari royal family. She is also the cousin of beautiful Bollywood actress Aditi Rao Hydari. Kiran is the co-founder of the Paani Foundation. She started her career with an epic movie Lagaan which was directed by .
4. MANISHA KOIRALA
...
Monisha Koirala is an Indian actress who was born in Nepal but started her career in Bollywood. Her entire family is in politics in Nepal. She has citizenship in both India as well as Nepal. Manisha is the granddaughter of former Prime Minister of Nepal Bishweshwar Prasad Koirala.
...
5. IRRFAN KHAN
...
The gem of Bollywood, Irrfan Khan Irrfan Khan is a noted Bollywood actor who started >> Read More... , died due to cancer in 2020. Even Irrfan belongs to a royal family, and his father was a rich Zamindar. His mother was the descendant of the Tonk Hakim Family in Jaipur.
6. SAGARIKA GHATGE
...
We have seen Sagarika Ghatge The gorgeous lady, Sagarika was in the limelight a >> Read More... in the Bollywood movie Chak De India with Shah Rukh Khan Shah Rukh Khan or also known as SRK is a prominent >> Read More... . She is the wife of Indian cricketer Zaheer Khan Zaheer Khan is a former Indian cricketer who playe >> Read More... . Sagarika belongs to a Shahu Maharaj family named as Kolhapur royal family in Maharashtra. She still has a royal link with her husband's side.
7. SONAL CHAUHAN
Sonal Chauhan Sonal Singh Chauhan is an Indian model, actress, a >> Read More... is an Indian actress. She is the ex-girlfriend of Neil Nitin Mukhesh. She won Miss World Tourism in 2005. Sonal is born in a Rajput family, one of the Royal families in Rajasthan.
8. BHAGYASHREE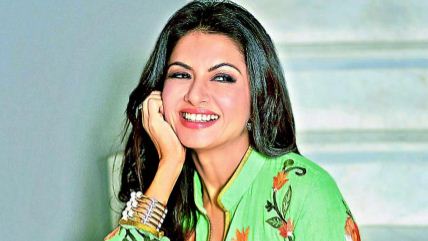 Bhagyashree Patwardhan Born and brought up in Mumbai, this film and TV ac >> Read More... is the charming and beautiful actress of Bollywood. Known for her Bollywood movie Maine Pyaar Kiya, actress Bhagyashree, belongs to Maharashtra's Royal family of Sangali. She has won many film awards for her best acting.
9. RIYA SEN
Riya Sen Riya Sen is a well know Indian Model and a bette >> Read More... is an Indian actress and model. She is married to Shivam Tewari in the year 2017. Riya was acted in the movie Jhankaar Beats and Shaadi No. 1 and many Malayalam movies. She also played a role in Falguni Pathak's song in Yaad Piya Ki Aane Lagi.
10. ALISA KHAN
Alisa Khan Alisa Khan is the recent promising star of Bollywo >> Read More... belongs to one of the royal heritage family of Mohammad Nawab Ghaziauddin Khan. We have seen her in the movie, My Husband's Wife. She has worked with the co-star Emraan Hashmi Emraan Hashmi is one of the most successful & cont >> Read More... .