In this list we would be looking at the top ten roles in movies and TV shows which had to be recast due to numerous reasons. Some might be because the director of casting was not happy with his/her first choice or it might be due to the unavailability of the actor who had been already cast in the movie or due to many other shocking reasons too.
1. Regina George in 'Mean Girls'
...
Initially Lindsay Lohan was cast to play the role of Regina George but she ended up playing Cady Heron, and Amanda Seyfried She is known to be a singer and model. One of the >> Read More... was actually chosen to play Cady. But Lohan instead opted out to play given role and luckily Rachel McAdams Born as Rachel Anne McAdams on November 17th 1978 >> Read More... landed this role which gave her career a huge boost. The goody-two-shoes image did not help Lindsay in saving her career though.
2. Dumbledore in 'Harry Potter'
...
All the Harry Potter lovers can't forget this one. When Richard Harris, who played the much-loved character Dumbledore, passed away, he was replaced with the superb .
3. Jennifer Parker in 'Back To The Future'
...
The character of Jennifer was originally acted by Claudia Wells Claudia Wells is an actress, who is known for her >> Read More... , but she had to later opt out due to her mother's illness. Thus, Elisabeth Shue Elisabeth Shue is an actor who got her first break >> Read More... was brought in to continue the role of Jennifer.
4. Catwoman in 'Batman' 1960's
...
Julie Newmar played the role of Selina Kyle in the series' first two seasons. As Newmar was unavailable for the movie Lee Merriwether continued playing the character. Eartha Kitt played the character in season three. Eartha Kitt's portrayal is certainly most fondly remembered.
...
5. Sidney Prescott in 'Scream'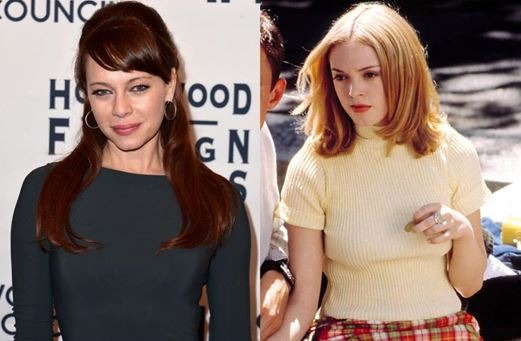 ...
Melinda Clarke auditioned to play the character of Sidney Prescott. But she dropped out of the movie after bagging the role of Tatum Riley. Rose McGowan Born in Tuscany, Rose Arianna McGowan is an Americ >> Read More... became a well-known actress post doing Scream and 'Jawbreaker'. Melinda Clarke definitely missed a golden opportunity here.
6. Jimmy Olsen in 'Lois And Clark: The New Adventures Of Superman'
...
Jimmy Olsen was an important cast member of Superman but the show took a big gamble by having Michael Landes play Jimmy in the first season and Justin Whalen play Jimmy in the subsequent seasons.
7. Jane Smith in 'Mr. & Mrs. Smith'
Nicole Kidman Pronounced as one of the sexiest women alive and a >> Read More... was going to act in this movie initially but was replaced by when she pulled out of this movie citing conflicting shooting dates. was cast as Mr. Smith when , who was the first choice for this role, also pulled out. While shooting for the movie Brad Pitt fell in love with Jolie and left his then-wife Jennifer Aniston She became a household name in 1994 as she appeare >> Read More... .
8. Daario Naharis in 'Game Of Thrones'
The role of Daario Naharis was enacted by Ed Skrein Edward George Skrein, who goes by the name Ed Skre >> Read More... during the third season of the show. However, fans were left surprised when the same character got a new face in season four. Michiel Huisman started playing Daario Naharis and was loved by the fans, but Ed believed that he was recast due to some internal politics.
9. Rachel Dawes in 'The Dark Knight'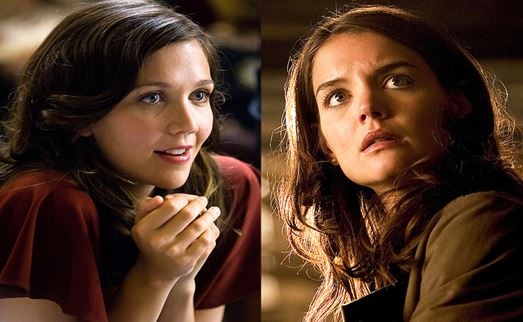 The part of Rachel Dawes was done by Katie Holmes Born two months premature, Katie Holmes is the dau >> Read More... in the first movie Batman Begins. Maggie Gyllenhaal Maggie Gyllenhaal is a popular American actress. M >> Read More... played Rachel in the next movie, The Dark Knight. Although you can argue that Holmes is really famous more for her relationship with rather than her acting skills, it is still true that Maggie did more justice to the role.
10. Marty McFly in 'Back To The Future'
The first choice of Robert Zemeckis and Steven Spielberg Steven Spielberg is an American producer, director >> Read More... for the role of Marty McFly was ' Michael J Fox His real name is Michael Andrew Fox. He was born o >> Read More... '; however, he was busy shooting his show Family Tree and could not take the part. So Eric Stoltz was brought in but the director did not find him suitable for the wrong and ultimately re-casted Fox and shot all the scenes all over again, which cost the makers an extra $3 million.