Indie songs are songs that are written, composed, and sung by independent bands and individuals. We have compiled a list of the Top 10 Indie feel-good songs by Indian individual artists-
1. Aftaab-
The song Aftaab is by an indie rock band- The Local Train, formed in Chandigarh, India. "Khamosh Bhid Mai Phir Ho Khade Gumshuda" has beautiful lyrics and rocking yet soothing music. It is an inspiring song.
2. Pahado Mein-
The song Pahado Mein is by Salman Elahi, a Mumbai-based indie songwriter, composer, and singer. "Mera Dil Kahi Door, Pahado Mein Kho Gya" has cute lyrics and soothing music.
3. Mishri-
Another beautiful indie song on the list is Mishri by an Indie singer, songwriter, and composer- Anuv Jain. Anuv has a sweet voice, literally like a Mishri. Mishri is a soothing song with pretty lyrics! "Mishri Ke Inn Badlo Mein, Tu Aaj Bhi Kahi Chhipa Hai," has imaginitive lyrics.
4. Cold/Mess-
"When I feel cold, I keep You Close." How cute! The song Cold/Mess is by Prateek Kuhad. Prateek Kuhad is a singer-songwriter and musician who makes independent music in Hindi and English.
5. Bandey-
Another rocking song by the band The Local Train Bandey. Bandey is another inspiring song with profound lyrics and wobbling music! "Sab Hai Tere Paas Fir Bhi Tu Kyun Roye?" is a Must listen!
6. Waqt Ki Batein-
Another feel-good indie song Waqt Ki Batein is by the Indie-pop band- Dream Note. It is a wholesome, inspiring song. It is like a manifestation with subtle lyrics and soothing music.
7. Kasoor-
Another beautiful independent song by talented Prateek Kuhad is Kasoor. Kasoor is a love song with a praising theme; it has cute lyrics with soothing music!
8. Kadam-
"Mein Kadam Kadam Badalta Hu Yahi, ye Jindagi Badalti Hi Nahi." Ah! So profound yet so subtle. The song Kadam is by Prateek Kuhaad. It has deep lyrics with melodious music.
9. Alag Asmaan-
Another beautiful indie song in the sweet voice of Anuv Jain is Alag Asmaan. "Ye Naram Chadron Ki Silwate, Tujhe Abhi Bula Rahi Hai," with cute lyrics, it has soothing music and a perfect vibe.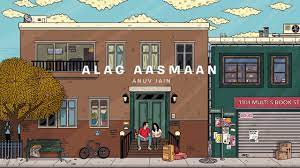 10. Khoj-
The song Khoj is from a multilingual indie-folk band- When Chai Met Toast, formed in Kochi, India. Khoj is a multi-language song with a beautiful lyrical piece and soothing musing. It is a song about searching, "Dil Mera Khoya Raha."