From Couture to Valentino, from Rodarte to Armani Prive, you can see dresses from every collection put on the show on the Red Carpet The Hindi entertainment program which makes you fe >> Read More... s. Our actresses and models have always stimulated the trends. What they wear becomes fashion. Bold looks or cute princess looks, they know how to carry it all. Quintessential makeup and set of accessories to harmonize with their looks makes their appearance something to look up to.
1. Mira Sorvino Mira Sorvino is an American Film and Television Ac >> Read More...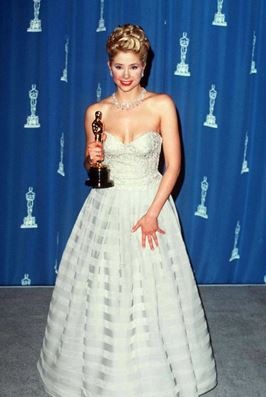 ...
In 1996 at Academy Awards, Mira Sorvino wore a strapless white pearl-like gown with pearls. She had a princess-like look. It was the most talked about dress at that time. She came into limelight when she won the award for Best Actress in a Supporting Role (Female) for the film Mighty Aphrodite of 1995.
2.
...
This Charlie's Angel is known for her dresses at the Red Carpet. In 2003 at the Golden Globe Awards, she wore Chanel Haute Couture. That grey mini dress flaunted her perfectly groomed legs. Nude heels, black band, and white clutch completed her look. This Knight And Day actress was The Sweetest Thing of the night.
3. Kate Hudson Kate Hudson is an American actress who is the daug >> Read More...
...
Kate Hudson, an American actress, is best known for her roles in Bride Wars Click to look into! >> Read More... and Almost Famous. In 2003 at the Golden Globe Awards, Kate Hudson wore Valentino. The Bohemian dress perfectly fitted her curves. The prints on the dress were vibrant. They made her look elegant and gorgeous.
4. Michelle Williams
...
Michelle Williams, an American actress, is best known for her roles in Brokeback Mountain and Wendy & Lucy. In 2006 at the Academy Awards, Michelle Williams wore a Vera Wang. It was a long length saffron gown. The flowing dress highlighted her curves. Also, the colour of her attire blended well with her blonde hair. She became an overnight style sensation.
...
5.
...
At Los Angeles Film Premier, the Pirates of the Caribbean star was seen wearing a Rodarte. This dress belonged to Rodarte's most famous collection. She looked like a Ballerina in the dress. The dress highlighted her curves. This simple dress made a great impact. This English actress is best known for roles in Pride And Prejudice and film series of Pirates of The Carribbean.
6.
...
At the Cannes film festival 2016, the humanitarian Angelina Jolie wore Max Azria Atelier. The green flowing gown suited perfectly to her delicate condition. No one would have looked as gorgeous as Angelina while being pregnant. Her charming silver bracelet completed her look. Angelina Jolie, an American actress, is best known for her roles in Lara Croft and ' Maleficent Click to look into! >> Read More... '.
7. Michelle Obama
In 2009 at the Presidential Inauguration Ball, the First Lady wore Jason Wu. The silver bracelet and rings completed her look. Not only did she put Jason Wu on the map but also launched her legacy of fashion magnificently.
8. Penelope Cruz One of the sexiest actresses of all time and sensa >> Read More...
In 2009 at the Academy Awards, Penelope Cruz was seen wearing a vintage Pierre Balmain. The white Cinderella-like dress complemented her cute looks. It seemed to be an archived dress. The elegant neckpiece flaunted her perfect collar bones. No one could have looked more beautiful than her in that dress. This Spanish actress and model did look like The Girl of Your Dreams in her Volver dress.
9. Lady Gaga Stefani Joan Angelina Germanotta or ostentatiously >> Read More...
At the Grammy Awards 2010 Lady Gaga wore a masterpiece from the collection of Armani Prive. We hadn't imagined that architecture could have been done on a dress also. We can say that it was a unique dress for an equally unique Lady Gaga. Her golden hair and glossy pink lips completed her unusual look. She did marry the night in her Poker Face with her Edge of the Glory dress.
10. Jennifer Aniston She became a household name in 1994 as she appeare >> Read More...
At the Academy Awards 2013, Rachel of F.R.I.E.N.D.S. wore a Valentino Haute Couture. The red dress flaunted her perfect curves. She kept her best foot forward that night, her unmatched fashion sense speaking for her. A small red handbag and a silver bracelet completed her look. More power to you!