The Entertainment World has taken a whole new level ever since they started adapting plots from popular book series. With little twists and turns the television world has taken over the binge-watching to a whole new dimension, where the characters we grew up reading about are brought to life and all the actions we imagined while reading are shown with fantastic special effects. We have seen J.K. Rowling's Harry Potter series and numerous other series successfully turned into great movies and all it did was left us wanting for more. Recently several book series have been adapted into TV shows which are shown every week and bring us all the more closer to the characters that we have grown to love.
1. ''
...
George R.R. Martin, an American novelist and screenwriter, started these epic fantasy novels in 1991 and the first novel of the seven book series, A Song of Ice and Fire, was published in 1996 and named A Game of Thrones. He is currently writing the sixth book, The Winds of Winter. This series has reached the top of the New York's bestseller list and in 2011, a TV adaptation of the series, named Game of Thrones, premiered on HBO. As of now, its sixth season ended on June 26, 2016 and it has been renewed for its seventh season, scheduled to premiere in mid-2017. Very much like the book counterpart, it is featured on the fictional continents - one named Westeros and the other Essos. It has many plot lines and a great ensemble cast. Its story arc follows the dynastic conflict among competing claimants who are fighting to succeed the Iron Throne which is the ultimate step to become the monarch of the Seven Kingdoms. It also features several other noble families who are fighting for independence from this very throne. Each episode has extensive graphic details of the people living in this world full of sex and violence and debauchery.
Despite its frequent use of nudity and violence, this TV series has attracted viewership on HBO that broke all records. It also has a broad and active international fan base. The series have received 38 Primetime Emmy Awards and several other nominations - the Golden Globe Award for best television series – Drama. To avoid spoilers I will not divulge any more details, but I can assure you that you will grip the edge of your seats tight while watching and waiting for what is next to come as each season ends with a cliffhanger that makes you grind your teeth out of impatience for the next one. And though I promised no spoiler's alert, I cannot help but advise you to not get too attached to any of the characters because all characters eventually die a violent death. But what it focusses mainly on is that a good healthy dose of Revenge can get you through almost any adversaries and triumph of Good over Evil is just overrated! So, buckle up and get to binge watching this amazing TV show because this politically dramatic show makes politics in the real world look like an episode of the TV show, F.R.I.E.N.D.S.
...
2. 'Pretty Little Liars'
...
In 2006, Sara Shepard's Pretty Little Liars, the first book of the young adult series was published. And soon the other sixteen followed. It appeared in New York Times Best Seller's List. But what gave the book series a boost among the readers was the TV adaptation that debuted on June 8, 2010, on ABC Family. It is an American teen drama, mystery and thriller. It is, very much like its book counterpart, set in the small town of Rosewood, Pennsylvania. It revolves around the lives of four high school teen girls, Spencer Hastings, Emily Fields, Hanna Marin, Aria Montgomery, whose close – knit group breaks apart after the 'so – called' murder of their ring leader, Allison Dilaurentis. The story begins when a year later they reunite after all of them receive threatening messages from a mysterious 'A' who, somehow, knows all their deepest and darkest secrets. It is often described as the "Desperate Housewives for teens".
From teen angst to crime drama, this show has it all. These teens have to go to school like other normal teens and have 'Besties' and cute boyfriends like ordinary teens but somehow they are not like the other teenagers because they have dark secrets and are threatened by a mysterious villain which sometimes become deadly. 'A' is an entity who loves playing games with these four 'BFFs' as 'A' has a personal vendetta against these girls which they have to figure out before something serious happens to them. The best thing about the show, other than its hair-tearing cliffhangers with a set of mysterious hands in black gloves planning to ruin the lives of the Liars with something or the other, is the friendship and bond of the four friends shown throughout the show. They stand against all odds together and always seem to have each other's back and be each other's partner in crime (and I mean it literally!). The show is currently shooting the second part of its season seven which is also its final season.
...
3. ' The Vampire Diaries Season 1 Kevin Williamson and Julie Plec developed a televi >> Read More... '
...
The Vampire Diaries As is evident from the name, The Vampire Diaries d >> Read More... is a vampire horror series for the young adults, written by L.J. Smith. It was published in 1991-92. The TV show premiered on the channel The CW on September 10, 2009. The show has received numerous award nominations. The show is on its eighth season currently. It began airing on October 21, 2016. The show is featured in the fictional town in Virginia, named Mystic Falls, just like in the novels. It follows the life of Elena Gilbert (played by Nina Dobrev She is a Canada-based model and actress. She showe >> Read More... ), a teenage girl who has lost her parents in a car crash. It also features Stefan Salvatore (played by Paul Wesley Paul Wesley is the American actor who is best know >> Read More... ) with whom she falls in love. Their relationship becomes extremely complicated when Stefan's brother Damon (played by Ian Somerhalder Ian Somerhalder was brought up in Covington, Louis >> Read More... ) comes along with plans of bringing back their past beloved Katherine Pierce who is also a doppelganger of Elena. Although Damon initially shows some traits of a villain but as the story progresses, the brothers reconcile and Damon falls for Elena, which creates a love triangle.
...
The show features other supernatural beings like witches and werewolves even though the eponymous title tells you otherwise. But what sets this show apart from the regular 'Buffy, the Vampire Slayer' show is, the fictional place, Mystic Falls which is backed with supernatural history ever since migrants from New England settled there, in the late nineteen century. The brothers' history and this place's mythology is revealed in flashback snippets as the episodes unfold. This show has everything from teen angst and supernatural drama to political agenda of the town's founding members' families. And how can I forget to mention the uber handsome vampire brothers on whom you, cannot help but, fall in love with and hence understand Elena's dilemma completely!
4. 'Gossip Girl'
...
Gossip Girl is an American teen drama TV show. It is based on the books which are written by author Cecily von Ziegesar. It was first published in 2001 and its last book in 2009. The screen adapted version of the series premiered on September 19, 2007 on The CW. Much like the book, the episodes are narrated by an omniscient blogger the eponymous 'Gossip Girl', (voiced by Kristen Bell Her full name is Kristen Anna Bell, an American ac >> Read More... ). The series follows the lives of upper-class adolescents who live on Manhattan's Upper East Side. The show is mainly focused on the 'it girl' Serena van der Woodsen and her best friend Blair Waldorf. This show shows us the spoiled and bratty side of upper-class teenagers and how fame is such a fickle friend.
Through this show we get to see Blake Lively Blake Lively was born on August 25th, 1987 in the >> Read More... uncurl her acting talents and we are introduced to a fresh face, Leighton Meester Leighton Meester is a popular American model, sing >> Read More... . The series ended with its sixth season that aired on May 11, 2012. The show received numerous nominations and has 18 Teen Choice Awards under its belt. The show deals with how bratty teens become responsible adults after making a series of bad choices and several mistakes, all under the watchful eye of a blogger who is mysteriously hiding among them with an alias--the eponymous series title. If you want to know who this blogger is and why this person stalks these particular spoiled kids you have to tune in to "… xoxo Gossip Girl."!
5. ' The 100 The 100 is a sci-fi dystopian television series. T >> Read More... '
The 100 is a post-apocalyptic drama TV show. It is based on the trilogy of the same name written by Kass Morgan. It falls under the science fiction genre. The series follows a group of 100 teenagers who become the first human beings to return to Earth in about 97 years which is also after a devastating nuclear apocalypse. They are sent as an experiment to see if the Earth is sustainable again for humans or not. The show is all about the survival of the fittest.
And it also gives us a glimpse of how human psyche works when put in a life threatening situation. We see our Earth in a whole new light. Though it is not the first 'dystopian' Earth we see, (also seen in Hunger Games, Divergent etc.) it is definitely the first one that has animals and plants with the side effects of nuclear exposure. The actors have played their characters with bone – chilling resemblances to their book counterparts. The show is currently renewed for its fourth season.
6. 'Shadowhunters'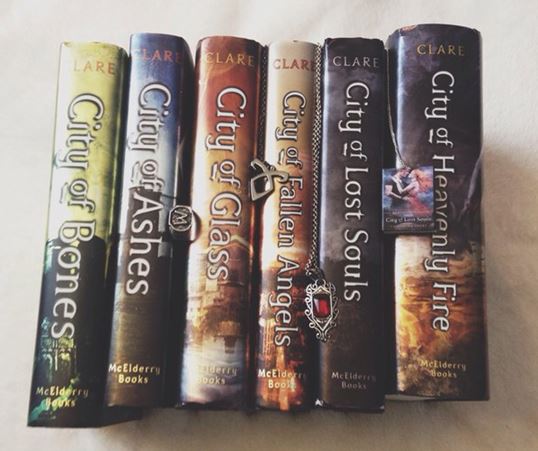 The Mortal Instruments is a young adult series. It is written by Cassandra Clare. It is of paranormal/urban fantasy genre. It was adapted into a film starring Lily Collins Lily Jane Collins' birth was on March 18, 1989 >> Read More... and then instead of making a second part of the movie, it was adapted into a television show that premiered on January 12, 2016 on Freeform. Much like the books, the show focusses on Clary Fray, the female protagonist, as she finds out on her birthday that she is not entirely human – she is part angel. And that is not all, she also falls face forward into the world of Shadowhunters and other supernatural beings when her mom gets kidnapped. In the shadow world she finds about her origins and also manages to have a very complicated relationship with a fellow shadowhunter Jace Wayland. Her world completely changes as she finds out about her past. The show is still a baby and it is yet to be determined as to where it will go.
But season one was a great success with fresh faces, Katherine McNamara (Clary), Matthew Daddario (Alec), Dominic Sherwood (Jace), acting their characters to its fullest. The first season already got many award nominations and Teen Choice awards under its belt. The second season is set to be released on January 2, 2017. The background scores by Ruelle and the special effects just takes the show and the book series to a whole new level, not to mention the cliffhanger we saw at the season finale is keeping us on our toes. So, I suggest you all to hurry up and finish the first season before it is not too late as the second season is just knocking on the door!
7. 'The Magicians'
The Magicians is a fantasy novel written by Lev Grossman which was published in 2009. The book received critical acclaim and was adapted into a television series. The show premiered on SyFy and Showcase on December 16, 2015. The show is currently renewed for a second season which is to air in 2017. Though this series is still a baby, the first season was a huge success in attracting the crowds who think 'Magic is Might'. This show follows Quentin Coldwater who gets into Brakebills College for Magical Pedagogy, to train and become a magician.
There he discovers that the magical world of his favorite childhood books is real and poses a great danger to the humanity. This show, apart from its great storyline, also shows us, Potter-heads, a new and edgy side of magic. The special effects are extremely commendable and the charismatic acting brings the characters from the book alive, given the fresh faces of Jason Ralph (Quentin) and Stella Maeve (Julia). It is definitely a 'must watch' show, especially for all the avid readers of the book series.
8. 'The Shannara Chronicles'
Shannara is a series of fantasy novels written by Terry Brooks, which starts with The Sword of Shannara which was published in 1977. The series have recently been adapted into a television series which aired on January 5, 2016. It is currently renewed for a second season. The series chronicles the journey of the protagonists Wil Omsford (played by Austin Butler Austin Butler is a famous American actor and singe >> Read More... ), Amberle (played by Poppy Drayton) and Eretria (played by Ivana Baquero), as they embark on a quest to protect the Ellcrys, an ancient tree which is also a protector of the fictional Four Lands from the evil demons, from dying and releasing the demon army upon its death. The show has elves, druids and humans all set in the fictional world called the Four Lands.
The series blends magic and primitive technology set in Four Lands. This is later identified as Earth long after civilization was destroyed completely in a chemical and nuclear holocaust. This phenomena was called the Great Wars. It is very different from the other dystopian novels because unlike them, this series has actually reverted back to pre-industrial state with magic re-emerging as a supplement to science. The show has very catchy background scores by Ruelle and Coldplay and gives us a view of a whole new world without technology.
9. 'The Outlander'
The Outlander series is a sequence of novels written by Diana Gabaldon. It features elements of historical fiction, romance, mystery, adventure, fantasy and science fiction. The series expanded to become a TV series which premiered on August 9, 2014 and has currently been renewed for its third and fourth season. The show stars Caitriona Balfe Caitriona Balfe is an Irish actress and model. Dub >> Read More... who plays Claire Randall. She is a married World War II World War II is a Malayalam information TV show on >> Read More... nurse in 1945. She finds herself transported back to Scotland in 1743.
There she encounters the brave Highland warrior Jamie Fraser (played by Sam Heughan). She also becomes embroiled in the Jacobite risings. This show brings out the perfect blend of time traveling and medieval ages. The show has a great cast and has a good viewership that is eagerly waiting for the next season to come out.
10. 'Roswell'
Roswell is an American series which falls in the science fiction genre. It debuted on October 6, 1999 on The WB channel and its very last episode was shown on May 14, 2002. It ran for four seasons. The series is adapted from the Roswell High book series for young adults, written by Melinda Metz which was first published in 1998. It has a great ensemble cast - Shiri Appleby as Liz Parker, Katherine Heigl As she made back to back movies about relationship >> Read More... as Isabel Evans and Colin Hanks Colin Hanks is American actor who is known for his >> Read More... as Alex Whitman. The series starts like its book counterpart, Liz Parker and her best friends living in the small town in New Mexico, named Roswell. It is also the site of the famed Roswell UFO incident. This show takes the idea of aliens co-existing with humans to a whole new level and definitely is an upgrade from the infamous E.T.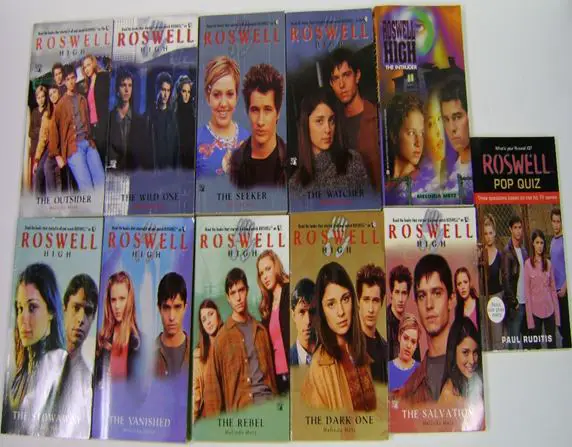 The series shows how aliens hide like ordinary teens and fall in love with Earthlings and the secrecy and tension that follow. The show apart from its supernatural touch, also has love triangles, teen angst and another very important theme, the fear of the authority. The show is widely viewed and has pretty good feedbacks and high ratings. The series even released their Original Sound Track and an album featuring Ash, Coldplay and so on.
These are amazing TV shows based on books and series and most of them have more fan base than its book counterpart because of the special effects and acting that literally brings the characters alive.