Who does not love movies with a conclusion and a proper happy ending? as it creates a positive effect on the minds of the viewer at the end of the film and has a similar impact on behavior. Sad ending movies can make us feel inadequate and in a demotivating mood. So what are the movies which are the day makers? Let us check.
...
1. Dum Laga Ke Haisha
Dum Laga Ke Haisha is a Bollywood comedy-drama genre film. It stars Ayushmann Khurrana This Vicky donor worked as radio jockey, Video joc >> Read More... , Bhumi Pednekar Bhumi Pednekar is Maharashtrian unconventional act >> Read More... , Jisshu Sengupta Jisshu Sengupta is an artist who is known for his >> Read More... , and Divya Dutta Divya Dutta was born in Mumbai, Maharashtra, India >> Read More... in lead roles. The film tells the story of Prem (Ayushmann Khurana), who returns to his village. His parents try to find him a suitable match but cannot do so. Later he meets the Diya (Bhumi Pednekar), and they fall in love. This movie has a strong message for the society for having crossed the issue of body shaming.
This great movie takes a deep dive into the identity of philosophy, which we've always wondered about theoretically. The film is about the real meaning about explore individuality, morality, aesthetics, and the significance of life. Neeraj Kabi Neeraj is an actor, trainer and director. He was t >> Read More... performs the lead role as Maitreya, Aida El-Kashef as Aaliya Kamal, and Sohum Shah Sohum Shah is a Bollywood actor and a producer. Th >> Read More... as Navin.
...
3. Zindagi Na Milegi Dobara
indagi Na Milegi Dobara is a comedy-drama movie about three friends who try to explain to the audience that life is a one-time opportunity and we all should enjoy it. The main cast includes Farhan Akhtar One of the most recognized young director of India >> Read More... as Imraan Qureshi, Abhay Deol Abhay Deol is an actor and director of the TV indu >> Read More... as Kabir Dewan, and Hrithik Roshan Hrithik Roshan with his unimaginable dance moves i >> Read More... as Arjun Saluja.
...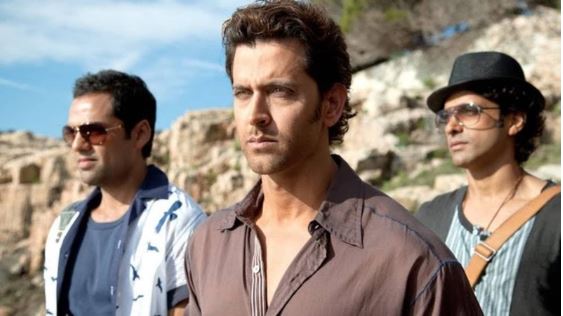 Shuddh Desi Romance is based on a twisted and turned plot as it is about a man not interested in doing a wedding but later falls in love with a girl and starts living in a live-in relationship, but becomes a reason for society to taunt upon. The man, Raghu's role, is played by Sushant Singh Rajput Sushant Singh Rajput is one of the famous Indian t >> Read More... , whereas the girl is Parineeti Chopra The bubbly actress, born on 22nd October 1988, lan >> Read More... as Gayatri.
...
5. Tumbbad
Tumbbad is a horror movie about a family that worships a demon for their selfishness and later becomes the reason for trivial things happening around them. The director of the film is Anand Gandhi From TV Soap writing to becoming an internationall >> Read More... and Rahi Anil Barve Bio coming soon... >> Read More... . In contrast, the movie is shot in the Satara district of Maharashtra.
...
6. Ladies Vs Ricky Bahl
Ladies vs. Ricky Bahl provides an excellent opportunity for Indian women to explore and understand their legal rights. In the film, three women, played by Kirti Kulhari She is an India film star Born May 30, 1985 in Mum >> Read More... , Sheetal Sheth Sheetal sheth is one of the American actresses who >> Read More... , and Divya Dutta, are subjected to violence and intimidation by the dreaded 'bully-boy' Ricky Bahl. The movie is a riveting depiction of an Indian woman's predicament in society today and is sure to be an eye-opener for many.
...
7. Highway (2014)
The plot revolves around a girl living in Chandigarh who falls for a guy from Delhi when she makes a trip home to see her dad. Despite her disgust for Delhi, the two embark on an intimate relationship through night-long telephone conversations. The story delves into the intricacies of long-distance relationships, asking what constitutes a betrayal and whether it needs to be physical or emotional. Alia Bhatt Alia Bhatt is a trendsetting actress from Mumbai, >> Read More... and Randeep Hooda The strong macho image of Randeep Hooda graces the >> Read More... are present in the lead role.
...
8. Singh is Bling
A careless youngster who refuses to accept responsibilities goes to work in Goa with his father's friend, where he meets a woman who helps him overcome challenges. The director of the movie "Singh is Bling" is Prabhu Deva Story soon >> Read More... .
The makers of the Lunchbox set out to tell the story of unusual connections between a housewife and a lunch box-carrying stranger. Lunchbox is about two worlds colliding in unexpected ways. It's about two people who don't know each other unexpectedly getting to know each other.
10. Kahaani 2
Kahaani 2 is a Hindi crime drama film, the sequel to 2012's Kahaani. The movie's director is Sujoy Ghosh Sujoy Ghosh born in Kolkata had his schooling at S >> Read More... and stars Vidya Balan Vidya Balan is an award winning Bollywood actress >> Read More... , Arjun Rampal Amit Rampal is an Indian Actor, Host, Producer and >> Read More... , and Tota Roy Chowdhury Tota Roy Chowdhury is a Bengali actor, born on Jun >> Read More... . The film investigates the circumstances that led to her disappearance and the criminal activities happening around that time in India.