People love hearing and sharing gossips, for those people there are some website which gives information of the celebs. These are ten webs where one can get breaking news and other rumors.
1. Pop Sugar:-
Pop Sugar is the sites which cover up all gossips of different celebrities. The sites make fun of Hollywood in fun way. To hear the latest gossips trends one come and enjoy with good laugh. It posts about latest updates on all information. Pop Sugar has some developed contents that other websites don't provide.
2. Gawker:
Gawker sites contain news of political news as well as an entertainment industry; it creates sarcasm in the news reporting and doesn't matter if they displease someone. This site is for those who well matured and love to gossip.
3. Dlisted
Dlisted has some latest news about celebrities with comedy and adult humor as well. This site has funny assets, which a person can take comedian look towards the spread facts about the actors.
4. The Superficial
The Superficial is a modernize sites which have current gossips of popularity star. There are unique pictures that are posted on the sites, the reporter also comments in a funny manner. Superficial captures its ds film and post online for the world to watch.
5. ONTD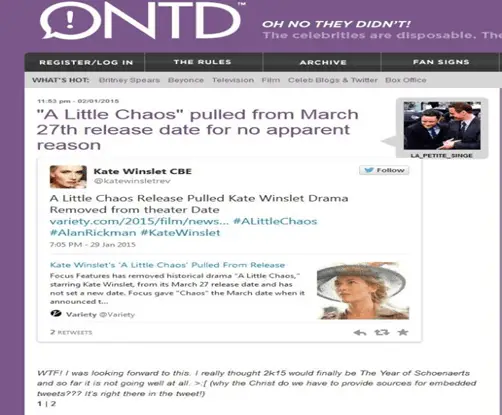 ONTD stands for Oh No They Didn't; this site consists of celebrity gossips, music, movies and much more. They update their sites many times a day so that people don't miss the current, informative news. There are many members who handles this sites and also allow people to know about the interesting gossips happening
6. TMZ
TMZ is the best source of celebrity babble. This site covers up all the television show and give a person up to date gossips day and night. This is a famous website where the reporter doesn't stop till he gets a new and entrainment stories. The sites research on new information and want to be the first to post and give fans good gossips to know.
7. Pink
It Is The New Blog The site provides gossips but shows the pleasant side of celebrities even if they act badly. The sites make a person feel like they are part of the stories. The site always updates often, and the people check into it much more time.
8. Perez Hilton
Perez Hilton hosts his owns website and calls herself a Queen of all media. He started the sites maintaining the blog, which gained him fame and popularity. Perez is known as a celebrity from his blogs, he also hangouts with other stars to get a new gossiping topic and other inside information.
9. People
'People' is a magazine and website where the check out the facts of the story and then report on it. People is one of the biggest sources where they cover an additional features. The site gives up the latest gossip and much more such as newest movies, music videos, and latest interview of a famous personality. People magazine and site has good content that is found it on People only.
10. Go Fug Yourself
This site takes a closer look of celebrities like clothes, relationship, and other gossips. If a star wears a weird looking dressed they post the pictures and add some good gossip content over it.