On those low days, it is kind of mandatory to have a folder of go-to shows to bring that smile back on our faces. Here's a list of some of the must-watch comedy shows that guarantee just the same.
1. F.R.I.E.N.D.S :

                                                               
This show has to be at number one in the list of shows that are sure to make you crack up. With great actors like Jennifer Aniston She became a household name in 1994 as she appeare >> Read More... , Lisa Kudrow Lisa Valerie Kudrow, widely known as Phoebe Buffay >> Read More... , Matt LeBlanc Matthew Steven LeBlanc, famously known for his rol >> Read More... , Matthew Perry Matthew Langford Perry, or popularly known by all >> Read More... , David Schwimmer He is a well- known actor, director, and comedian >> Read More... and Courteney Cox Courteney Bass Cox is a famous American personalit >> Read More... , it is impossible not to get stuck to this sitcom. This show describes the lives and laughs of 20-something years old friends, their problems, issues, decisions and just about every other move has a punch to it.
...
2.  How I Met Your Mother
This show is about how Ted Mosby finds the love of his life. The show is displayed as a story he narrates to his children about how he got acquainted with their mother after numerous let-downs. With the main cast of five, each character is as important as Ted and gives life and laughs to the show. The must-watch character is that of Barney; played by Neil Patrick Harris Neil Patrick Harris is a brilliant actor, producer >> Read More... , with his legend...wait for it... pranks and jokes.
...
3. The Big Bang Click to look into! >> Read More... Theory

                                                                            
This show has three scientists, a Ph.D. and a waitress and that is just the right combination to brighten your day. With the awkwardness of all the qualified ones with child-like qualities and amusing habits of each character, there is no doubt the show is such a big success.
...
4.  Two and a Half Men

                                                                        
Charlie, a jingle-writer, with a house at the beach side in Malibu and a new girl with every mood swing, has the life every bachelor wants until his brother and 10-year-old nephew hop in. The show with all the fun and craziness of these two and a half men in the beach-front house, their lives are everything but perfect. The combination of the three can never get boring even after all the seasons.
5.   2 Broke Girls
...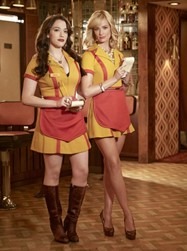 This show features an unusual friendship between two young women from totally different backgrounds. Due to different reasons leading them to live a life of a waitress in not the best restaurant, they decide to open a successful cupcake business – if only they can get the money to do so with their meager income. Despite the run for success, this show is funny as ever, thanks to the actors and storyline.
...
6. New Girl New Girl was an American English television series >> Read More...
...
 Focusing on the new age friendships and relationships, this show depicts perfectly the struggles of relationships and trying to find your place in this world. 
7. Modern Family
...

                                                      
This show is fun-packed with many different but interconnected families and their modern lives. It has a gay couple and their daughter, a straight couple with three kids and a multicultural couple, where the wife is younger than her husband, with their son. With new issues in every family on a daily basis, the show provides entertainment that lasts.
8.  Workaholics

                                                             
This sitcom revolves around three colleagues who are also, in fact, roommates who became acquainted in college. After a lot of partying, playing pranks, drinking, they drop out of college and move into adulthood of fun and complications.
9. Married... with Children

                                                                
The show follows the lives of a man, who was once a famous football player in high school but due to his hard luck ends up being women's shoe salesperson. His family and his neighbours have another type of complicated life. The show revolves around the mishaps the main character lands into mostly because of own stupidity and bad luck.
10. Joey

                                                                  
This show is a derivation of the character Joey Tribbiani from FRIENDS. The show was made to continue the hilarious character and dedicate it to his wit, and it provides us with just that. His goofy character is fulfilling after a not-so-good day.