Assam is in the northeast of India. It has a significant cultural history and a strong film industry. During its history, Assamese film has been responsible for creating many movies that have garnered praise from viewers and film experts. Critics say that a movie gains critical acclaim when they give it a lot of praise and good reviews. This recognition is typically taken to indicate that the picture is high quality and should be viewed. People often praise these movies for their great storylines, directing, acting, cinematography, and other aspects of filmmaking. The following are some of the most influential works from the Assamese cinema industry that have left an impression on viewers all over the world:
1. Xagoroloi Bohudoor (It's a Long Way to the Sea), 1995
Jahnu Barua Jahnu Barua, an Assamese Filmmaker, born on 17 Oct >> Read More... directed and released this movie in 1995. Elderly boatman Powal raises his grandson Hkhuman alone. Nemaguri village's forefathers carried people across the Dihing River. Powal's survival is the focus as new bridge rumors cross the river. Powal's attempts to reach his city family demonstrate how fragile "modern" connections are. Progress hurts rural people like Powal, the boatman. Ghat-cruising boatmen make a living. The government bridges it, reducing its revenues. His city-dwelling son requests the land. This film was India's official submission to the Cannes Film Festival. It won awards at many international film festivals, including the Best Assamese Feature Film award at the National Film Awards The National Film Awards gets presented every year >> Read More... in 1995.
...
2. Kothanodi (The River of Fables), 2015
Bhaskar Hazarika Bio coming soon... >> Read More... directed this movie. It is based on Assam's "Burhi Aair Xadhu" (Grandma's Stories) and tells four stories of love, loss, and redemption that are all connected. The Movie addresses gender, power, and self-identity in a patriarchal culture. Storytelling and visuals reflect Assam's rich cultural history and traditional practices. Kothanodi debuted at the Mumbai Film Festival and received the India Gold Golden Gateway Award for Best Feature. The film is renowned for its innovative plot, breathtaking photography, and a stellar cast. It is considered one of the greatest Assamese films and a prominent Indian film. It won the Best Feature Film in Assamese award at the National Film Awards.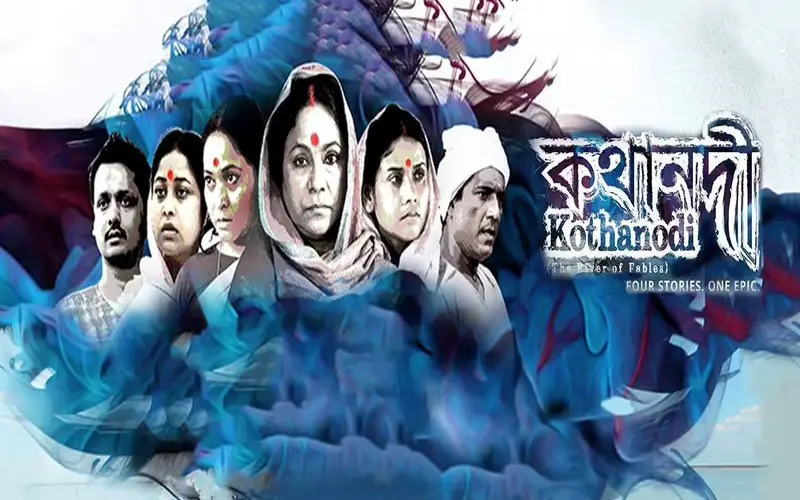 3. Maj Rati Keteki, 2017
A mirror of Assamese society. The nostalgic but complex film is just one of a rich crop of Assamese productions directed by . In a fast-changing world, the film address's identity, memory, and purpose. It also highlights how complex and difficult Assamese culture and customs are to preserve. Maj Rati Keteki was first shown at the Mumbai Film Festival in 2017 and won several international awards, including the 2018 National Film Award for Best Feature Film in Assamese. Its plot, cinematography, and performances were praised. It is one of the greatest new Assamese films and a vital Indian film.
...
4. Aamis (Ravening), 2019
The film is a dark romance about culinary taboos and how they may bring people together. Directed by Bhaskar Hazarika, the film follows Nirmali, a young married Ph.D. student and part-time government employee. She meets Sumon, a young Ph.D. student who shares her interest in food, and they form a deep and emotional connection around their shared love of meat, especially banned foods. Aamis received Best India Gold at the 2019 Mumbai Film Festival. The film's clever premise, lead actors' performances, and cinematography have been praised. Aamis is one of the greatest contemporary Assamese films and has a cult following.
...
5. Village Rockstars, 2017
Directed by Rima Das Rima Das is a multi-faceted woman based out Assam. >> Read More... , this film tells the story of a young girl named Dhunu who dreams of owning a guitar and starting her rock band. Set in a small village in Assam, the film captures the rustic beauty of rural life and the struggles of a young girl who aspires to break free from the constraints of her society and follow her dreams. The 2017 Toronto International Film Festival had the world debut of Village Rockstars, winning the Best Feature Film award in the India Gold section. It went on to win several other prizes at international film festivals, including the National Film Award for Best Feature Film in 2018.
...
6. Bulbul Can Sing, 2018
Award-winning Assamese director Rima Das wrote, produced, and edited Bulbul Can Sing. Her two best friends, Bonny and Sumu, are growing up and finding their own identities, but what they desire and what their community expects are different. As Bulbul begins to feel interested in a boy, Sumu is criticized for not acting like a typical man, and Bonny struggles with communal expectations, and conflicts arise. The video addresses adolescence, gender, sexuality, relationships, and singing in a strict culture. Bulbul Can Sing had its world premiere at the 2018 Toronto International Film Festival and won the NETPAC award for a global Asian film. Rima Das received the Dublin Film Critics Award in 2019.
...
7. Ishu, 2017
The Assamese film Ishu, directed by Utpal Borpujari Utpal Borpujari is a highly acclaimed film critic >> Read More... , was well-received. The movie was made by the Children's Film Society of India (CFSI), based on a book by Assamese author Manikuntala Bhattacharya. Ambika, the adored aunt of little Ishu, has disappeared after the repulsive local quack called her a witch. How Ishu will be able to reclaim her, and the struggles she is facing are shown in the movie. Ishu premiered at the Mumbai Film Festival in 2017. It received numerous international honors, including India's 65th National Film Awards' Best Children's Film. Its plot, characters, and ability to demystify social issues have won praise. It is one of the greatest Assamese films and an important Indian film.
...
8. Calendar, 2018
Himjyoti Talukdar directed Calendar in 2018. Hitesh and Manorama Kakati, a retired couple living in a tiny village in the Indian state of Assam, went about daily until a few circles on the calendar altered everything. The film examines family, love, loss, and purpose. It also portrays the beauty and intricacy of rural Assam and the struggles of those who leave for a better life in the metropolis. Calendar debuted in the 2018 Mumbai Film Festival and won multiple international prizes, including Best Feature Film at India's 8th Woodpecker International Film Festival. The film is praised for its intense storyline, stellar ensemble, and depiction of rural Assam. It is considered one of the best new Assamese movies and an essential addition to Indian movies. 
...
9. Fireflies-Jonaki Porua, 2017
Manju Borah's 2017 Assamese film Jonaki Porua was well received. Jahnu, a rural Assamese hamlet dweller, dreams of becoming a woman. He discovers his sexual orientation, and because he's female, the villagers mock and shun him. Jahnu cannot live freely in a society where you must hide your identity to protect your family's reputation. Jonaki Porua received the Rajasthan International Film Festival's Best Feature Film Award in 2017. The film's heartfelt writing, breathtaking imagery, and superb ensemble won recognition. It is one of the greatest Assamese films of recent years and a major Indian film. 
10. Xhoixobote Dhemalite, 2016
The story revolves around a famous film director who must confront the unresolved traces of a terrible accident that occurred when he was a child after learning of the passing of his childhood best friend while he is on a journey of self-discovery that takes him back to his hometown. He must do this before he loses his final opportunity for redemption and closure. It was the first Assamese film commercially released in the United States. Furthermore, it received three awards at the Love International Film Festival in Los Angeles, including best picture. The film, based on actual events, also stars veteran actors Victor Banerjee Victor Banerjee was born 15 October 1946 in Calcut >> Read More... , Nakul Vaid Nakul Vaid is a film actor from India. He started >> Read More... , Naved Aslam Naved Aslam is a popular Indian stage actor, scrip >> Read More... , Nipon Goswami Nipon Goswami is an Indian actor and also a theatr >> Read More... , and Nikumoni Barua.