Assam is a state in northeastern India and has a vibrant film industry known for its captivating storytelling. These movies will grab your attention with engaging stories, talented actors, and meaningful themes, without including any songs or dance sequences. In this article, we will find out about ten such Assamese films that demonstrate the power of storytelling and have made a mark without relying on music.
1. Calendar
Hitesh Kakati, a retired teacher, and his wife Manorama live happily in a small town. Their son Arunav, married to a non-Assamese woman, visits Magh Bihu and shares a professional crisis with Manorama. Concerned, she plans to help him. Meanwhile, Manorama keeps a calendar, marking important events with circles. However, some dates are circled without any details. This discovery leads to a devastating revelation that affects Hitesh deeply. The story explores the strong family bond and Manorama's efforts to support her son while unintentionally uncovering a hidden truth.
2. Local Kung Fu
Charlie lives in Guwahati with his uncle and his cousin, Johnny. His uncle is a Kung Fu tutor. He relocated from Tezpur because his girlfriend, Sumi, was sent away by her father to keep them apart. Sumi now resides with her aunt and uncle. One day, Charlie visits Sumi's house pretending to be Montu, a potential suitor. A local gang led by Dullu tries to bribe Sumi's uncle to obtain a liquor license. When their attempts fail, they resort to threats. Charlie intervenes and gets beaten up by Dullu and his gang. Later, Charlie confronts Dullu and challenges him to a fight to settle their differences. Through training and determination, Charlie defeats Dullu, and it ends their feud.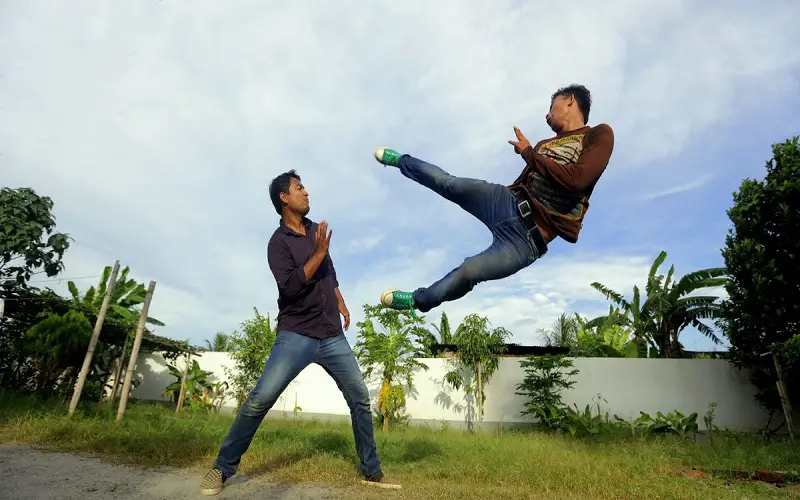 3. Aideu
It is a captivating film made by Arup Manna in 2006. It perfectly presents the inspiring life of Aideu Handique The first Assamese film actress, Aideu Nilambar Ha >> Read More... , a renowned actress from Assam. It is set in a village in the heart of Assam. The film takes viewers on an extraordinary journey, unveiling the aspirations and triumphs of Aideu. She fearlessly pursues her dreams of becoming an actress and is supported by her loving family and friends. "Aideu" masterfully portrays her challenges, her sacrifices, and her unwavering determination to leave an indelible mark in the world of Assamese cinema.
...
4. God On The Balcony
The film is set in a small Assamese village. The plot revolves around Farmer Khagen, his wife Numali, and their daughter Kuwali. Numali, unfortunately, dies after being brutally crushed by wild elephants. She dies in a hospital where Khagen takes her. His strenuous efforts to pedal his bicycle from the hospital to their home are shown in the movie. As a result, the two reporters he meets on his way through the small streets carrying the body and his young daughter get caught in an entirely another fight.
...
5. Mon Jaai
The film revolves around Manab, Nayan, Tapan, and Akan. They are four unemployed individuals from Tinsukia. They turn to illegal activities and end up accidentally killing a hostage. They then face the consequences of their actions. Manab finds solace in a monastery, while Tapan dies in a police encounter. Akan suffers a mental breakdown. The story sheds light on issues like corruption and terrorism. It also highlights the struggles and mistakes of the characters.
...
6. Ajeyo
It is a captivating film set in a village in Assam during 1946, on the brink of India's independence. It revolves around the life of Gojen Keot, a passionate and short-tempered young man who strives for a better life. He supports Gandhi and tutors Hasina, a Muslim girl facing caste-based discrimination. The story follows Gojen's defiance against the wealthiest man in town, who takes advantage of the country's partition for land grabbing. Gojen fights against societal restrictions, aids a widow's elopement, and marries Hasina. The narrative then shifts to the present day, where Gojen's granddaughter carries forward his fight against social evils as a high-ranking policewoman in Assam.
...
7. Kothanodi
It is a mesmerizing film that brings to life the captivating characters and events from the beloved folk stories of "Burhi Aair Sadhu" by Lakshminath Bezbaroa. The movie revolves around four fables: Tejimola, Champawati, Ou Kuwori, and Tawoir Xadhu. It tells the tale of Senehi, Devinath, Dhoneshwari, and Malati. Senehi is a troubled woman who plans to harm her stepdaughter. Devinath has a quest to solve the mystery of an unusual outenga, Dhoneshwari decides to marry her daughter to a python. Malati desperately attempts to protect her newborn. These interconnected stories gradually unveil shocking revelations, delving into the rich folklore of Assam with intrigue and wonder.
...
8. Baandhon
It is a touching Assamese film directed by Jahnu Barua Jahnu Barua, an Assamese Filmmaker, born on 17 Oct >> Read More... . This movie tells the story of an elderly couple, Dandeswar and Hkawni. They are at a point where they consider getting a divorce. They turn to their friend Jatin for guidance. Meanwhile, their grandson, studying in Mumbai, goes missing during the 26/11 terror attacks. The couple decides to travel to Mumbai to find their beloved grandson. The movie beautifully captures their emotional journey and the powerful love they have for their family.
...
9. Adajya
The story takes place in 1940s Assam. Despite the massive restrictions imposed by law and custom, three widows fight to live decent lives. The entry of a young American intellectual, a lethal snakebite, and a loss of ancestral jewelry all conspire to bring the young and attractive widow Giribala's position to a tragic climax.
10. Xagoroloi Bohu Door
Also known as "It's a Long Way to the Sea", it is directed by Jahnu Barua. The story revolves around a boatman who makes his living by sailing a boat in the ghats nearby. The problem arises when the government decides to construct a bridge on it. Doing so will deprive his earnings. However, his son who lives in the city wants his father only to take care of their property. The boatman finds himself torn between the two situations.