Modern Assamese cinema has witnessed a remarkable resurgence in recent years, producing a wave of exceptional movies that have not only entertained but also challenged the traditional norms of storytelling. These films reflect the changing socio-cultural landscape of Assam and have captivated audiences with their innovative narratives, compelling performances, and thought-provoking themes. In this article, we present the top 10 rewatchable modern Assamese movies of all time that have left an indelible impact on viewers and continue to be cherished for their artistic brilliance and cinematic excellence.
1. Village Rockstars (2017)
Directed by Rima Das Rima Das is a multi-faceted woman based out Assam. >> Read More... , "Village Rockstars" is a coming-of-age drama that tells the story of Dhunu ( Bhanita Das Bhanita Das is a child artist who has received a n >> Read More... ), a young girl who dreams of forming her rock band. Shot in a remote village in Assam, the film beautifully captures the innocence, determination, and resilience of the protagonist. With its breathtaking visuals and heartfelt storytelling, "Village Rockstars" is a cinematic gem that deserves multiple viewings.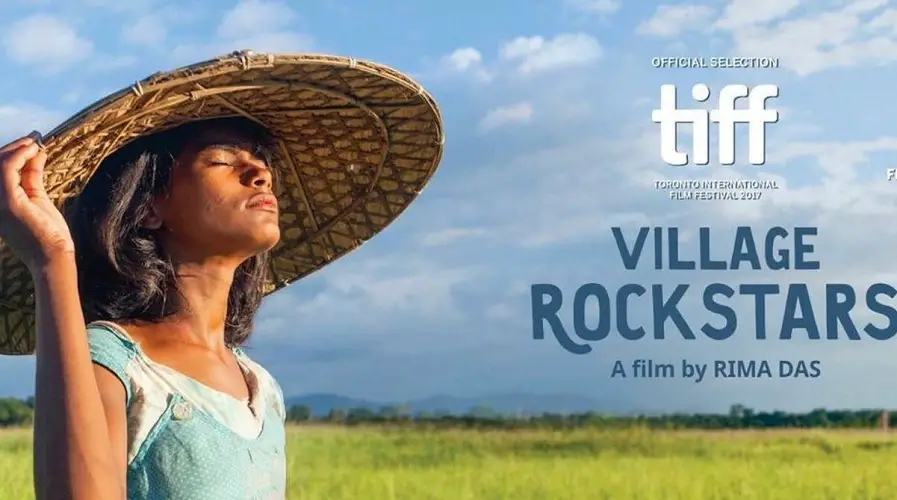 2. Aamis (2019)
Directed by Bhaskar Hazarika Bio coming soon... >> Read More... , "Aamis" is a unique love story that explores the boundaries of human desires. The film revolves around the relationship between Nirmali ( Lima Das Bio coming soon... >> Read More... ), a married woman, and Sumon ( Arghadeep Baruah Arghadeep Baruah is an actor born on January 1, 19 >> Read More... ), a Ph.D. student with an unusual interest in meat. "Aamis" challenges societal norms and delves into the complexities of human emotions, making it a thought-provoking and rewatchable movie.
3. Kothanodi (2015)
Directed by Bhaskar Hazarika, "Kothanodi" is a dark fantasy anthology based on Assamese folk tales. The film weaves together four interconnected stories, delving into themes of morality, superstition, and the supernatural. With its stunning visuals and compelling storytelling, "Kothanodi" offers a fresh and contemporary take on traditional folklore, making it a captivating and rewatchable cinematic experience.
...
4. Ahetuk (2015)
Directed by Biswajeet Bora Biswajeet Bora is an Indian Filmmaker, Actor, Scri >> Read More... , "Ahetuk" is a heartwarming drama that explores the complexities of human relationships. The film revolves around the journey of a young woman, Ahana (Sushmita Baruah), who faces societal prejudices due to her dark complexion. With its powerful performances and poignant narrative, "Ahetuk" presents a sensitive portrayal of love, acceptance, and self-discovery.
...
Directed by Himjyoti Talukdar, "Calendar" is a charming romantic comedy that follows the misadventures of Kamal (Arghadeep Baruah), a young man who embarks on a journey to find a vintage calendar for his grandfather. The film's witty dialogues, endearing characters, and delightful humor make it an entertaining watch that can be enjoyed time and again.
...
6. Local Kung Fu (2013)
Directed by Kenny Basumatary Kenny Basumatary is an admired, young Assamese dir >> Read More... , "Local Kung Fu" is an action-comedy that pays homage to the martial arts genre while adding a unique Assamese flavor to it. The film revolves around a love story set in a small town, interwoven with hilarious fight sequences. With its witty humor, lively characters, and impressive stunts, "Local Kung Fu" is a highly entertaining movie that guarantees laughs with every viewing.
...
7. Rainbow Fields (2018)
Directed by Bidyut Kotoky Bidyut Kotoky is an Indian film director and scree >> Read More... , "Rainbow Fields" is a powerful drama that delves into the lives of three individuals from different backgrounds who are brought together by a shared tragedy. The film addresses social issues like insurgency, displacement, and identity crisis, while also exploring the human spirit's resilience. "Rainbow Fields" offers a poignant narrative and memorable performances that make it worth revisiting.
...
8. Haanduk (2015)
Directed by Jaicheng Jai Dohutia, "Haanduk" is a psychological thriller that explores the repercussions of war and violence on individuals and their psyche. The film follows the story of two individuals, Bogi ( Amrita Gogoi Amrita Gogoi is a beautiful and successful Indian >> Read More... ) and Bagi (Kenny Basumatary), who are haunted by their pasts. With its atmospheric storytelling and gripping suspense, "Haanduk" keeps viewers engaged and offers new layers of interpretation upon repeated viewings.
...
9. Xagoroloi Bohudoor (1995):
Directed by Jahnu Barua Jahnu Barua, an Assamese Filmmaker, born on 17 Oct >> Read More... , "Xagoroloi Bohudoor" is a heartwarming tale of a young boy, Hosa (Pritam Barua), and his relationship with nature and animals in the lush countryside of Assam. The film explores the themes of environmental conservation, innocence, and the importance of preserving our roots. "Xagoroloi Bohudoor" is a cinematic experience that transports viewers to a world of simplicity and beauty.
10. Bhoga Khirikee (2018)
Directed by Jahnu Barua, "Bhoga Khirikee" is a captivating drama that follows the journey of a young woman, Dhunu ( Zerifa Wahid Zerifa was born in the year 1979 in Lakhimpur, Ass >> Read More... ), as she navigates through personal and societal challenges. The film touches upon themes of identity, feminism, and the struggle for self-discovery. With its poignant storytelling and powerful performances, "Bhoga Khirikee" offers a compelling cinematic experience that lingers in the mind.